Bitcoin Investors 'Should Be Prepared to Lose All Their Money"
Individuals investing in crypto-currencies such as Bitcoin should be prepared to lose all their money, a United Kingdom regulatory agency warned Monday.
The Financial Conduct Authority (FCA) issued the warning after a sharp run-up in price in the last few months and a sharp decline over the weekend.
"Investing in crypto-assets, or investments and lending linked to them, generally involves taking very high risks with investors' money," the FCA, a governmental watchdog, warned in a statement issued Monday.
"If consumers invest in these types of products," the FCA said, "they should be prepared to lose all their money."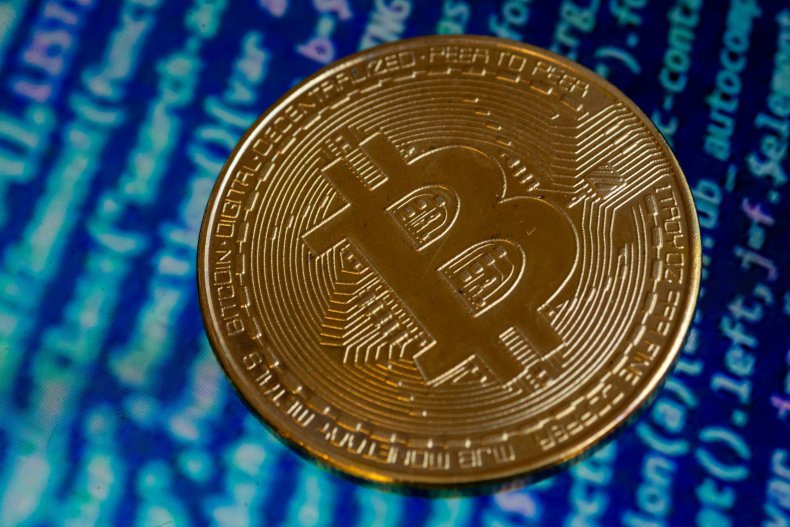 But a London analyst said Bitcoin's fundamentals remain strong and institutional investors continue to hold the crypto currency.
"Corrections are broadly seen as a healthy part of the bull market, allowing traders to regroup and catch a breath before embarking on new price discovery," Jason Deane, Bitcoin analyst at Quantum Economics in London, said in a statement provided to Newsweeek, "a bit like a mountain climber taking a break before tackling the next part of an ascent."
He said the recent drop underscores the split between retail and institutional investors.
"As well as profit-takers and those who are taking the chance to sell to buy back more cheaply later, weaker hands are always tempted to sell in these situations as are those who don't fully understand the asset," Deane said. "However, there will be a significant number who are using dip to accumulate more Bitcoin to hold in the future."
The British regulatory agency said individuals may not be able to cash out of crypto-currencies, destroying the rationale for the investment.
"There is no guarantee that crypto-assets can be converted back into cash," the Financial Conduct Authority warned. "Converting a crypto-asset back to cash depends on demand and supply existing in the market."
Last week, JPMorgan said Bitcoin could rise as high as $146,000. Bitcoin recently traded at $31,045.70, down about 26% from its recent high of $41,962.36.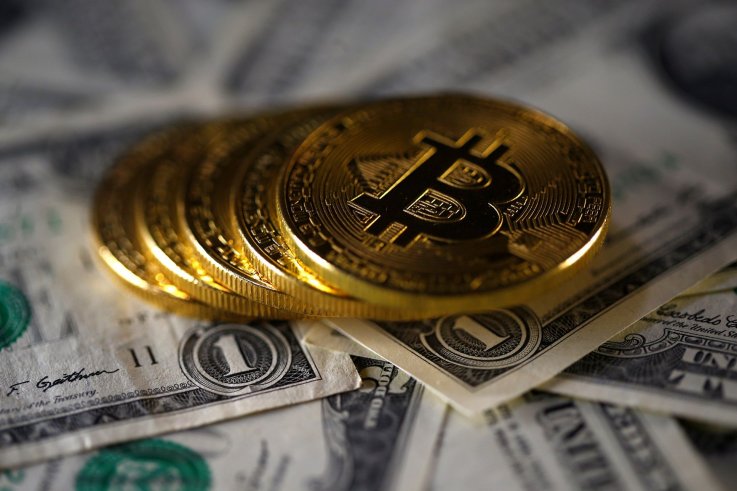 Bitcoin price bubble attracts investors seeking bargains, but comes with great risk, government officials warn.
CoinMarketCap
However, Bank of America warned that Bitcoin could be the "mother of all bubbles," and compared it with the dot-com boom and bust of the late 1990s and the U.S. housing bubble that popped about 12 years ago following the collapse of the subprime mortgage market.
The UK's FCA recently prohibited the sale of derivatives based on crypto-currencies to retail investors, and said unregistered firms pushing the investment would be committing a "criminal offense."
It warned that some apparently unregulated firms target small investors by touting huge gains while downplaying the risks.
"As with all high-risk, speculative investments, consumers should make sure they understand what they're investing in, the risks associated with investing, and any regulatory protections that apply," the FCA said. "Consumers should be wary if they're contacted out of the blue, pressured to invest quickly or promised returns that sound too good to be true."
But Quantum Economics' Deane argued that the correction is healthy, and will strengthen the Bitcoin market by allowing savvy investors to increase their holdings. He said JPMorgan's research note may have caught the eye of retail investors and "helped the positive mood of the market."
Despite the price drop, Deane said Bitcoin's fundamentals remain intact.
"Demand has come from institutional sectors primarily," he said, "with retail only seeming picking up now."
He added that Bitcoin has now become a part of institutional portfolios.
"Anecdotally, many of these institutions have stated that they will be keeping Bitcoin permanently, and a recent Glassnode report indicated that 78% of all Bitcoin was now classed as 'illiquid', meaning it's unlikely to move any time soon whatever the price," Deane said.
He said the fluctuation in the price is typical of the market.
"Some profit taking was inevitable by traders," Deane said, "and I suspect that what we're seeing as well, possibly some over-leveraged longs. Fundamentals remain intact."
He said the price drop doesn't mean that higher Bitcoin prices are unsustainable or that price is driven by speculative mania.
"Many of us analysts had expected the run-up for some time as the macro environment, especially concern about the economy and Quantitative Easing, was forcing a change in institutional narrative," Deane said.
"A correction has been in the cards due to both technical analysis and human psychological reasons for some time," he said, "but our view is that any correction is likely to be shallower and shorter than those we've seen previously as the underlying fundamentals remain excellent."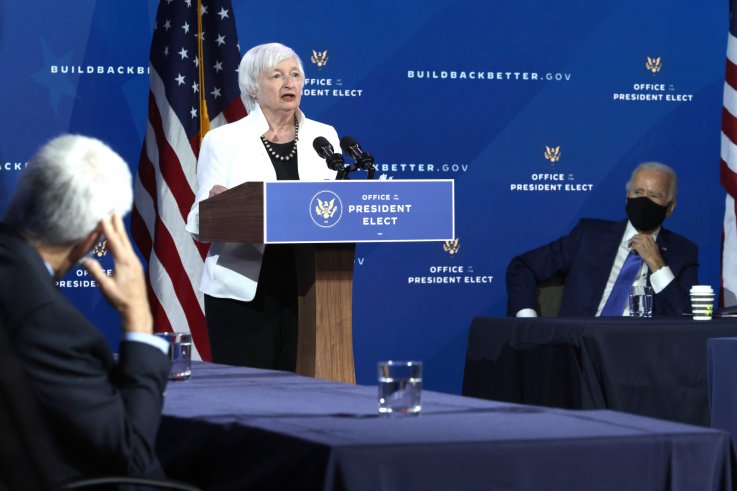 U.S. Secretary of the Treasury nominee Janet Yellen speaks during an event to name President-elect Joe Biden's economic team at the Queen Theater on December 1, 2020 in Wilmington, Delaware. Biden is nominating and appointing key positions to the Treasury Department, Office of Management and Budget, and the Council of Economic Advisers.
ALEX WONG / Staff/Getty Images
Under Quantitative Easing, the U.S. Federal Reserve, or another nation's central bank, purchases long-term securities on the open market to boost the money supply as part of the effort to increase lending and spur investment.
In March, the Fed cut interest rates to 0% – 0.25% as the COVID-19 pandemic hit and unemployment rose to a post-World War II high. The Fed sought to boost spending, especially consumer spending, which represents about two-thirds of the U.S. economy.
Deane said it would be inaccurate to conclude from Bitcoin's price drop that it's pure speculation and not money.
"Bitcoin is both a payment medium and a payment mechanism built into one," he said, "which means, arguably, it doesn't fall into our tradition definition of money."
Deane said Bitcoin has no precedent in the marketplace.
"The human race has never had this before," he said, "so there's no rule book or precedent to measure it against."
He argued that all currencies fluctuate in value—not just Bitcoin.
"Both the pound and the dollar are well established and traditional currencies, and while they do change sometimes quite significantly between each other, they tend to do so over longer periods and in smaller increments," Deane said. "Let's not forget that both of those currencies are also open to speculative trading."
He noted that Bitcoin is only 12 years old, very young for a currency, and that until it matures "these price movements will be inevitable."