In what may be the most niche celebration in the world, today marks Bitcoin Pizza Day. For crypto enthusiasts, it marks eight years exactly since 10,000 bitcoin (BTC) was used to buy two pizzas. At the time, it was worth the equivalent of $41. Now, the same amount is worth over $83 million.
It is believed that the purchase of "a couple of pizzas," requested by a man called Laszlo Hanyecz, was the first real-world use of bitcoin as a payment system. The decentralized virtual currency first emerged in 2009 from an unknown developer using the pseudonym Satoshi Nakamoto. Over the years it has spiked in popularity and in late 2017, one digital "coin" was worth the equivalent of $20,000.
On May 18 2010, Hanyecz told users on a Bitcoin forum he would pay 10,000 BTC for the order.
He wrote: "You can make the pizza yourself and bring it to my house or order it for me from a delivery place, but what I'm aiming for is getting food delivered in exchange for bitcoins where I don't have to order or prepare it myself, kind of like ordering a 'breakfast platter' at a hotel or something, they just bring you something to eat and you're happy! I like things like onions, peppers, sausage, mushrooms, tomatoes, pepperoni, etc.. just standard stuff no weird fish topping or anything like that.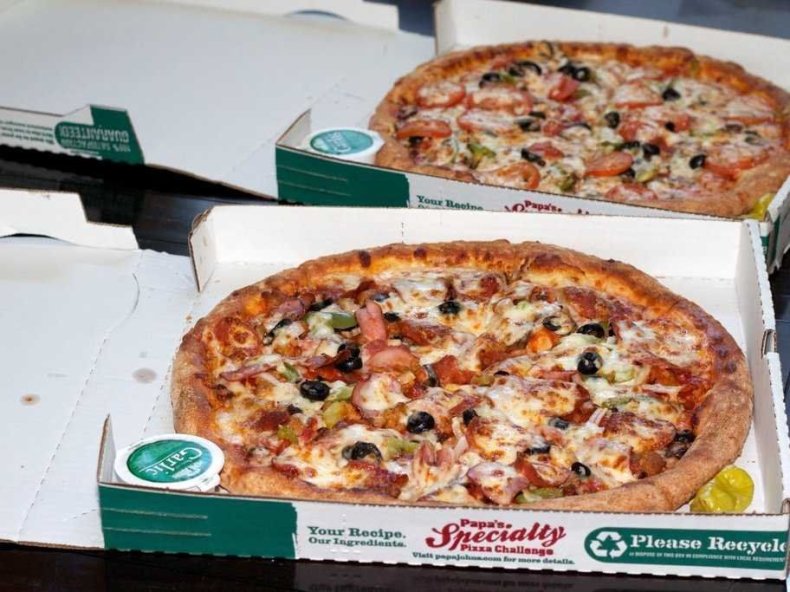 On the forum, still online, Hanyecz added: "I also like regular cheese pizzas which may be cheaper to prepare or otherwise acquire. If you're interested please let me know and we can work out a deal."
After a few days one man under the alias "Jercos," real-name Jeremy Sturdivant, came through with the food order. And On May 22, Hanyecz confirmed: "I just want to report that I successfully traded 10,000 bitcoins for pizza." The transaction was orchestrated using IRC (Internet Relay Chat).
Lazlo later posted images of the two pizzas, which were seemingly from Papa Johns. One commenter, "Ribuck," quipped: "Will this eventually become the world's first million-dollar pizza?" Well, yes.
Sturdivant later said that he believed the pizzas sent were from Dominos, leading to some confusion. "I'm starting to really regret not keeping chat logs of the event, as I clearly remember Domino's pizza (right down to their particular web interface), but the pictures show Papa John's," he noted. Still, the transaction happened. Thanks to the blockchain records, it can still be viewed online today.
A Twitter bot set up to track bitcoin values on a daily basis—using the handle @bitcoin_pizza— wrote today: "The #Bitcoin pizza is worth $83,131,600 today. (-2% from yesterday) Today is Bitcoin pizza day!"
Hanyecz told the New York Times in 2013 that he didn't regret the exchange. He said that he later sold his bitcoin, worth around $4,000, to get a new computer and a couple of new video cards. "So I'd say I ended up on top," he noted. Sturdivant, meanwhile, told a dedicated crypto website in 2015 that he was aware that the transaction—if successful—had the potential to make cryptocurrency history.
"I just happened to take a visible step as a part of the whole community's growing trust in bitcoin, it didn't feel unique in the sense that if I hadn't accepted that offer, someone else surely would have...but at the same time I was certainly somewhat aware that this was setting a precedent for casual trade with bitcoin," he told bitcoinwhoswho.com. Looking back, he stated: "Retrospectively, simply having that much bitcoin in one place is quite a crazy thought. Of course that wasn't notable at the time, as bitcoin was just getting started, and it otherwise felt much like later [smaller] transactions."
At the time of writing, a single bitcoin is valued at $8,300.