Bitcoin prices have jumped to a peak of $52.85 after El Salvador became the first country in the world to make the cryptocurrency legal tender.
The world's largest, and most recognized, cryptocurrency surged to $52.85 at its peak last night and was up 1.71 percent in the last 24 hours of trading, according to Coin Market Cap—a website that tracks digital currencies.
Bitcoin's rise in value comes as El Salvador will today become the first country in the world to accept the cryptocurrency as legal tender.
El Salvador's President Nayib Bukele announced on Monday the Central American country held 400 Bitcoins.
Earlier that day, Bukele tweeted that the country had bought its first 200 Bitcoins.
He has since shared multiple posts and articles about the country's adoption of the cryptocurrency and on Twitter called Tuesday "Bitcoin Day."
In one tweet just minutes before the cryptocurrency became legal tender, Bukele posted: "In three minutes, we make history. #BitcoinDay #BTC."
The post has since been liked on more than 8,100 occasions and retweeted some 1,500 times.
Bukele's move means businesses in El Salvador must accept Bitcoin as legal tender unless they do not have the technology available to process the payments.
In a bid to swing Salvadorians into using the cryptocurrency, President Bukele offered a free Bitcoin wallet, valued at $30, for anyone who signed up to use it in June.
According to Reuters, President Bukele said the move to legalize Bitcoin's usage in El Salvador was to benefit citizens living abroad who he claimed would save millions of dollars in commissions on the money they send home.
Reuters estimated Salvadorians sent home almost $6 billion from abroad—mainly the U.S.—which is roughly 23 percent of El Salvador's GDP.
In this Statista infographic, it shows the usage of bitcoin ATMs is found mainly in North America and Europe.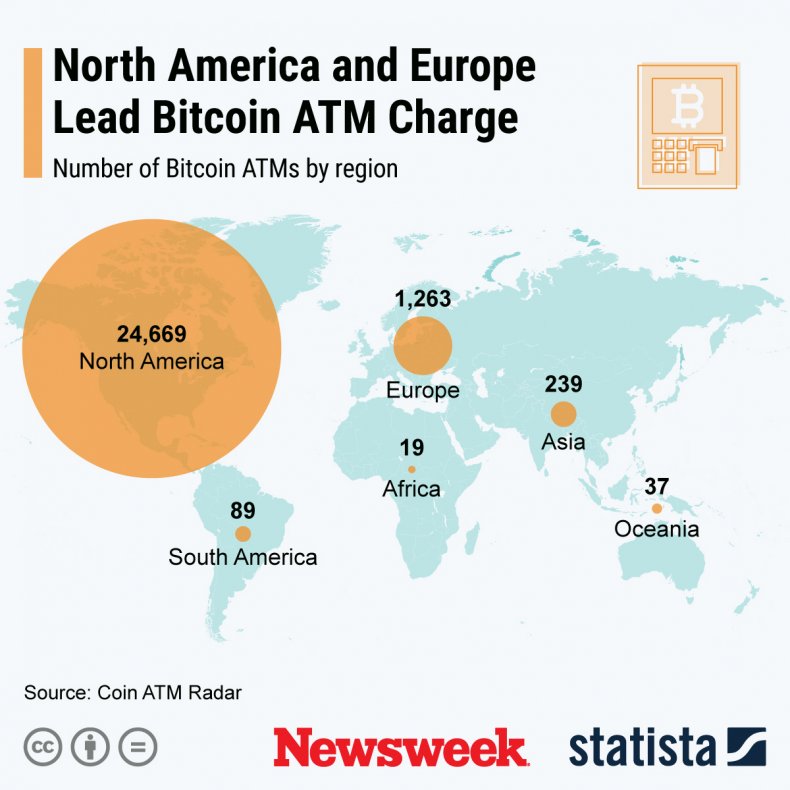 The agency added, while Bitcoin is now legal tender, polls in the country have shown Salvadorians are hesitant about the move and are concerned by the cryptocurrency's notorious value fluctuations.
Other critics include rating agency Fitch, who said last month the Bitcoin implementation in El Salvador could be a credit negative for local insurance companies due to volatility risks.
Fitch said insurers were likely to convert bitcoin to U.S. dollars "as quickly as possible to limit exchange risks" should policyholders use it to pay premiums.
It added further regulation could be sought for Bitcoin, whose practical implementation has yet to be defined by regulators.