Bitcoin Volatility Decreasing as Price Movement Begins to Mirror Gold, Analyst Says
The price of Bitcoin rose 100.8% in the first quarter and has increased 447.2% since October 2020, but reduced volatility may be the key to future price rises, analysts believe.
U.S. stocks gained 6.4% in the first quarter of 2020, while bond yields rose 3.6% and gold fell 10.3%.
"In the context of Bitcoin's historical returns, which have been quite remarkable, this period stands out as notable," Greg Cipolaro, global head of research at New York Digital Investment Group, said in a research report.
However, reduced volatility—not manic price swings ratcheting upward—could boost Bitcoin's long-term valuation as major institutions move into the cryptocurrency to diversify their holdings.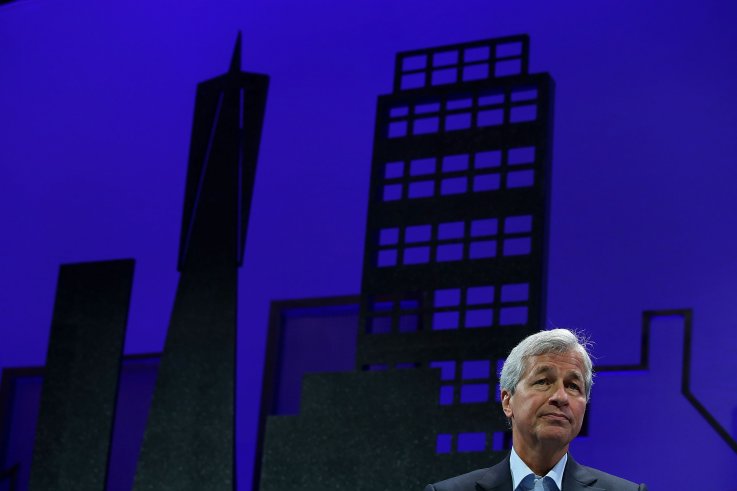 JPMorgan Chase and Co. chairman and CEO Jamie Dimon speaks during the Fortune Global Forum on November 4, 2015 in San Francisco, California.
Justin Sullivan
JPMorgan said the cryptocurrency's volatility is cooling as it moves closer to the price movement in gold.
"These tentative signs of Bitcoin volatility normalization are encouraging," JPMorgan said in report released last week. "In our opinion, a potential normalization of Bitcoin volatility from here would likely help to reinvigorate the institutional interest going forward."
In view of the apparent convergence, JPMorgan said Bitcoin could go as high at $130,000.
Gold is now valued at about $1,700 per troy ounce (a troy ounce is 31.1 grams compared with 28.35 grams for a regular ounce—the difference is important when trading precious metals). It has climbed about 300% in 15 years, and it reached $2,067 last August amid economic uncertainty created by the COVID-19 lockdown.
Previously, the bank's analysts said Bitcoin could rise to $146,000.
"The decline in the gold price since then has mechanically reduced the estimated upside potential for Bitcoin as a digital alternative to traditional gold, assuming an equalization with the portfolio weight of gold," JP Morgan said in a research report.
Bitcoin reached $61,556 on March 13. The cryptocurrency then fell about 18.12% from its high to about $50,400 before rebounding. A drop of 20% or more is considered a bear market.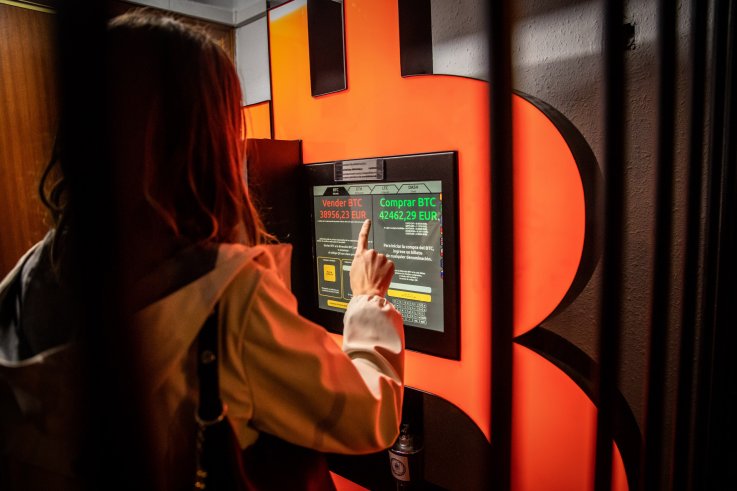 A customer uses a bitcoin ATM in Barcelona, Spain on Feb. 23, 2021
Angel Garcia/Bloomberg/Getty
In early 2017, Bitcoin changed hands at less than $1,000. By December of that year, it had climbed to about $20,000. But by February 2018, the price had fallen to about $7,000. This year, Bitcoin hit an all-time high of $61,556.59.
In mid-day trading Monday, Bitcoin fetched $59,066.41. It's up 102.59% for the year, CoinDesk reported.
The number of Bitcoins is limited to 21 million. As long as institutional demand remains strong, many analysts believe this will ease erratic price swings, the hallmark of an undeveloped market in an uncertain asset.
Bicoin's current lofty valuation has priced some out of the market. But individuals who want to place a bet on the cryptocurrency while limiting their exposure have used fractional ownership.
Retail investors are likely to hold 'Satoshi,' one or more of the 100,000,000 units that make up a whole Bitcoin, rather than a full coin, especially at the current price.
Market Pulse
Godzilla and King Kong took on the COVID-19 pandemic last weekend and won. That's good news for the economy.
The movie pitting legendary matinee creatures against each other in a smackdown inspired by professional wrestling racked up a strong $48.5 million at the box office over five days despite seating limitations at theaters coast-to-coast.
The lanky lizard—best known for stomping hilariously unconvincing movie sets in the days before computer-generated images obviated the need for an actor in a rubber suit and the giant gorilla with a limited vocabulary who once had a thing for actress Fay Wray—showed that consumers are eager to get out of the house and spend as millions of people get vaccinated and the pandemic abates.
The movie's strong box office gives hope for summer blockbusters delayed by the coronavirus shutdown and, more importantly, a rebound in consumer spending that will boost the economy, including the travel, hotel and restaurant industries.
Consumer spending represents about two-thirds of the U.S. economy.
The job market is still about 7.9 million jobs short of its pre-coronavirus peak, but last week's strong jobs report suggests a strong rebound. The U.S. Bureau of Labor Statistics last week said the jobless rate declined to 6%, down from 14.7% in April 2020. It was 3.5% before the pandemic hit.
"If the American Rescue Plan could lead to these numbers, imagine what an even bigger bolder American Jobs Plan will do for our recovery," Senator Majority Leader Chuck Schumer said.
Tom Cruise is 58, but he'll climb into the cockpit of his fighter on July 2 (the day before his 59th birthday) in "Top Gun: Maverick." With a little luck, the economy will roar like Ole Tom's jet.