Bitcoin's Price Lowest Since January; U.S. Top Destination for Global Money
CryptoCorner
China's continued crackdown on Bitcoin mining sent the value of the world's leading cryptocurrency below $30,000 for the first time since late January.
Bitcoin's drop Tuesday morning put it nearly 55% below its record high before recovering in mid-day trading.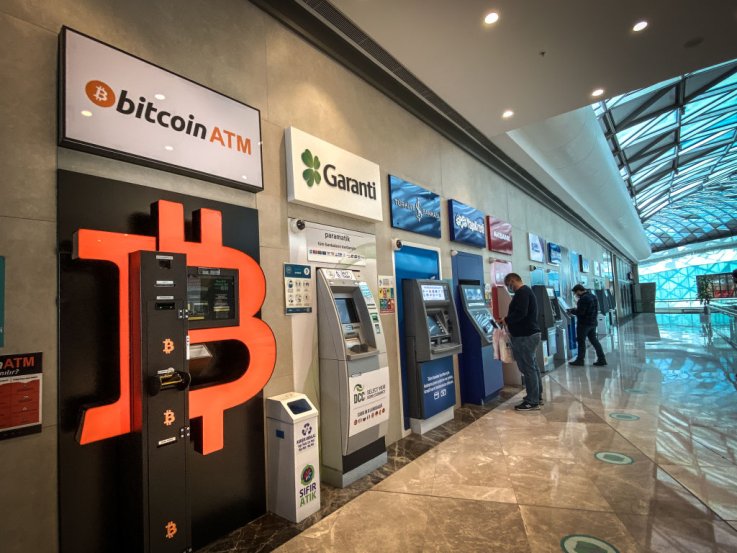 CoinFlip, a provider of Bitcoin ATMs, announced plans to expand into Alaska by installing three machines in Anchorage. The ATMs will allow users to purchase Bitcoin, Ethereum, Dogecoin and six other cryptos with cash. In this photo, people use bank ATM"s next to a Bitcoin ATM machine at a shopping mall on April 16, 2021 in Istanbul, Turkey.
Chris McGrath/Getty Images
Bitcoin's current price points to the "death cross"—when the 50-day moving average dips below its 200-day moving average—and may indicate the start of a bear market.
Other cryptos, including Ethereum, XRP and Cardano, also fell Tuesday.
Dogecoin, the joke crypto launched 2013 as a parody of Bitcoin and flogged by Tesla CEO Elon Musk in playful tweets, dropped 11.32% to $0.19.
Beijing last week ordered cryptocurrency miners to halt operations in Sichuan province where as much as 65% of the world's Bitcoin mining activity is centered. The communist party-backed Global Times said about 90% of China's Bitcoin mining capacity has been shut down.
Ulrik K. Lykke Executive Director at crypto/digital assets fund ARK36, said China's action has reduced the hash rate, often viewed as an indicator of global confidence in Bitcoin.
Hash rate is a measure of how many calculations per second are performed to maintain Bitcoin's worldwide network.
"This is not the first time Chinese policies have administered a shock to the markets and will unlikely be the last," he said in a note to Newsweek from the company's headquarters in Cyprus. "What we think is noteworthy is that worldwide miners continue to generate, on average, $30 million daily, which shows the industry is still highly profitable."
Miners attempt to solve complex hexadecimal puzzles to refresh the blockchain, the unbreakable record of transactions. Successful efforts are rewarded with new Bitcoin.
Lykke said China's decision to shut down Bitcoin mining operations simply means enterprising miners will go elsewhere.
Despite roiling the market, China's decision to close its mining operations could have a positive long-term effect.
"In the long-term, these conditions can be net-positive," Lykke said. "As miners spread to other locations, they will likely choose places with secure access to cheap energy. As a result, hash rate will start recovering, and the network will become even more stable and more decentralized."
Ruud Feltkamp, CEO at trading bot Cryptohopper, said uncertainty created by China's action is driving the market down.
"China is rolling (out) its own cryptocurrency and has every incentive to have as little competition as possible," he said in a note to Newsweek.
China is testing a digital yuan in select cities and shutting down Bitcoin mining operations may be an effort by the government to preserve its monopoly in issuing currency.
Some analysts believe China's new digital currency may compete with the dollar.
The People's Bank of China has urged Alipay, Alibaba's payment service, and some major financial institutions not to provide account openings, clearing and settlement services for Bitcoin, according to press reports.
Alibaba is China's Amazon.
In the past, Chinese traders moved yuan to a platform like Alipay or a bank to purchase cryptocurrencies. The action by the People's Bank of China appears to be an effort to halt the practice.
The drop in Bitcoin's has stoked fears of a bear market because there didn't appear to be significant activity Tuesday by those who buy and hold the crypto as a long-term bet on future price appreciation.
Nevertheless, CoinFlip, a provider of Bitcoin ATMs, is betting on the crypto's future in an unusual place—the 49th state. The Chicago-based company announced plans to expand into Alaska by installing three machines in Anchorage. The ATMs will allow users to purchase Bitcoin, Ethereum, Dogecoin and six other cryptos with cash.
This is good PR, but even if the company doubles the number of ATMs by the end of the summer as planned, the service is unlikely to generate a torrent of fees.
Anchorage, Alaska's largest city, has a population of about 288,000. Alaska is about 118% the size of Texas, but its population of 724,000 is about 44% of Manhattan's 1,632,000 residents.
In mid-day trading Tuesday, Bitcoin changed hands at $32,220.25, down 2.17% in the last 24 hours but up 3.76% for the year. The 24-hour range is $28,814.75 to $33,247.79 The all-time high is $64,829.14. The current market cap is $603.79 billion, CoinDesk reported.
MarketPulse
Foreign Direct Investment (FDI) dropped about one third worldwide during the COVID-19 pandemic, but is expected to rebound with the U.S. remaining the top destination for overseas money in 2021 and 2022, the United Nations said in a report.
Washington's massive spending programs and the economy's strong rebound combined to keep the U.S. the top beneficiary of overseas investment.
The coronavirus pandemic slashed foreign investment in the U.S. to $156 billion last year from $261 billion in 2019.
Worldwide, FDI fell to about $1 trillion in 2020 from $1.5 trillion the previous year.
"These investment types are crucial for productive capacity and infrastructure development and thus for sustainable recovery prospects," Isabelle Durant, acting secretary-general for the United Nations Conference on Trade and Development, said in a report.
Following the U.S. in 2019 and 2020 as top destinations for foreign money were China, Hong Kong, Singapore, India, Luxembourg, Germany, Ireland, Mexico and Sweden, the UN said.
Recently announced foreign investments in the U.S. include an Australian company expanding a steel mill in Ohio and British drug company AstraZeneca's plans to purchase Boston-based Alexion Pharmaceuticals for $39 billion in cash and stock.
In general, foreign companies invested heavily in major U.S. metropolitan areas.
The top areas benefiting from foreign investment were New York, Chicago, Atlanta, Philadelphia, San Francisco, Los Angeles, Indianapolis, Houston, Dallas and Detroit, the U.S. Bureau of Economic Analysis (BEA) said.
"(Metropolitan Statistical Areas) designated as global cities are different from other cities in several notable ways – for example, they tend to be more populous, have higher GDP, and have more ethnically diverse populations," the BEA said. "Global cities, in addition to being much more populous than other cities, have higher GDP per capita, wages, education, diversity and a greater presence of advanced producer services."
A metropolitan statistical area is a city and surrounding communities linked by social and economic factors as defined by the U.S. Census Bureau and Office of Management and Budget.
In March 2020, there were 384 MSAs in the U.S.
The worldwide recovery in FDI will be uneven, the U.N. said. Developed nations will drive the recovery due to mergers and acquisitions while developing nations will lag.
"A substantial recovery of FDI to Africa and to Latin America and the Caribbean is unlikely in the near term," the U.N. said.
The U.S. economy has rebounded quickly from the pandemic lockdown intended to curb spread of the coronavirus, making it attractive to foreign investors.
The Federal Reserve, the nation's central bank, believes the economy will grow about 7% this year. So far, Congress has approved about $6 trillion in stimulus spending.
U.S. households have piled up about $2.6 trillion in savings and appear eager to spend.
Retail sales are strong. Consumer spending represents about two-thirds of the U.S. economy. Inflation has increased, but the Fed expects it to ease next year.