Bite From One of the World's Deadliest Snakes Kills Man by Causing His Organs to Fail
An elderly man in Australia died of multiple organ failure after being bitten by a 4.5 foot tiger snake that coiled itself around his arm.
Winston William Fish, 78, was working at his farmland property in Tasmania on January 28 when he encountered the highly-venomous reptile. He passed away two days later despite attempts to save his life by friends, neighbors and medical experts.
The effect of snake toxins had caused "paralysis and cardiac arrest," medical officials ruled in a coroner's report that was released last week, The Islander reported.
The victim was found to have "paired puncture marks" on his thigh and right hand and died as a result of being bitten "at least twice," officials said.
The fatal encounter occurred while the victim had been returning home on a quad bike after moving sheep on his farmland residence, which he had overseen for the entirety of his working life. For the past 30 years he lived with a friend, Judy Hall.
Hall said she became concerned after a dog who was with the victim returned to the home alone. Hall drove to the scene and found Fish on the ground next to the quad, holding the snake's head with both hands as it had "latched onto his right hand."
According to the coroner's investigation, Hall said the snake was wrapped around the victim's arm "up to his neck" and its body had still been "moving around."
At the direction of the victim, Hall called for help from their next door neighbours, who rushed to the scene and rang for an ambulance. "They observed Mr Fish laying on the ground with a big, black snake on him," the coroner's report said.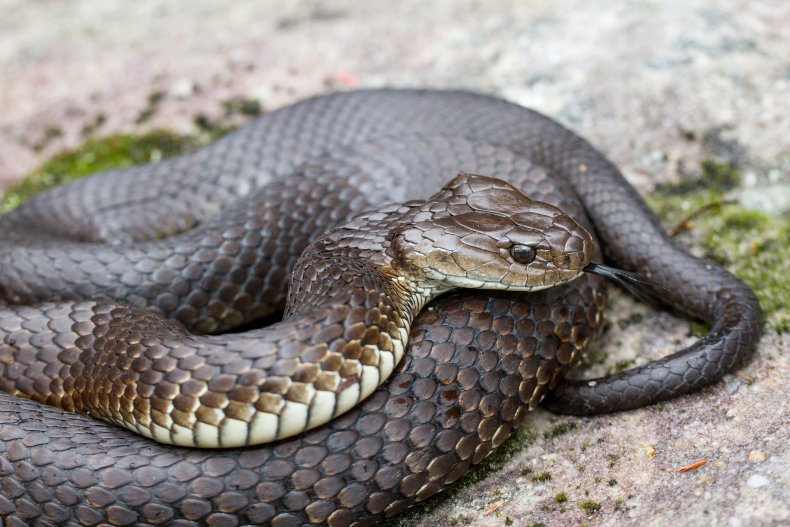 Adam McDermott, one of the neighbors, told officials that he recognised the reptile as a tiger snake and said Fish, who was still conscious, believed he had been bitten. The neighbors cut the snake's head off with a knife that was lying nearby.
"[The victim] did not say anything to us about where the snake had come from. We were just trying to keep him settled," McDermott said in an affidavit, detailing his experience for the investigation. The testimony was included in the coroner's filing.
"He was in a pretty bad way. The origins of the snake is still the biggest mystery of all. I am not aware of how many times the snake has bitten [Fish]. I saw an injury to his hand which looked like a bite. The area around his hand had gone black," he added.
Australia's eastern tiger snake is considered to be the world's sixth most deadly species of venomous snake, according to a profile published by Encyclopedia Britannica.
Fish was taken to hospital by helicopter and anti-venom was administered but he died January 30 after being transferred to an intensive care unit, the report said.
Tasmania state coroner Olivia McTaggart said in her report: "The death of Mr Fish by tiger snake envenomation represents a tragic but rare occurrence.
"All three land snakes in Tasmania have highlysa toxic venom. However, the risk of people being bitten by snakes is low. This is due to snakes being naturally shy animals, their first form of defence being to move away from the danger." McTaggart said there have been three deaths from snake bites in the region, including Fish, since 1948.