Bizarre Ice Formations Pictured Near Yellowstone's Hot Springs
Freezing temperatures at Yellowstone National Park have led to the formation of intriguing ice formations.
On Tuesday the park's Facebook page uploaded a photo of a bare tree branch at the park's Mammoth Hot Spring Terraces that appears to have been blasted in a snow storm, with ice formations building up on one side of the wood while the other side remains clear.
Another photo shows similar build-ups of ice on the needles of a tree along the Gibbon River.
Ice of this type is known as rime ice, a well-known phenomenon. Rime ice occurs when water droplets in the air quickly freeze when they come into contact with a surface.
Over time these water droplets will freeze on top of one another, resulting in a build-up of ice that gets larger. These build-ups face towards the wind, Yellowstone National Park stated.
Rime ice tends to occur when the air is cold and moist, and a light wind also helps.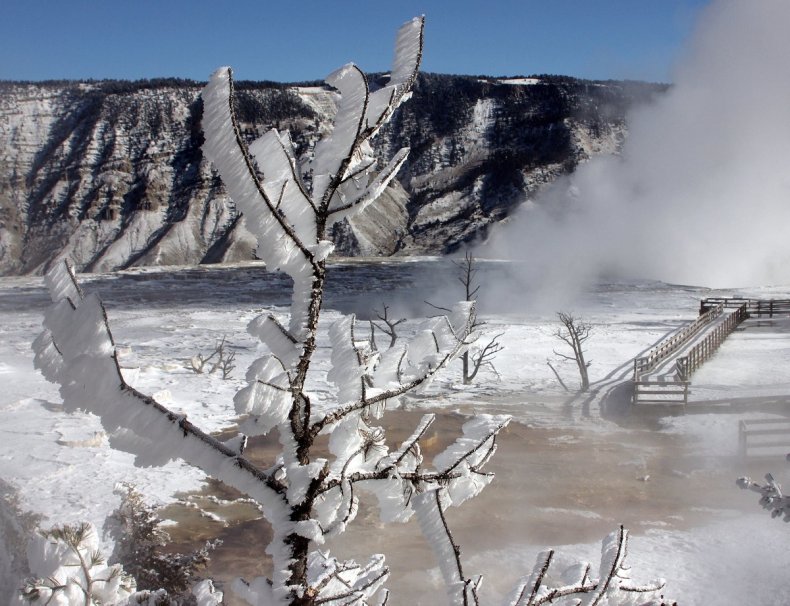 In Yellowstone, a good place to find rime ice is near thermal basins where hot springs put water vapor into the air. Another good place to see rime ice is near rivers, where mists above the water can freeze into rime ice structures along the bank.
"Wind, moisture, and freezing temperatures together form some beautiful scenes and interesting sculptures in winter," Yellowstone National Park's Facebook post says. "While the cold temperatures can sometimes limit our time outdoors, it sure can create some beautiful winter scenery."
Rime ice can be an issue for pilots when it forms on planes. Build-ups of rime ice on the surface of an aircraft, such as the wings, can alter its aerodynamics and reduce lift whilst increasing drag, according to the Federal Aviation Administration.
Winter is in full swing at Yellowstone, with the park regularly sharing photographs of the snowy landscape and the animals that live in it.
In October, officials issued a warning as more than 150 bison were filmed walking along one of the park's main roads.
"As the snow begins to fly, bison begin to migrate to lower elevations, often utilizing park roads," said officials on Yellowstone's Facebook page. "Remember to drive cautiously, give them room—at least 100 yards (91 meters) from bears or wolves, and at least 25 yards (23 meters) from bison, elk, and other wildlife—and use a zoom lens!"
Yellowstone is one of the U.S.' biggest national parks, encompassing nearly 3,500 square miles. It is known for its hydrothermal features, including more than 500 active geysers—more than half the world's total, according to Yellowstone.org.