The Bizarre Nazi Love Story Tearing the Romance Lit World Apart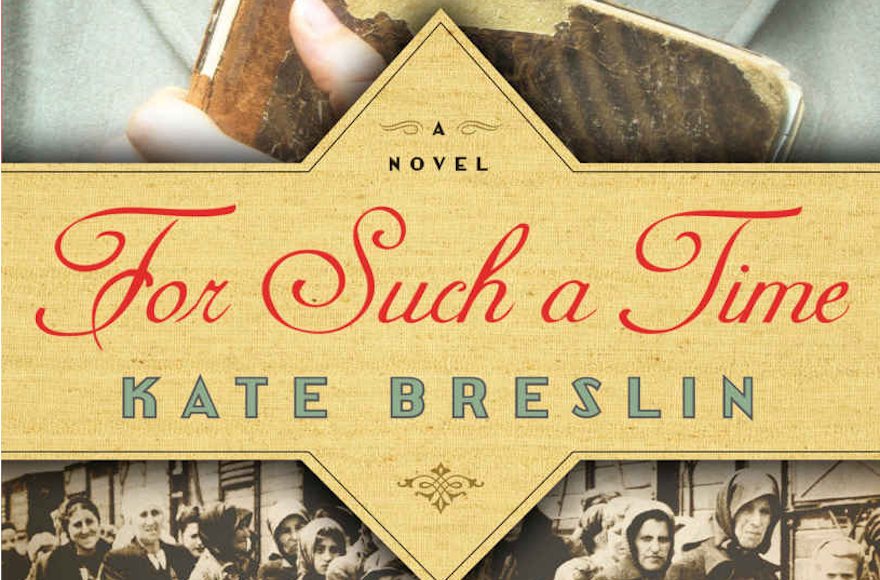 The Nazi romance novel For Such a Time, by bookseller-turned-author Kate Breslin, drew little attention outside of a small but passionate romance literature community when it was published in the spring of 2014.
Now, after being nominated for two major prizes at the Romance Writers of America's annual conference in late July, the book's Holocaust-set themes of Christian salvation are tearing the romance world apart—and roiling Gamergaters rushing to its defense.
For Such a Time is the strange tale of the romance shared between Hadassah, a "blonde and blue-eyed Jewess" who is an inmate at the concentration camp Theresienstadt during World War II, and the Nazi commander who rescues her to be his secretary. The plot is based loosely around the Book of Esther, but with contemporary Christian overtones; rather than embracing her Jewish faith, Hadassah draws strength from New Testament passages about Christ's sacrifice.
The story rankled blogger Sarah Wendell, who has been running the romance lit site Smart Bitches, Trashy Books for a decade and is also the author of two books about the genre.
"Co-opting a genocide to further your specific religious perspective is unnacceptable," Wendell says. "I converted to Judaism, so I have both parts of education on the Christian side and the Jewish side. I can see how [the character]'s Jewishness and Jewish faith are slowly being erased and replaced by all these references to salvation, resurrection and religious forgiveness through sacrifice."
In a statement provided to Newsweek, Breslin explains her intent with the book and apologizes for any offense caused.
"I have previously stated in posts and interviews on social media that my inspiration for For Such A Time was borne from a compassion for the Jewish people, as in reading from the Book of Esther I realized how they have suffered at the hands of one society or another throughout history," Breslin says in the statement. "It was my intent to write a book that told a more modern-day story of a courageous Jewish woman who, through strength and faith in her God, used her situation to try to save some of her beloved people—much in the way Esther saved hers. And like that Biblical queen's influence with King Xerxes, through her brave and sacrificial actions, she helped to bring one man to a sense of conscience, prompting him to join in the attempt to save her people. I am heartsick and so very sorry that my book has caused any offense to the Jewish people, for whom I have the greatest love and respect."
So why has the controversy erupted now? Though the book is more than a year old, Wendell was moved to action at the July 25 gathering of Romance Writers of America (RWA), where For Such a Time was nominated for two RITAs (the "highest award of distinction in romance fiction").
As a RWA member, Wendell wondered if she was the only one disturbed by the apparent endorsement of Breslin's book. Initially, the community was silent, but after chatting with others at the conference, she found allies: "Other people had this alienated feeling of, 'Why does everyone seem to think this is OK except me?'"
Wendell wrote a letter to the RWA board explaining why she was "disturbed and distressed" by For Such a Time's nomination. On Tuesday, she posted the letter to her Tumblr. The blog post went somewhat viral, drawing thousands of reactions and prompting what's being characterized as "soul-searching" in the largely white, Christian-dominated romance genre. (The RWA Board of Directors has responded with a statement acknowledging concerns but explaining that books submitted to the contest are not vetted. "Books are entered, not nominated, and those books are judged by fellow romance authors," the statement explains. "The Board believes this is how the contest should be run.... We do believe, however, that education and conversation are important in dealing with the concerns expressed." The Board promised to open an online discussion forum regarding For Such a Time.)
A slew of other blog posts and testimonies followed from romance writers and fans. Tales of anti-Semitism and racism within the romance community poured forth. In one post, writer Corrina Lawson describes being questioned by an RWA judge for including a Jewish heroine in a story. In another piece, romance/young adult author Katherine Locke questions the nature of consent in For Such a Time. "What you are celebrating is rape," Locke writes, "and it happened to many women during the Holocaust."
Rose Lerner, meanwhile, waded through the book's five-star reviews on Goodreads, where readers wonder if history has been too unkind to Nazi officers and fantasize about marrying the fictional commander Aric von Schmidt.
"I'm a little sick of narratives about the Holocaust that focus on sad Germans and how sad it was for them to participate in atrocities," says Lerner, a Jewish romance author who writes historical fiction. "And I'm just tired of stories about the Holocaust that don't focus on Jews.... If there were a lot of heartfelt apologies at the Nuremberg trials, I didn't hear about them."
Sarah Wendell's post has prompted a reckoning in the romance world, but it has also made her an enemy of a loose community of Gamergate supporters and "Sad Puppies," the loosely related sci-fi/fantasy group that recently organized against efforts to diversify the Hugo Awards.
The group took interest after outspoken science fiction writer and game designer Vox Day shared Wendell's post on his blog. In an interview with Newsweek, Day—whose blog has previously compared feminists to Nazis—described Wendell as an "SJW" (code for "Social Justice Warrior") and argued that "political correctness" is a "major problem" in the United States.
"It's another example of SJW's attempting to thought-police a particular industry or genre," Day says of the Breslin outrage. He compares it to the scuffle over the 2015 Hugo Awards, while others have likened it to the #WeNeedDiverseBooks campaign that fought to diversify children's literature.
"Obviously a lot of people liked the book, because they nominated it," Day adds. "What they're trying to do is disqualify all those people's opinions because they disagree with them. It's something that the SJWs are getting more and more blatant about, and I think people are getting more and more tired of their attempts to impose political correctness and impose thought-policing on everyone else. Donald Trump's not having any of it, and I'm certainly not either."
Day's followers took the bait. Wendell was distressed to learn from a friend that his post had drawn dozens of comments, some denigrating her and mocking her blog by calling it "Cat-Lady Central." One commenter went so far as to write that "as long as the SJWs support Moloch Worship (aka Planned Parenthood) that traffics in baby parts, they have no right to criticize the Nazis."
Day says that abusive treatment is par for the course. "I have absolutely no concern for [Wendell]'s feelings about people speaking rudely about her. She is trying to thought-police people; she deserves every bit of criticism she gets."
Wendell, though, says that she is not trying to police anybody.
"I don't actually want this book to be censored," Wendell says. "I wish that someone had the judgment to say before it was published [that] redeeming Nazis through the power of Christian salvation sounds like a bad idea."
Correction: This article originally incorrectly stated the full name of RWA. It is Romance Writers of America. The article has also been updated with a statement from the RWA Board of Directors.