Bizarre Noises on American Airlines Flight has Internet Baffled: 'Vomiting'
A video chronicling the bizarre array of noises to which passengers were subjected on a recent American Airlines flight is posing more questions than answers for viewers online.
It begins with what sounds like a series of pained groans before moving on to more anguished vocalizations and a few high-pitched squeaks.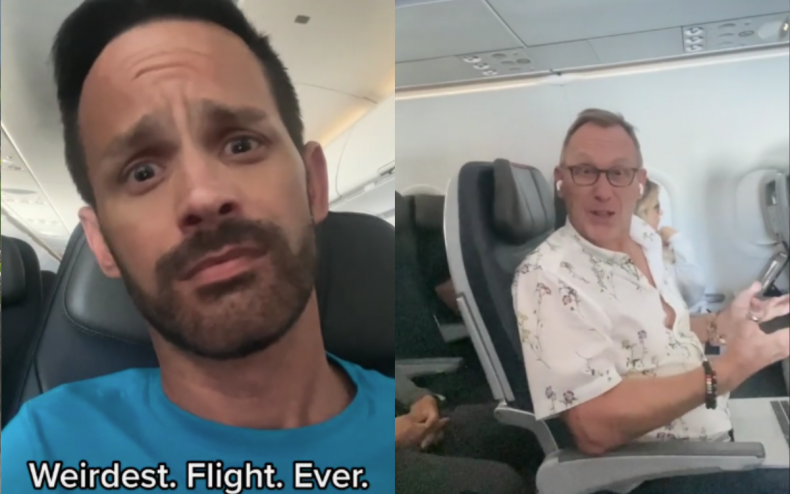 Executive Traveller newsletter compiled the top 10 airline April Fool's Day pranks, with Air New Zealand topping the list with a new 'Pay What You Weigh' scheme, where passengers would be charged in line with their weight.
Virgin Atlantic pranked its passengers by mentioning a trial to grow fresh vegetables in a garden patch in the galley of its aircraft.
In the American Airlines video, the sounds give off an air of an adolescent prank, but both the man recording the clip, film producer and director Emerson Collins, and the airline itself have said that was simply not the case.
In a video uploaded to his TikTok and Twitter accounts, Collins shows some of the sounds he endured during a near-three-hour flight from Los Angeles International Airport (LAX) in California to Dallas Fort Worth International Airport in Texas.
Billed by Collins as the "weirdest flight ever," a variety of noises sounding like squeaks and shouts can be heard throughout the two-minute clip. "Someone on this flight seems to have broken into the intercom system and continues to make a sound that is somewhere between an orgasm and vomiting," Collins says on the video.
A flight attendant can also be heard over the intercom telling passengers: "Ladies and gentlemen, we realize there is an extremely irritating sound coming over the public announcement system."
Collins told Newsweek the disruption began during boarding when a noise "that sounded like someone possibly being sick or moaning" could be heard over the intercom.
"We were all sort of bemused and surprised. It happened a second time and we laughed, and after a third, I joked to a flight attendant 'is he okay?' because someone sounded truly unwell."
He said the staff onboard insisted everyone was fine and the flight took off, with Collins assuming "some random waves got crossed." However, soon after take-off the noises began again, only this time Collins said they could be heard "every two or three minutes."
While staff worked to solve the problem, the captain came over the intercom to assure passengers there was "no danger in the irritation."
"I couldn't stop giggling because the sounds became more and more absurd. It stopped for a bit, then picked back up as the flight attendants did service," Collins said.
"My first thought on the ground was someone was pranking us live," Collins said. "In the air, it became clear no one could be making the sounds live or their neighbors would know. I did walk the aisle to the bathroom like some amateur Nancy Drew to see if I could identify anyone particularly pleased with themselves who might be doing it electronically somehow, but I didn't see anyone of course."
According to Collins, while the initial noises sounded like a "person being sick" the ones heard later in the flight were more "technical" and "artificial sounding."
It's not an isolated incident either. Another passenger on a different flight shared a similar experience with the Los Angeles Times. Bradley P. Allen told the newspaper he heard similar noises during a flight from John F. Kennedy Airport to LAX in July.
Though it was less frequent, Allen said it was enough to have passengers on the flight feeling freaked out: "With all the cultural allusions to things like gremlins on the wings of the plane or snakes on a plane, or whatever, we're all kind of primed for crazy, disturbing things to happen on aircraft like that. And it just sort of fit that bill."
Despite some viewers suggesting the onboard systems may have been hacked, Sarah Jantz, a spokesperson for American Airlines, told Newsweek: "There is no Wi-Fi component to our PA systems.
"The PA systems onboard our aircraft are hardwired and there is no external access," Jantz said. "Following the initial report, our maintenance team thoroughly inspected the aircraft and the PA system and determined the sounds were caused by a mechanical issue with the PA amplifier, which raises the volume of the PA system when the engines are running. Our team is reviewing the additional reports."
Update 9/27/22 6:30 a.m. ET: This article was updated with comment and video from Emerson Collins.