Bizarre Domino's Pizza Order Baffles Internet: 'Ring and Check'
A video of an unusual pizza order has gone viral on TikTok, where it had over 764,000 views at the time of publication.
The clip, shared by TikTok user Kieran (@_kierang) and credited to the account @k1g930 (which appears to no longer exist), showed a worker in a shirt bearing the Domino's Pizza logo assembling what appeared to be a pan of plain baked pizza dough inside a cardboard delivery box. The pizza base was topped only with a few drizzles of a sauce.
The footage was posted with a caption that read: "No sauce, no cheese, burger sauce though [crying laughing emoji and one eyebrow raised emoji]."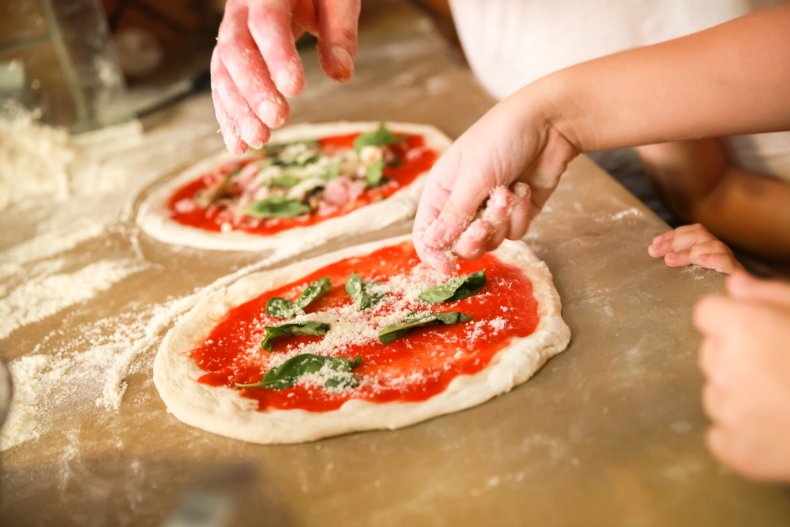 While the customer in the video appears to prefer none of the traditional trimmings, Americans certainly love their pizza toppings, with Italian being the country's favorite cuisine, according to a recent YouGovAmerica survey.
The survey of 6,168 U.S. adults conducted between February 3 and 4 in 2021 found that the country's favorite pizza topping is pepperoni, with two-thirds of Americans (64 percent) choosing the spicy salami topping.
Other favorites included sausage (56 percent), mushrooms (54 percent), extra cheese (52 percent) and onions (48 percent).
Among the least popular ones, more than half (61 percent) said anchovies were the topping they most disliked, while around half (52 percent) said they don't like eggplant on their pizza.
Just under half (44 percent) of those surveyed disliked artichoke pizza, while 39 percent aren't keen on broccoli pizza. More than a third (35 percent) said they don't like the "ever-controversial" pineapple on their pizza, while 26 percent said they do, the survey found.
The latest viral clip, shared with a message overlaid on it that read: "Think we need to check on some customers to make sure they're okay," has seen baffled TikTokers in stitches.
User C1 wrote, "omg [oh my god] ring and check, my ex accidently [sic] did this and I was so disappointed when it came!"
In a comment that got 4,150 likes, Jake Evans3552 said: "Could of put more sauce on considering that's all they ordered on it [crying laughing emoji]."
Dan Block agreed, noting: "Skimped on the sauce there tbh mate [crying laughing emoji]."
In a comment that got 2,009 likes, Claire Mason4481 said the bizarre order may have been down to unusual "Pregnancy [crying laughing emoji]" cravings.
Zanden said: "My question is how did they discover they liked this [surprised face emoji]."
Domino's declined to comment. Newsweek has contacted TikTok user @_kierang for comment. The latest video has not been independently verified.
Do you have a similar funny video you want to share? Send it to life@newsweek.com with some details and it could be featured in Newsweek.
Update 9/22/22, 10:50 a.m. ET: This article was updated to reflect Domino's declining to comment.