Bizarre 'Shrek Box' Filled With Movie Memorabilia Spotted in Philadelphia
A box dedicated to Shrek popped up in Philadelphia in May, and as shown by a newly viral video, the bizarre fan shrine has grown hugely.
"Yo, what the hell is this?" said an off-camera voice in the video, as they approached the green decorated newspaper box. The box also has a stencil of Shrek painted on along with the words: "From our swamp to yours."
To the tune of "All Star" by Smash Mouth, the video shows a closer look at the surprising box, which reads: "Leave a Shrek, take a Shrek."
When opened, the "Shrek Box" is decorated with fan artwork inside, along with merchandise and even an onion—which has layers, of course.
In the two days since it was uploaded, the obscure video, which can also be seen here, has reached over 150,000 likes on TikTok, but the box isn't entirely new.
The Shrek Box was established on May 10 in Philadelphia by Bella Vista resident Wil Keiper. After he found an old newspaper box with his partner Lauren Devlin, they kept it in their backyard until the idea for a Shrek-dedicated box came to him. "I noticed that Philadelphia was littered with lots of abandoned newspaper boxes. They were graffitied and stuffed with trash so I wanted to repurpose them and make them into something fun for the city to enjoy," Keiper told Newsweek.
Taking inspiration from the hugely popular Little Free Libraries, which encourage users to take a book and bring it back after out of their own goodwill, the Shrek Box encourages fans to bring and leave the Shrek trinkets.
"I check it all day. Not only is it fun to see what people left us, I need to make sure nobody leaves anything that will get us in trouble. You know, keep it family friendly," he said. "People leave and take stuff all day. That's the idea. It's gone through stages. At first it was lots of onions, then it became a Shrek art exchange and now it's just mostly people leaving us little notes. We also get a lot Shrek merchandise but that never last long."
Keiper placed the box outside of his apartment, and since then it's become somewhat of a meme itself, with people visiting just to take a peek inside at the growing collection.
"We did nothing to promote it. It just blew up on TikTok and social media as people discovered it," he said. "The reaction to the box is great. I wasn't sure if people would get it, but they really did. I love that it went national and it was designated a religious destination in Google Maps."
"I'm so proud of Philly's response. I know we have bad reputation from throwing snowballs at Santa and killing the hitchhiking robot, but sometimes we can come together and have a little clean fun."
The box's creator pointed to Shrek's "huge cult following," as why he choose the movie to dedicate the box, adding that he wanted the box to parody other community boxes in Philadelphia which "typically just fill up with junk."
"Shrek is the perfect idea because in some ways it's a parody of Disney, and my first box was meant to be a parody too," he said. "If anyone would get the joke it would be Shrek fans. And they sure did.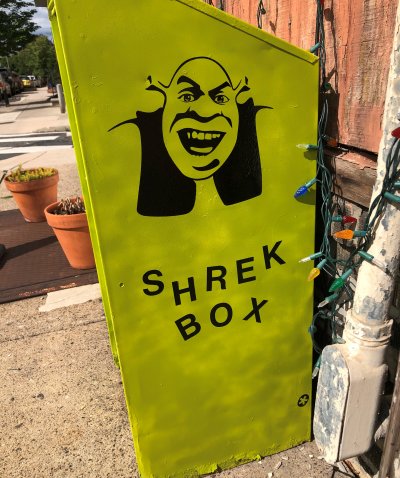 Shrek got off to a respectable start, premiering at Cannes Film Festival and winning the first-ever Oscar for Best Animated Feature, but in recent years it's become an online meme phenomenon.
Since around 2012, the movie has become an in-joke of the internet, where an ironic obsession with the film exists. Often, it manifests as an adoration for the soundtrack, intentionally bad fan art and costumes.
Many track the first memeification of the film to the image-board ShrekChan, which played host to memes about the film by fans who jokingly called themselves "Brogres," a play on the non-ironic My Little Pony fanbase name "Bronies." In 2013, a 4chan user posted a joke fanfic of Shrek titled: "Shrek is Love, Shrek is Love," which started off as a boy who prayed every night to the green ogre, but ended rather explicitly.
As reported by Vice, the internet's obsession likely roots from the fact those who originally watched the movies as kids, were around the 20-year-old mark in the early 2010s, when internet and meme culture truly took off—making a Shrek an easy joint prime target.
Why Shrek? In its simplest form, a green ogre is just funny, said Buzzfeed's weird-internet expert Katie Notopoulos to The Atlantic in 2014: "There's something kind of funny about an ogre doing things," she said.
On a more complex level, the memes actually take the intention of the Shrek movies, and play it on itself, reported Vice. The Shrek films consistently poked fun at other Disney movies and their fairy-tale plots. In a meta-level meme, the internet now does exactly this to Shrek.
It's difficult to explain exactly why the internet is so obsessed with Shrek with the internet being far from explainable at times, but Philadelphia's green Shrek Box seems here to stay—taking the very online inside joke, IRL.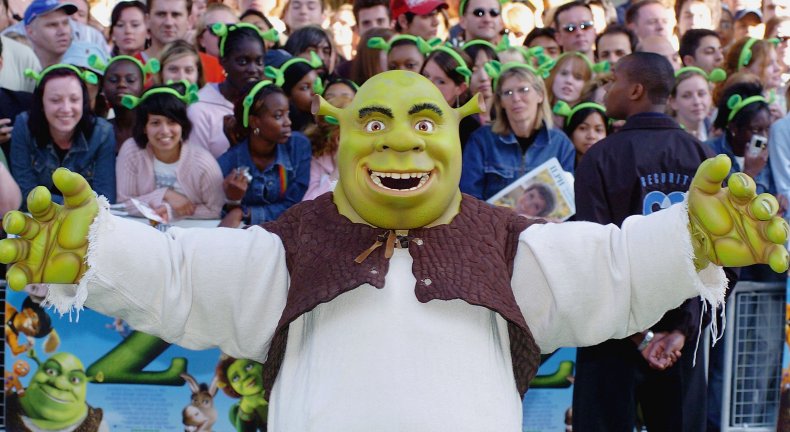 Update 07/15/21, 1:20 p.m. ET: This article was updated with comment from Wil Keiper.