'Something Bizarre and Sinister' About Donald Trump's Relationship With Russia, CNN Analyst Warns
In the wake of explosive new claims by former Acting FBI Director Andrew McCabe regarding his concerns about President Donald Trump's affinity for Russian President Vladimir Putin, legal analyst Jeffrey Toobin warned that "there is something bizarre and sinister" going on.
Toobin, who is a lawyer and legal commentator, joined a CNN panel on Monday morning to discuss McCabe's interview with CBS News's 60 Minutes, which had aired the night before, and the allegations surrounding Trump and Russia. McCabe, whom Trump pushed out in January 2018 after he'd fired McCabe's boss, James Comey, the previous May, said that the president had openly told intelligence officials that he trusted Putin's assessment over their findings on North Korea. The former acting FBI director also voiced his own concerns that Trump may have won the 2016 presidential election with Russian support.
"This is not just any leader," Toobin said on CNN. "This is Vladimir Putin, who he was trying to do business with, who was helping him win the election. I mean, there is something bizarre and perhaps sinister about the president's relationship with Russia," he alleged.
In his interview, McCabe asserted that the "president said he did not believe that the North Koreans had the capability to hit us here with ballistic missiles in the United States" because "Putin had told him they did not." Intelligence officials, according to McCabe, pushed back, explaining that Putin's assessment "was not consistent with any of the intelligence our government possesses." But Trump replied, according to McCabe: "'I don't care. I believe Putin.'"
Former Republican Representative Mike Rogers also appeared on the CNN panel to discuss McCabe's claims. He said that he also found the former FBI leader's account "concerning."
"These are his intelligence folks who are culling lots of points of collection, meaning human and electronic and digital, every form of [intelligence]," Rogers pointed out. "They take all of that information and then they come up with a policy or at least a proposal or at least an understanding of what's going on in the world," he said. "The president needs to have faith and trust in that information."
Trump blasted McCabe and his claims, dismissing them as inaccurate.
"Wow, so many lies by now disgraced acting FBI Director Andrew McCabe. He was fired for lying, and now his story gets even more deranged. He and Rod Rosenstein, who was hired by Jeff Sessions (another beauty), look like they were planning a very illegal act, and got caught," Trump wrote in a Monday morning tweet.
"This was the illegal and treasonous 'insurance policy' in full action!" he added in a follow-up tweet, suggesting a conspiracy was at work against him.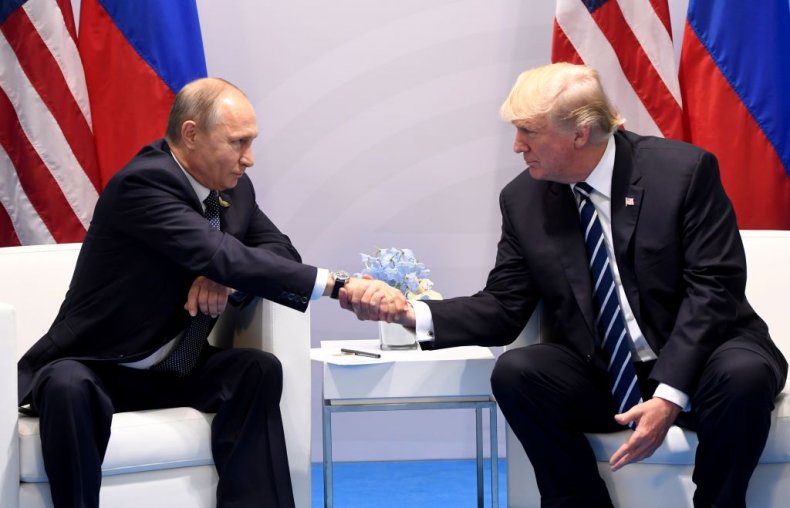 Trump and Russia have consistently denied working together during the 2016 election. But the special investigation into alleged conspiracy directed by Robert Mueller has led to numerous indictments, guilty pleas and convictions. Six close associates of the president have been indicted, pleaded guilty or been convicted in the probe.
But Democrats and Republicans on the Senate Intelligence Committee, which is also investigating allegations of conspiracy between the Trump campaign and the Kremlin, have said they have not yet seen concrete evidence of conspiring with Russia, according to MSNBC journalist Ken Dilanian. But Democrats on the committee also said they expected new details to emerge and did not expect their final report to be favorable to the president.
"They have uncovered facts yet to be made public, and that they hope to make Americans more fully aware of the extent to which the Russians manipulated the U.S. presidential election with the help of some Trump officials, witting or unwitting," Dilanian reported last week.