Bizarre Video Shows Stream of Thousands of Suffocating Fish Crawling
A bizarre video shows a stream of thousands of suffocating fish crawling along sand.
The video, posted to Facebook by Ali Mohamed Belouizdad, shows what appears to be thousands of fish, flowing down a lane.
There appears to be a small amount of water carrying the fish, but many of the fish appear to be suffocating. The stream of fish appears to gradually get closer to the camera, and a filming crew appears to be reporting on the phenomenon in the video.
It is not clear where exactly the footage was filmed. Newsweek has contacted Belouizdad for comment.
The video was reshared on Facebook by Trapman Bermagui, who wrote: "I'm not sure what's going on here...but wow!"
It is not clear what caused the phenomenon to occur, but Facebook users theorized what could be happening.
"Looks similar to when flood water have breached lakes and the flow is headed to the next lake, river system, red claw do a similar thing and have seen large quantities on the move, all part of nature, and all good as long as the flood waters keeps pushing into the next system," one Facebook user said in the comments section.
Others expressed confusion as to how the fish were still alive despite not having enough water to breathe.
While some social media users did not think it was to do with lakes at all. "I'm guessing further up the road, a tanker truck transporting baby fish has sprung a leak, shame they will all be dead once that water dries up," one user said.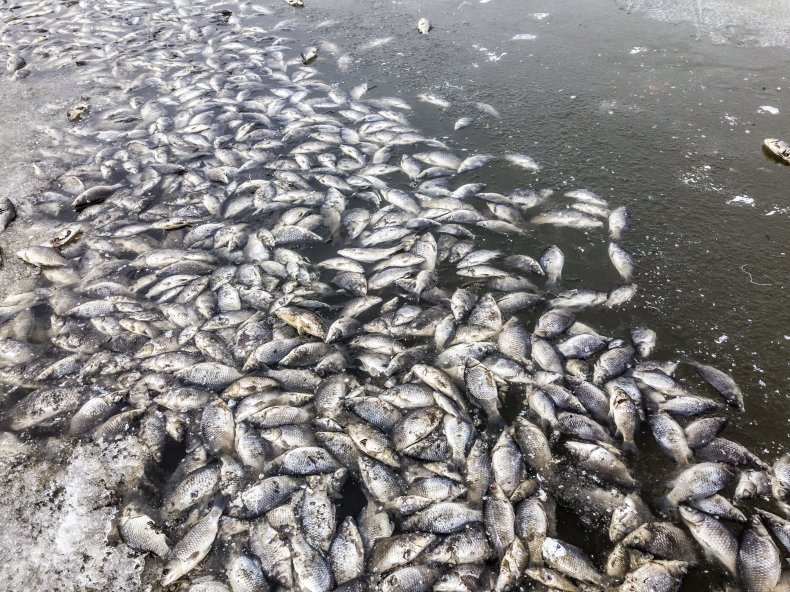 A few social media users wondered why birds or other predators had not swooped down to feast on the dying fish.
"That's crazy how are they living and why is there nothing there eating them?????" one person said.
"Where's the birds," someone else wrote.
It is not the first time bizarre circumstances involving fish have been recorded around the world.
In June, anchovies were spotted falling from the sky onto the streets of San Francisco.
The phenomenon was filmed by a Reddit user and posted to the social media platform.
Many social media users took to the platform, saying they had been finding the fish in strange, unexplained places around the city.
Local fisherman believed it was due to seabirds feasting on the fish, and then dropping them from the sky. At the time, the anchovy population along the coast had boomed. According to experts, the numbers were the second highest level ever seen.