The Office star B.J. Novak has received pushback from social media after he claimed being a Harvard graduate was "the worst thing to have on a comedy resume."
The actor is currently doing press for the release of his upcoming movie Vengeance. He wrote, directed and starred in the new dark comedy which is out in theaters on Friday.
Ahead of the release, he divided opinions on Twitter when a quote about his education appeared to rub people the wrong way.
"I don't like talking about it. I will but I don't like to," Novak told The Boston Globe when the topic of his college came up. Novak was a member of the comedy group the Harvard Lampoon while he attended the Ivy League school before he graduated Harvard University in 2001.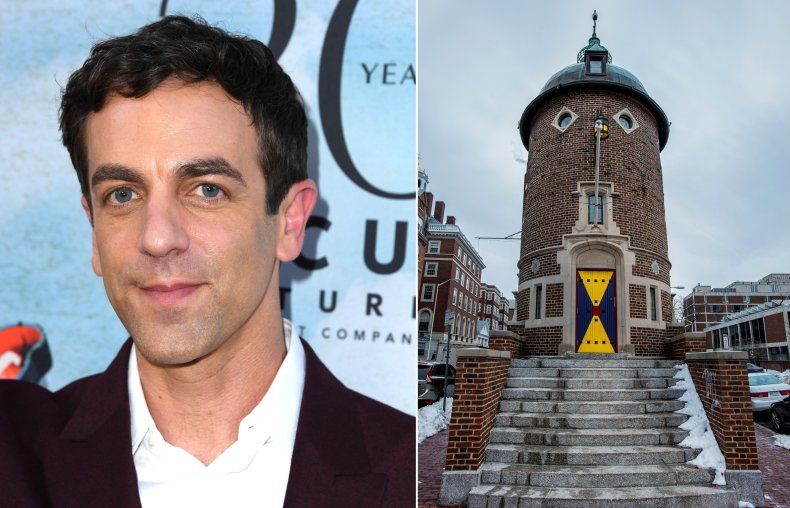 "It's the worst thing to have on a comedy resume, the worst," Novak said. "Comedy is an underdog profession. You're speaking up for the underdog. You're saying what isn't said by the people in charge. But [Harvard] makes people think you're in a different category. Or that you think you are."
His comments raised eyebrows online, and many were quick to voice their opinion on Novak's perceived perception.
"No disrespect to B.J. Novak, whose work I love, but a survey of TV writers' rooms will tell you that a Harvard degree is pretty much the opposite of 'the worst thing to have on a comedy resume,'" said The Boston Globe's Kevin Slane. He goes on to suggest that maybe Novak was alluding to the fact that it's actually the worst "in terms of other writers/comics talking about you behind your back" but not for succeeding in showbiz.
Journalist Lucy Huber agreed with Slane. "If Bj Novak thinks there aren't hundreds of equally talented people who just never got a chance for anyone to see their work because they DIDNT go to Harvard (and were not white and/or a woman) he's kidding himself," she said.
Many argued that there are a number of comedy writers who attended Harvard, and it's not the "worst thing" as Novak suggested. Fellow alumni who performed in the Harvard Lampoon include recent TV talents like Conan O'Brien, Michael Schur and Greg Daniels (co-creators of The Office in the U.S.), Robert Carlock (30 Rock showrunner), Colin Jost (Saturday Night Live) and Alan Yang (co-creator of Master of None).
Twitter user @allymayn pointed out that Novak also had a successful family history when it came to writing. His father William Novak was an author who ghostwrote memoirs for Nancy Reagan and Magic Johnson among others.
While many piled in on Novak's assertion that it's hard being a Harvard graduate in comedy, others pointed out that The Simpsons writer's room was famously filled with Harvard graduates. "The best seasons for sure," suggested comic book writer Erica Henderson.