US's Only Black Archbishop: Trump 'Diminishing Our National Life' With Tweets About Minority Lawmakers
Washington, D.C.'s new Catholic leader is condemning the recent remarks and tweets issued by President Trump about minority members of Congress and the city of Baltimore, Maryland.
"I fear that recent public comments by our president and others, and the responses they have generated, have deepened divisions and diminished our national life," Archbishop Wilton Gregory said in recent remarks to the Catholic Standard.
The move by Gregory, who is the country's only black archbishop, to comment on political matters wades into unusual territory for a religious leader—something that Gregory himself acknowledged. However, with Trump's recent racially-charged attacks on a group of minority congresswomen and Baltimore's black representative, in addition to the city itself, Gregory said he felt it necessary to defend "all God's children."
"I have stressed that I am a pastor and fellow disciple of Jesus, not a political leader," he said. "There are, however, sometimes, when a pastor and a disciple of Jesus is called to speak out to defend the dignity of all God's children."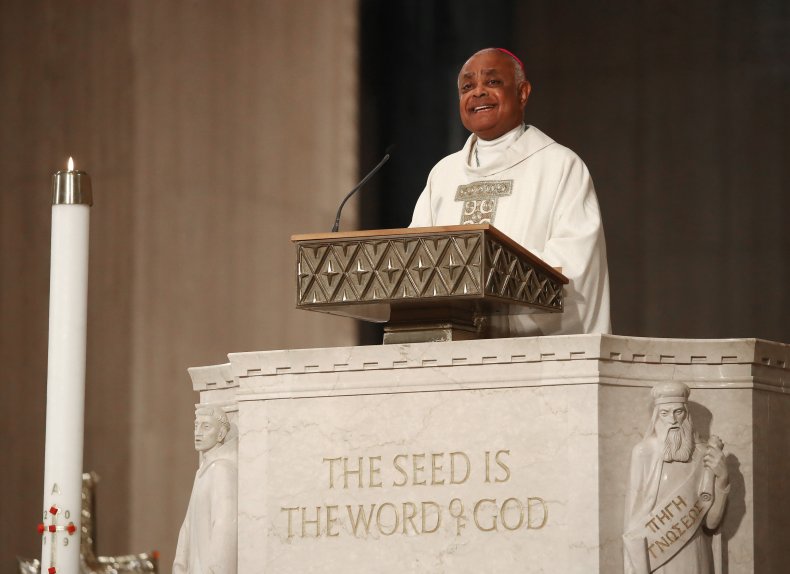 Trump, despite bipartisan backlash, has doubled down time and again on his comments, which include telling four freshmen congresswomen of color—Alexandria Ocasio-Cortez of New York, Rashida Tlaib of Michigan, Ayanna Pressley of Massachusetts and Ilhan Omar of Minnesota—to "go back" to the "crime infested places" they "came from." He's also claimed that Representative Elijah Cummings, the House Oversight Committee chairman, is a "racist" whose congressional district of Baltimore is a "disgusting, rat and rodent infested mess" and a "very dangerous & filthy place" where "no human being would want to live."
All five members of Congress are Democrats and outspoken critics of the president, especially on immigration policies and the overcrowded conditions in migrant detention centers along the southern border.
"Our faith teaches us that respect for people of every race, religion, gender, ethnicity and background are requirements of fundamental human dignity and basic decency," Gregory continued. "Comments which dismiss, demean or demonize any of God's children are destructive of the common good and a denial of our national pledge of 'liberty and justice for all.'"
Baltimore City Police said Thursday that Cummings' home was broken into by an intruder last weekend in the early morning hours, who the congressman said he was able to scare away by yelling. In a tweet Friday morning, Trump responded: "Really bad news! The Baltimore house of Elijah Cummings was robbed. Too bad!"
"We must all take responsibility to reject language that ridicules, condemns, or vilifies another person because of their race, religion, gender, age, culture or ethnic background," Gregory said. "Such discourse has no place on the lips of those who confess Christ or who claim to be civilized members of society."
The archbishop, who is the former Atlanta archbishop and was named to his D.C. position by Pope Francis in April, said he's met privately with major Catholic groups to "promote respect for all" and for help in "lifting up and defending the dignity of every person, promoting respect, civility and principled discussion of what unites us and where we may differ."
Gregory also expressed "sadness and deep regret" for how those in Baltimore "have been denigrated in recent public attacks."
"As an American, a Christian, a Catholic pastor, I pray that our president, other national leaders and all Americans will do all we can to respect the dignity of all God's children and nothing to further divide our nation," Gregory said. "The growing plague of offense and disrespect in speech and actions must end."