Black, Asian Americans Fear They Will Face Suspicion If They Wear Masks: Poll
A new study has shone a light on the impacts of racism amid the coronavirus outbreak, with sizeable shares of Black and Asian Americans saying they worry other people might be "suspicious" of them if they wear a face mask out in public.
In a new Pew Research Center poll, 42 percent of Black Americans and 36 percent of Asian Americans said they "worry a great deal or a fair amount" about whether other people might be suspicious of them because of their race or ethnicity if they wear a mask or other face covering when out in public.
Meanwhile, 23 percent of Hispanic adults in the U.S. said the same, while just 5 percent of white adults said they shared those concerns.
Concern among Black adults "varied considerably by age," the study found. About half of Black Americans under 50 years old (51 percent) said they worried that people would be suspicious of them due to their race or ethnicity if they wore a mask or face covering in public.
Meanwhile, 30 percent of Black adults aged 50 and up said they felt the same.
Black men and women were about equally likely to say they were concerned about facing suspicion.
The findings from the poll, which saw 9,654 U.S. adults surveyed from June 4 to 10 using the Center's American Trends Panel, come as the Centers for Disease Control and Prevention continues to recommend people in the U.S. use face coverings when around others to help prevent the spread of COVID-19.
"Everyone should wear a cloth face cover in public settings and when around people who don't live in your household, especially when other social distancing measures are difficult to maintain," the CDC says on its website.
The below chart from Statista shows the difference in the percentage of people who said in a separate study that they wore masks while outside in around mid-April compared to the end of May.
In the U.S., the percentage of people wearing a mask appeared to rise from mid-April to the end of May.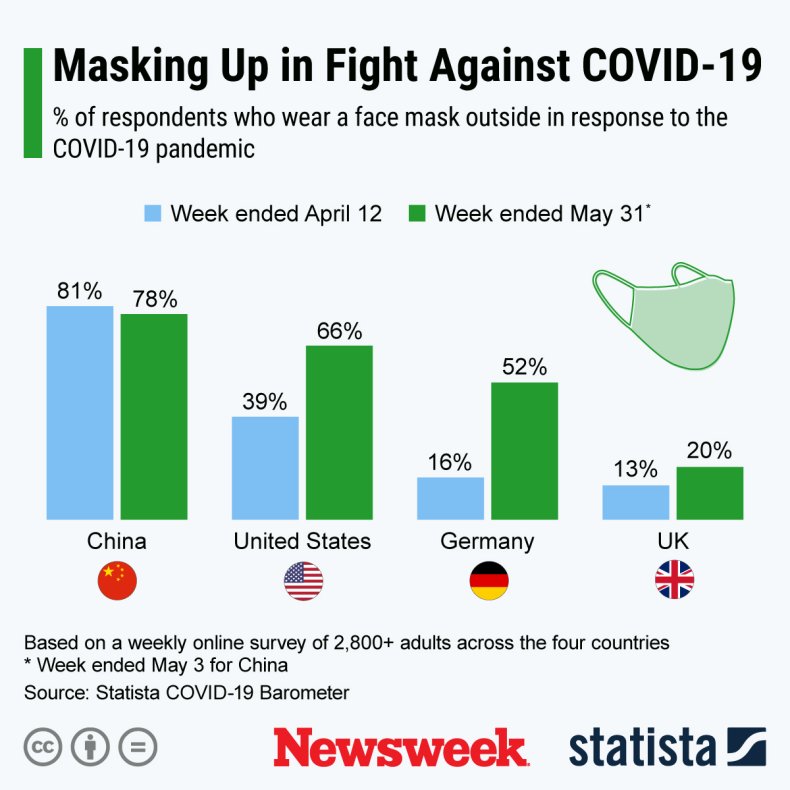 While Black people in the U.S. expressed the highest level of concern over being viewed as suspicious if they wore face coverings, they are also the group most likely to suffer the serious health impacts of coronavirus, including death.
Despite their concerns, however, 69 percent of Black participants in the study said they continued to wear a mask or face covering all or most of the time in the month before the poll was conducted.
Meanwhile, 80 percent of Asian adults said they did the same, while 74 percent of Hispanic participants said they wore masks or face coverings. White people were the least likely to cover their faces, with 62 percent of White participants saying they had worn coverings while out.
The fact that Black communities have been harder hit than other racial or ethnic groups has fuelled outrage and grief over the systemic racism that Black people face in the U.S. and in countries around the world.
In the wake of George Floyd's killing, protesters around the world have demanded that systemic racism and police brutality be addressed, with thousands upon thousands of people taking to the streets to protest since late May.