Lonely, Emaciated Bear That Lost Its Mom Dies after Tranquilizer Shot
An emaciated and sick 1-year-old bear has died "lost and very alone" after being tranquilized near a primary school in Idaho.
The Idaho Fish and Game officers were called to Sherman Park in Victor, Idaho after they received reports of a black bear roaming near a primary school. When they found the animal, it had begun to climb a tree. The officers tranquilized the bear to remove it from the park and take it to a safer location.
The bear cub was in "extremely poor body condition and emaciated." It died under anesthesia as a result of the tranquilizer, according to an Idaho Fish and Game statement.
In veterinary medicine, around 0.05 to 0.1 percent of healthy cats and dogs will die from anesthetic, which increases to 1 to 2 percent if they are unwell.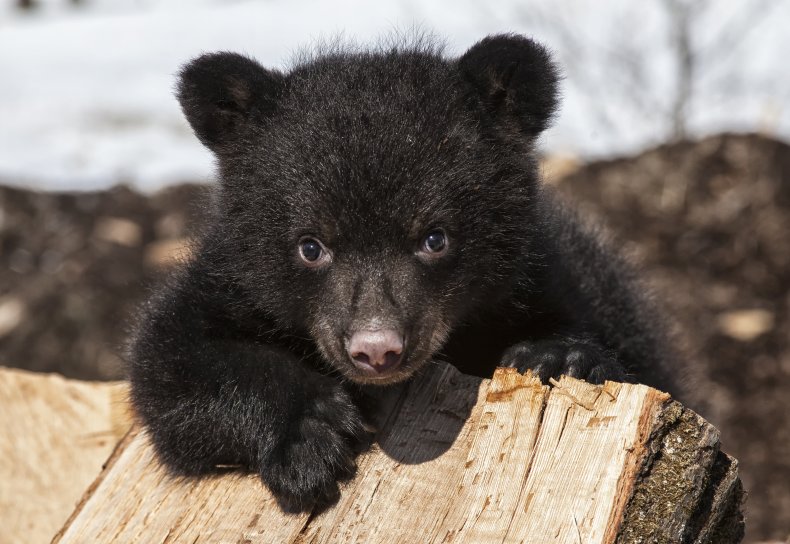 "We were on scene today in Victor, Idaho with a small black bear cub that was obviously very lost and alone," wrote Wyoming Wildlife Advocates in a Facebook post about the rescue.
"His mother might not have made it through the winter and he emerged from the den to try to find food," the statement read. "He was underweight and obviously didn't know what to do.
"We have had a lot of snowfall lately and very cold temperatures which aren't conducive to the survival of a bear cub. Bears will start emerging from the den soon but this little fella was a few weeks too early."
James Brower of Idaho Fish and Game said in the statement that the rescuers had been organizing suitable rehabilitation facilities for the bear. However, the animal was in such poor condition that it did not survive.
"We applaud their efforts for this bear," Wyoming Wildlife Advocates wrote in the post.
The bear was thought to weigh between 50 and 100 pounds. When fully grown, adult males can grow up to 660 pounds, with females weighing up to 175 pounds, according to the International Association for Bear Research and Management.
Black bears are the most commonly found bear species in North America. There are an estimated 300,000 individuals across the U.S. In Idaho alone, around 20,000 to 30,000 black bears are thought to exist.
Black bears are drawn to human settlements by the smell of food. They scavenge in unsecured garbage bins or even by entering human houses.
Bears being present in towns is dangerous for residents, as the animal may attack in self-defense if it feels threatened, or if it is accompanied by its cubs. It is also dangerous for the bears themselves: those that are less scared of human presence are at greater risk of being hit by cars or being poached.
Black bears usually hibernate over the winter months, only emerging in the spring to forage for food. Brower said in the statement that it was strange to see a cub out and about at this time of year, and that the bear was "obviously struggling."
This young bear died as a result of the anesthetic with which it was tranquilized. According to the statement, there is always some degree of risk when an animal is put under, especially if the animal is as sick or weak as the bear cub was.
Do you have an animal or nature story to share with Newsweek? Do you have a question about black bears? Let us know via science@newsweek.com.