Black Bear Rings Woman's Doorbell in Hilarious Video: 'Trick or Treat'
A South Carolina woman was stunned to discover the visitor who rang her doorbell early Tuesday morning.
Wendy Watson was asleep when a black bear paid her a visit around 3:30 a.m. in Greenville, South Carolina. But when she got out of bed the next morning, she noticed the two bird feeders she had just refilled were knocked to the ground. The woman checked her doorbell camera to identify a suspect.
"When I saw the bear in the video, I was so shocked, I almost spit my coffee," she told Newsweek.
Sightings of bears are becoming more frequent in South Carolina, as human development destroys their habitats and the animals are pushed to areas inhabited by people, according to the South Carolina Department of Natural Resources.
Her camera had recorded the bear arriving at her front porch, standing up on his hind legs and appearing to courteously press her doorbell. When no one answered, he turned around and walked away, leaving just a little nose print on Watson's window.
Watson said she had encountered bears in her area before, but never seen one climb onto her porch. She posted the video on Facebook, drawing hundreds of gleeful comments about the unexpectedly polite guest.
"He is tired of bird food and rang the bell for the good stuff," theorized a comment from Laura Garlits Ward.
"He thinks it's Halloween," suggested John Sargent, with others chiming in, "Trick or treat!"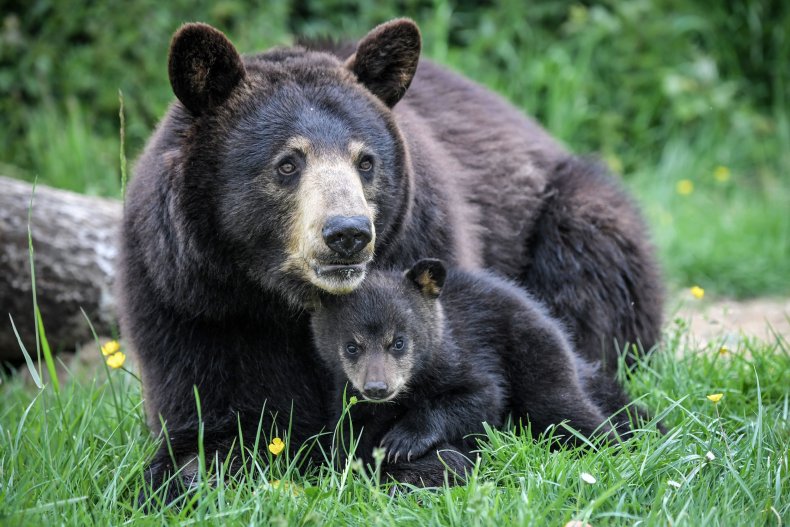 Although some of Watson's viewers were frightened by the rogue visitor, she said he left without doing much harm.
"The bear did attempt to get into our trash can, but didn't really cause any damage," she said. "He destroyed two bird feeders, but the house is intact."
On average, the 750,000 black bears across North America kill less than one person per year, according to the North American Bear Center. When black bears do attack, they are usually defending themselves against a person who is too close and inflict only minor injuries. Men between the ages of 18 and 24 are 167 times more likely to kill someone than a black bear.
Last month, a black bear was caught prowling the grounds of a Florida sheriff's office before it clambered up a tree.
A New Jersey woman was attacked by a back bear while she was checking her mail in May, according to wildlife officials.
And in March, a Ring camera captured a black bear wandering into a backyard with a pool in Massachusetts, where it woke up a napping resident.