Black Bear's Afternoon Walk Sends Teens Running in Viral Video
The day started off as a way for Hailey Nelson, 17, and Dori Arndt, 15, to earn some money at the house of their friend, Hailey Nyberg, 17 last Tuesday. It took a turn when they spotted a young black bear out for a walk in the Minnesota neighborhood. Their reaction was caught on a home camera and shared to a local news station's Instagram where it has been viewed more than 35,000 times.
Nelson told WCCO she thought she saw her friend's dog walk by but quickly realized what she saw was actually a black bear.
In the video, Nelson and Arndt ran for the door and started banging on it after they discovered it was locked.
"So I'm pounding on the door saying, 'Let us in!' Screaming our heads off, just wanting to get inside," Nelson said. "Then [Hailey Nyberg] pokes her head around the corner."
Hailey Nyberg's father Brian Nyberg ushered Nelson and Arndt inside and alerted his daughter of what was happening.
WCCO reported that Brian originally thought Nelson and Arndt were surrounded by bees while they were gardening.
"I think both Hailey and I, we heard the screaming, we both thought, you know, they maybe got into a yellow jacket nest," Brian told WCCO. "They were just terrified, screaming, and the pounding on the door was so fast."
Hailey Nyberg was not aware of the bear strolling through the neighborhood. She is seen in the video walking around the corner before running back inside.
"I heard them screaming and my dad came outside and is just like 'Why are you still out here? A bear just walked by our...front yard!'" Hailey Nyberg said.
Nelson told Newsweek that her initial reaction was shock.
"I think Dori and I only thought of running and getting in the house," she said. "A lot of people were saying that we did the exact opposite of what we are supposed to do. I feel like most people would run or slowly back away if they were only a few feet from a bear."
Brian told WCCO the bear looked young and was about twice the size of their 80-pound Labrador Retriever.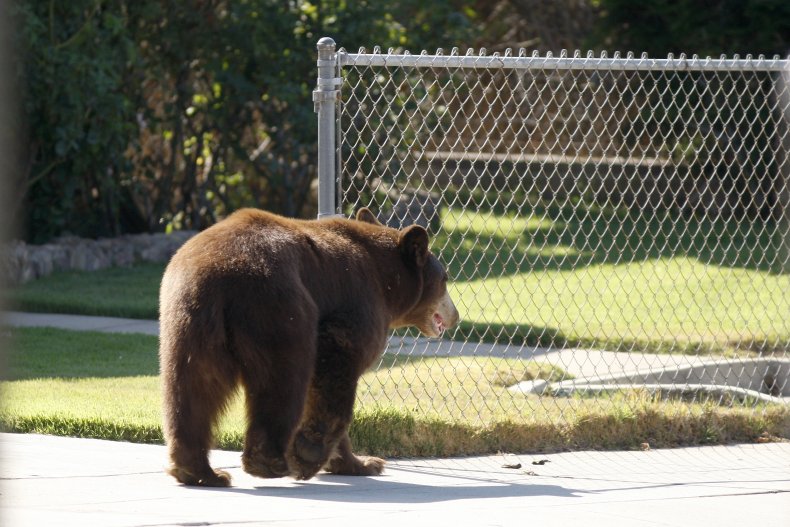 Paul Smithson, manager of Wood Lake Nature Center in Richfield, Minnesota, told Newsweek there have been some bear sightings in the metro area. He said these sightings typically occur just before or just after hibernation because the bears are out looking for food.
"The metro area has so much green space and connections to other green areas," Smithson said. "The bears are looking for food and can end up in neighborhoods."
He said bear sightings in neighborhoods have been more frequent lately due to a drought, resulting in animals searching for food in places people don't expect to find them.
In the event that a bear is found in someone's tree, organizations will be called in to move the bear to a safer area.
If someone were to find themselves facing a bear, Smithson said the best thing to do is to remain calm, move carefully and get as much space as possible between the bear while moving toward a safe space.
With space between herself and the bear, Nelson said when she looks back on the incident, she'll "definitely get a good laugh out of it."
Newsweek has reached out to Dori Arndt for comment.
Update 8/25/2021 5:30 p.m.: This story has been updated with comment from Hailey Nelson.