Are 'Black Bird' Cops Lauren McCauley and Brian Miller Based on Real People?
Black Bird may be a current favorite of the true crime genre—but how much of it is actually based on fact?
The Apple TV+ show examines the real-life undercover operation by prisoner James "Jimmy" Keene (Taron Egerton) to try to get a confession from suspected serial killer Larry Hall (Paul Walter Hauser).
Hall came to the attention of police following the disappearance and death of 15-year-old Jessica Roach in 1993 as several women had made official complaints about Hall stalking them.
During the investigation into Roach's death, Hall had confessed to killing Roach, Tricia Reitler and other women, but he later recanted his statement and claimed he was referring to dreams he had. Hall was convicted of kidnapping Roach in 1995 and sentenced to life in prison without parole.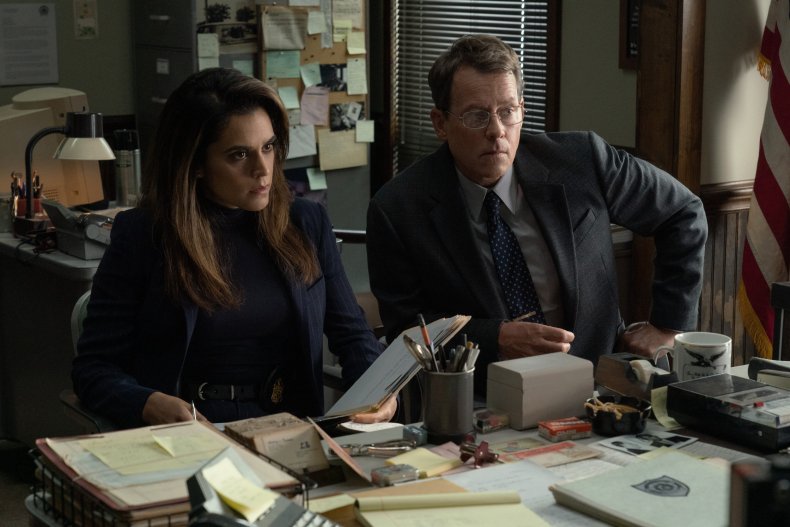 Are 'Black Bird' Cops Lauren McCauley and Brian Miller Based on Real People?
Authorities believe that Hall had up to 40 victims, and in the show, the investigators are represented by two characters: Brian Miller and Lauren McCauley.
Greg Kinnear takes on the role of Miller, the chief investigator of Vermillion County Sheriff's Office leading the investigation into Hall, while Sepideh Moafi portrays FBI Special Agent McCauley.
Kinnear's character Brian Miller is based on the real-life Vermilion County Sheriff's Investigator Gary Miller, who did indeed work on the Larry Hall case.
Per Hall's case file at his 1996 appeal, Miller questioned the suspected serial killer at his home in Wabash, Indiana, on November 2, 1994, after two young girls complained to police about being followed by a "man with a van."
At the time, Hall said he had stopped to talk to the girls but denied any wrongdoing. Hall's van had been spotted by 11 girls over the course of six months, CNN reported in 2015.
While questioning Hall on November 2, 1994, Miller asked him about Jessica Roach, whose body had been found in November 1993.
In an interview with CNN, Miller said he showed Hall a photo of Roach. "[Hall] immediately flinched. He turned to his right and put his hand up over his face like he didn't want to see the picture. He told me he didn't think he had ever seen that girl," Miller said.
Hall was questioned again about Roach on November 15, 1994, by FBI agent Mike Randolph, per Hall's case file.
It was during this second interrogation that Hall confessed to being involved in Roach's disappearance, and those of other women including Reitler. He later recanted this statement, however, his request for the confession to be suppressed from his trial was denied. His appeal in 1996 was also denied.
In an interview with Illinois newspaper The News-Gazette in 2004, Miller spoke about his part in the investigation into Roach's death, sharing: "It was six years from the beginning of that case to the end, but that's a classic example of how there's very little celebration getting a conviction when you look back and see what the family has been through.
"It's very self-satisfying to arrest a person who committed a crime, but it doesn't change what's happened to the victims. Although you've solved it, you wish it had never happened."
After 31 years with the Vermilion County Sheriff's Department, Miller retired in 2004. In the aforementioned interview, Miller said of his decision to retire: "All things considered, it was a good time to go."
FBI Special Agent Lauren McCauley doesn't appear to be based on any real person, though Keene did have an FBI contact while he was incarcerated with Hall at the Medical Center for Federal Prisoners in Springfield, Missouri.
It seems to be that McCauley is a fictional character that is an amalgamation of several FBI agents and she isn't based on any one person involved in the Hall case.
Black Bird airs Fridays on Apple TV+.