For Black and Brown Businesses, the Next Relief Bill Could Be a Lifeline—or an Assault | Opinion
Walking down an eerily quiet Bourbon Street or Woodward Avenue, through Hyde Park or, in our case, the streets of New York City, the familiar is now unrecognizable. That is, until we spot signs of life spilling out of Guzman's bodega or see that Beatstro has been repurposed to serve first responders. More than ever, these businesses are lifelines, especially in places hit hard by the coronavirus pandemic, like the Bronx.
Never has the link between human health and business health been more evident. Small family businesses owned by entrepreneurs of color are providing essential supplies, even as they face extinction. If we ever doubted the life-saving relationship between black- and brown-owned businesses and the people they serve, it's impossible to miss that reality now.
Yet we and our businesses are under attack—and many are dying. Whether we're wearing surgical scrubs, a prison jumpsuit or a bus driver uniform, the data is screaming one thing: If you're black or brown, you're being left to die. City after city is reporting black and Latino people are consistently overrepresented among the dead.
The COVID-19 pandemic is, like many tragedies, a magnifying glass over structural inequity that is generations' old. Today's leaders may not be responsible for legacy structures, like red lining or Jim Crow. But sadly, the CARES Act's failure to ensure funding is deployed into communities of color, where the impact and thus the need is greatest, puts our generation dangerously close to building new, equally deadly structures.
When banks are allowed to limit their customers to existing lending clients, black business owners, who have been historically rejected at more than double the rate of white applicants on all types of loans, are the primary ones excluded. This systematic exclusion, if not corrected with bold policies, will result in a mass extinction of generations of businesses owned by entrepreneurs of color. What's worse? That failure is guaranteed to exacerbate the abysmal health outcomes we're seeing. We cannot ignore that business collapse threatens human survival.
According to the Center for American Progress, black families' wealth in 2016 was about half of the median black wealth recorded right before the Great Recession. In comparison, the median white wealth in 2016 grew by almost 15 percent since the Great Recession. The result? Almost 30 percent of black college-educated households, as well as 20 percent of Latinx college-educated households, would struggle to pay their bills after a $400 emergency expense. These figures increase to nearly 60 percent and 50 percent, respectively, without a college education.
The failure to provide emergency relief to entrepreneurs in our communities will lead to economic insecurity at a scale that could trigger the extinction of black and brown businesses for generations. This next tranche of federal relief is more than an opportunity to get it right. For communities of color, it could very well be life-saving. Here are a few of the federal stimulus errors that must be fixed in order to stop hurting black and brown communities:
The funds from the Paycheck Protection Program (PPP) loans are first-come, first-served, with no guardrails to prevent abuse and cronyism. The federal government has thereby created an incentive for big banks, with a long and well-documented history of discriminating against communities of color, to prioritize their largest customers, rather than businesses with the greatest need. This must be addressed with need-based triage requirements.
The only way to hold banks accountable and ensure bias is not driving their loan processing priorities is to track race and ethnicity.
Allow employers to include 1099 contractors in calculating their stimulus loan amount. The decision to exclude independent contractors created an incentive to fire them, the exact opposite of the stated goal. Then, the guidance telling 1099 contractors to apply on their own created an exponential increase in the number of applications that must now be processed, further burdening overwhelmed lenders.
Prevent banks from cherry-picking what applications to process. With the large influx of 1099 applications that are expected, it's likely we'll see more and more lenders opting not to accept them. This must be prevented, or we risk delaying aid to some of the most impacted segments of the workforce.
Because it is not enough to simply do less harm, we must be bold with the next wave of relief funding to ensure we're doing everything possible to curb the death toll in our communities, saving both lives and businesses:
In a joint statement on the plan for interim emergency coronavirus relief, Senate Minority Leader Chuck Schumer and Speaker Nancy Pelosi proposed a large percentage of the next round of stimulus be distributed via Community Development Financial Institutions (CDFIs) "that serve farmers, family, women, minority and veteran-owned small businesses and nonprofits in rural, tribal, suburban and urban communities." We must provide CDFIs with the necessary back-end technology to handle the surge of demand.
Without time to build or integrate technology infrastructure, the only viable strategy is to use what's there. Some of the largest Small Business Administration (SBA) lenders have built technology that could be used by small banks. Big banks already have relationships with CDFIs via the Community Reinvestment Act. Let's put incentives and capital in place to incent these organizations to collaborate. Without this, we run the risk of turning the already over-taxed community banks into bottlenecks.
Our most vulnerable communities are on the wrong end of the digital divide, and we cannot underestimate the challenge that accessing them represents. Stimulus money will need to be set aside for getting the word out through messaging applications and social media, in as many languages as possible. The urgency here is high, as many people are not aware that their local banks can help and scammers are taking advantage of the vulnerable.
Whether it's something similar to 311 (non-emergency 911) that gives users access to non-emergency municipal services or the Crisis Text Line, small businesses without legal counsel or white-glove banking relationships need a free resource to navigate this crisis, for months to come.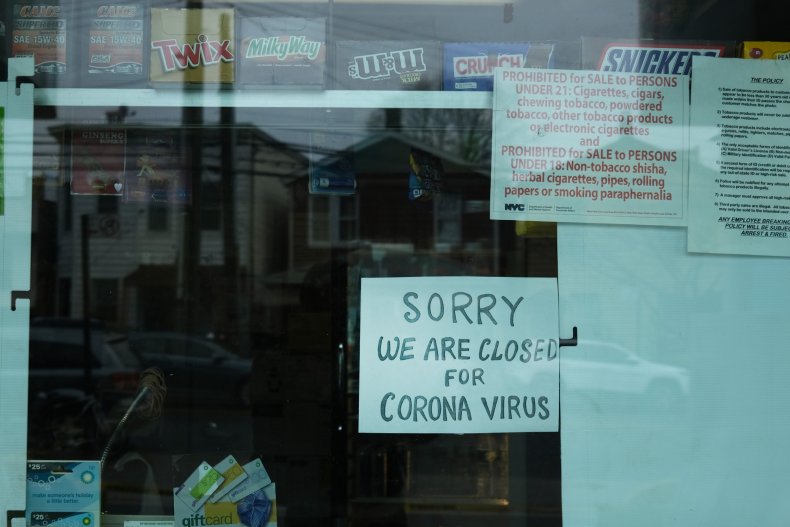 Ultimately, federal stimulus must solve for both the challenges of proximity and of scale. While most CDFIs deliver proximity to our communities, we cannot leave them to tackle a 21st-century crisis with 20th-century technology. If the big banks are choking, how can tiny ones cope without becoming a bottleneck? Moreover, bottlenecks with first-come, first-served stimulus money are a recipe for disaster.
The only thing we seem to hear on the empty streets of cities across the country are the sirens of ambulances, the sound of urgency in a system attempting to prioritize those in most danger. The news is no less alarming, filled with stories of the rising coronavirus death toll, hate crimes against people of color, and now policies and regulations weaponized against us and our livelihoods. We cannot wait for the next relief package—the time to save our people is now. It's time for federal relief that sounds the alarm and prioritizes those most in danger. There was a pandemic of poverty before the coronavirus. It's time to fund a cure for both.
Michael Blake is a New York State Assembly member, a vice chairman of the Democratic National Committee and a candidate for U.S. Congress in the Bronx.
Nathalie Molina Niño is an entrepreneur and investor, as well as the author of Leapfrog: The New Revolution for Women Entrepreneurs.
The views expressed in this article are the writers' own.