Hundreds of Black Cabs Stored in Fields as Drivers Forced Out of Work
Hundreds of London's iconic black cabs have been parked in fields around the capital, after a fall in demand due to the COVID-19 pandemic.
Nationwide lockdowns and more people working from home has led to a significant reduction in the demand for taxis, with the number of taxis licensed in the capital falling from 18,900 on June 7 to 15,000 on November 8, according to Transport for London (TfL) data obtained by the PA news agency.
According to the Licensed Taxi Drivers' Association (LTDA), only one in five cab drivers are still driving their vehicles. The sudden drop in demand has meant that black cab firms have had to hire fields in the capital where they can store their vehicles.
Steve McNamara, general secretary of the LTDA, said cab drivers were earning starvation wages. He said: "These figures represent drivers with nowhere left to turn, being forced off the road. Every vehicle delicensed represents a driver's livelihood gone and at this rate of decline, without urgent intervention, the iconic black cab could be lost from London forever.
"Taxi drivers can't work from home. They also can't earn a living if everyone else is staying at home. This may sound obvious, but it's a simple fact that policymakers don't seem to be able to grasp, and its not just a problem in London, taxi drivers are facing the same challenges in cities up and down the UK.
"Other industries in similar circumstances, like hospitality and other transport operators, have received specific, tailored packages of financial support to help them get through the difficult months ahead, but the taxi trade has been forgotten.
"We are calling on the Government and the Mayor of London to step in to protect drivers from ruin and ensure the taxi trade, a key part of London's transport network, survives this national crisis, but so far our calls have fallen on deaf ears. We need a dedicated package of financial support for the taxi trade to prevent more vehicles being lost and drivers forced to leave the trade."
The LTDA has launched a campaign "Taxi Drivers Can't Work From Home", which is urging the government to step in and provide additional financial support for drivers to save them from financial ruin. It claims that over 3,300 iconic black cabs have been lost from London's streets since the first nationwide lockdown ended in June.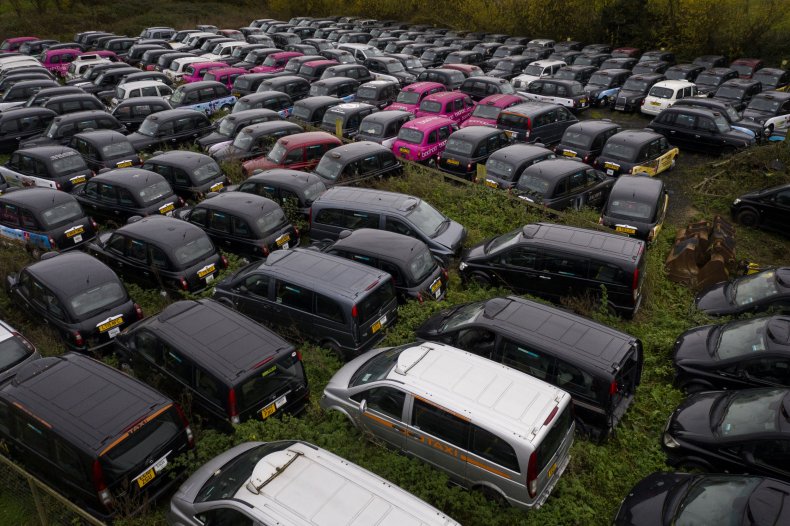 In a stark warning, the group claims that without government intervention, more than 21,500 London cabbies stand to lose their livelihoods. Among the LTDA's demands are an increase in the level of support provided through the Self-Employment Income Support Grant Extension to help support self-employed taxi drivers.
The group also wants the government to produce an incentive, a discount scheme for passengers to increase demand as restrictions ease and alert levels reduce.
A leaflet for the campaign states: "Taxi drivers rely on a busy central London to earn a living. They are experiencing a catastrophic collapse in demand exacerbated by measures such as the 10 pm curfew and tier two restrictions. The latest lockdown will see this fall further and even beyond December the situation is unlikely to improve significantly, at least in the short-term.
"At the same time, new traffic schemes to promote active travel introduced by Transport for London and the London Boroughs are limiting where taxis can go, denying drivers access to their office — central London — and undermining the important service they provide.
"Black cabs are the lifeblood of London, providing a vital accessible, door-to-door form of public transport. Before the pandemic, the trade was thriving and drivers were investing heavily in electric taxis to make London's fleet the greenest in the world. This bright future is in jeopardy."