National Black Cat Appreciation Day: 8 Times Salem From 'Sabrina the Teenage Witch' Was Very Relatable
The notion that they're unlucky has stuck black cats with a bad rap, but there's one day a year that people put away their superstitions and start appreciating the noir felines.
National Black Cat Appreciation Day occurs annually on August 17 and aims to both spread love for black cats and also, hopefully, help a few find new forever homes. Although traditionally seen as bringing bad luck to those who cross their paths, over the years, there have been a number of famous black cats.
Superstitions over black cats being unlucky dates back to the Middle Ages when people got the idea that they were associated with witchcraft. In 1232 AD, Pope Gregory IX issued a document that's considering the church's first official condemnation of black cats as an "incarnation of Satan," according to People.
While the belief that they're unlucky isn't great PR for the cats, a number of fictional felines have made strides in promoting black cat lovability. These cats, which have graced television screens and hit theaters, have even offered a few pieces of good advice and chuckle-worthy witticisms.
However, one fictional black cat in particular seems to reign supreme when it comes to sass—Salem from Sabrina the Teenage Witch. In the '90s television show, Sabrina lives with her two aunts and a black cat named Salem, a man who was turned into a cat.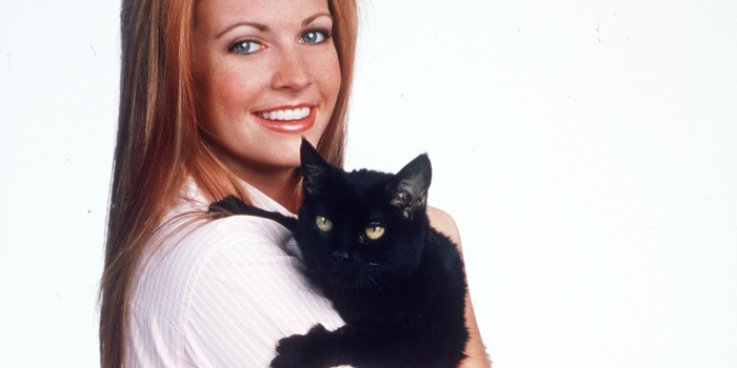 At the time, people may have related more to the character of Sabrina, given that she was, well, after all, human. Despite being a witch—technically, she's half-witch, half-mortal—the show chronicled very real experiences of high school students and it was relatively easy for viewers to see themselves in Sabrina. Episode plots varied and included how to deal with mean popular girls, boyfriends, friends and family.
The show premiered in 1996 and aired its final episode in 2003. In years since, a look back at some of Salem's appearances on the show may leave viewers realizing they related a bit more to the black cat than they originally thought.
Let's be honest, we've all been Salem in this moment...
...and in this moment as well.
This behavior is also pretty common among humans.
Salem basically wrote the lyrics to TLC's "No Scrubs."
Everybody can get on a power trip from time to time.
No explanation necessary.
Some people have it and some people just don't.
Finally, after all the swiping and bad dates, eventually, you may meet someone who melts your icy heart.
National Black Cat Appreciation Day: 8 Times Salem From 'Sabrina the Teenage Witch' Was Very Relatable | Culture