Black Charity Boss Quits Over Impact of Palace Race Scandal
A Black charity boss has "temporarily stepped down as CEO" of her own charity because the backlash over a Buckingham Palace racism dispute is impacting "the service users," she has announced.
Ngozi Fulani was repeatedly asked where she was from by Lady Susan Hussey, a former Lady-in-Waiting to Queen Elizabeth II and Godmother to Prince William, despite having already replied that she was British during a reception to support domestic violence victims at Buckingham Palace.
Hussey stepped down over the incident and a public apology was issued, though Fulani said she felt it should have been made directly to her.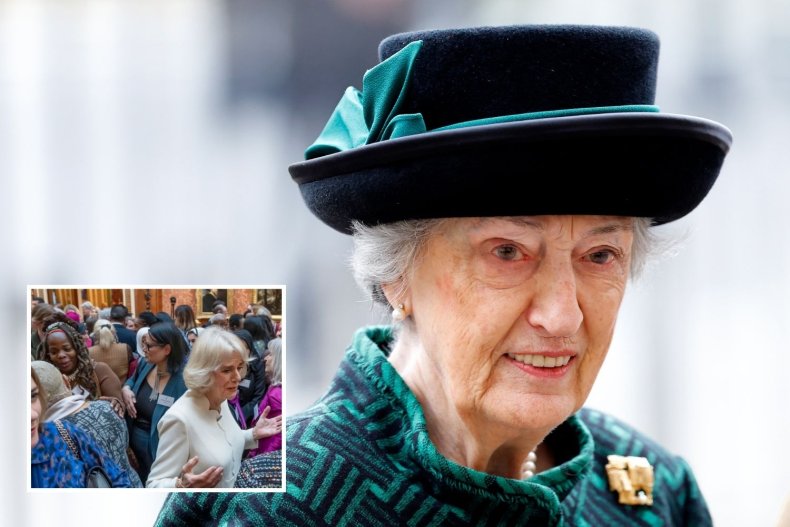 Fulani told Good Morning Britain: "I don't see what is so hard to say, 'I'm sorry.' You sent me an invitation so you know how to find me.
"It's International Women's Day. The Sistah Space charity has suffered as a direct result. When you think that this was supposed to be for violence against women and girls, because of this incident the violence has been directed to me, the palace hasn't intervened I think they could have.
"What I've had to do, I've now temporarily stepped down as CEO of Sistah Space, I'm announcing that now, because the service users and the community can't access us properly.
"This whole thing has cost us a fortune because we had to pay our own PR to stop the press from coming up. It was horrible."
Asked whether she regretted speaking out, Fulani said: "No, not at all. Listen, I'm about discussing and making aware violence against women and girls and I will anywhere at any time to fight that cause and I didn't expect for that to be directed at me at all."
A Buckingham Palace spokesperson told Newsweek: "In the aftermath of the incident that took place at a reception last November, the Palace made clear the comments made by Lady Susan were deeply regrettable.
"Lady Susan immediately expressed her sincere apologies, and stepped aside from her honorary role. These apologies were reiterated in person at a meeting in December, filled with warmth and understanding.
"At the conclusion of this meeting, a joint statement was issued, in full agreement with Ms Fulani, in which these apologies were accepted, and it was recognised that no malice had been intended by Lady Susan.
"In that statement, a number of pledges were made by the Palace which have all been honoured—including enhancing Diversity and Inclusivity programmes.
"It was also agreed that no further media comment would be made. For the avoidance of any doubt, we are sorry for the incident that took place and apologise for the distress and difficulty it caused to Ms Fulani."
Fulani posted about her experience on Instagram in the aftermath of the meeting, which took place as Prince William was preparing for a high-profile tour of America for the Earthshot Prize.
She wrote: "This event remains a blur after the violation. Today, I attended the event at Buckingham Palace, having received an invitation from Queen Consort, Camilla, courtesy of @safelives_.
"There were many guests from various organisations. I was standing with two women, including @mandureid from the @wep_uk when an elder women (SH) approached us. She put her hand in my hair to move my locs so that she could see my name badge."
Ngozi Fulani and Susan Hussey's Conversation in Full
Fulani gave the following transcript of the conversation, using the initials SH to refer to the other woman:
SH: Where are you from?
Me: Sistah Space.
SH: No where do you come from?
Me: We're based in Hackney.
SH: No, what part of Africa are YOU from?
Me: I don't know, they didn't leave any records.
SH: Well, you must know where you're from, I spent time in France. Where are you from?
Me: Here, UK
SH: No, but what Nationality are you?
Me: I am born here and am British
SH: No, but where do you really come from, where do your people come from?
Me: 'My people', lady, what is this?
SH: Oh I can see I am going to have a challenge getting you to say where you're from. When did you first come here?
Me: Lady! I am a British national, my parents came here in the 50's when...
SH: Oh, I knew we'd get there in the end, you're Caribbean!
Me: No lady, I am of African heritage, Caribbean descent and British nationality.
SH: Oh so you're from....
The scandal sparked a backlash against Fulani from some pro-royal commentators while the palace moved to show it took the accusation seriously with Hussey's resignation.
Prince Harry, however, appeared to defend Hussey rather than Fulani during an interview with ITV: "I'm very happy for Ngozi Fulani to be invited into the palace to sit down with Lady Susan Hussey and to reconcile, because Meghan and I love Susan Hussey. [Meghan] thinks she's great.
"And I also know that what she meant—she never meant any harm at all but the response from the British press, and from people online because of the stories that they wrote, was horrendous. Was absolutely horrendous the response."
Update 3/8/23, 9.00 a.m. ET: This article has been updated with comment from a Buckingham Palace spokesperson.
Jack Royston is the chief royal correspondent at Newsweek, based in London. You can find him on Twitter at @jack_royston and read his stories on Newsweek's The Royals Facebook page.
Do you have a question about King Charles III, William and Kate, Meghan and Harry, or their family that you would like our experienced royal correspondents to answer? Email royals@newsweek.com. We'd love to hear from you.
Update, 3/8/23, 7:45 a.m. ET: This article was updated with further background information.