Black Church Compares Protesters' Attack On BLM Sign to 'Cross Burnings'
The senior pastor of Washington, D.C.'s oldest black church still situated on its original site released a statement comparing the burning of his church's Black Lives Matter sign to "cross burnings," which were often conducted by white supremacist groups such as the Ku Klux Klan.
The far-right group the Proud Boys and other supporters of President Donald Trump carried out demonstrations in the nation's capital on Saturday. Violence erupted throughout the evening and demonstrators began removing Black Lives Matter signs from multiple black churches in the city—then destroying or burning them.
Videos of these incidents were widely circulated on social media and police are reportedly investigating them as possible hate crimes.
Reverend Dr. Ianther M. Mills, the senior pastor of Asbury United Methodist Church, released a public statement on Sunday, pointing out that his historic church had been standing in the same place since 1836. "We are resilient people who have trusted in God through slavery and the Underground Railroad, Jim Crow and the Civil Rights Movement, and now we face an apparent rise in white supremacy," he said.
WARNING: Video clips below contains scenes and language that may be disturbing and offensive.
"Last night demonstrators who were part of the MAGA gatherings tore down our Black Lives Matter sign and literally burned it in the street. The sign burning was captured on Twitter," Mills continued. "It pained me especially to see our name, Asbury, in flames. For me it was reminiscent of cross burnings."
The senior pastor of the historic black church said that the actions of the protesters had made him "indignant and determined to fight the evil that has reared its ugly head."
In one video shared by Daily Caller reporter Shelby Talcott, demonstrators identified by the journalist as Proud Boys and Trump supporters can be seen dumping gasoline on Asbury's Black Lives Matter sign as it burns. Members of the crowd can be heard cheering and howling as chants of "f*** antifa!" break out. The sign includes the church's name and its website.
News2Share editor-in-chief Ford Fischer also shared a video of the sign burning. Fischer identified the group as Proud Boys, saying that the manager of a nearby bar came out with a fire extinguisher.
In a separate incident, also described on social media as being carried out by Proud Boys, demonstrators tore down a Black Lives Matter sign from the Metropolitan African Methodist Episcopal Church. The protesters can be seen in the clip stomping on the sign in the yard of the church.
Newsweek reached out to the Proud Boys and the city's Metropolitan Police Department for further comment, but they did not immediately respond.
Representative Rashida Tlaib, a progressive Democrat from Michigan, commented on the incident in a Sunday Twitter post. "They started a fire in a the middle of a public street, yet no police in riot gear to stop them. Imagine if they were #BLM protesters [sic]," Tlaib wrote.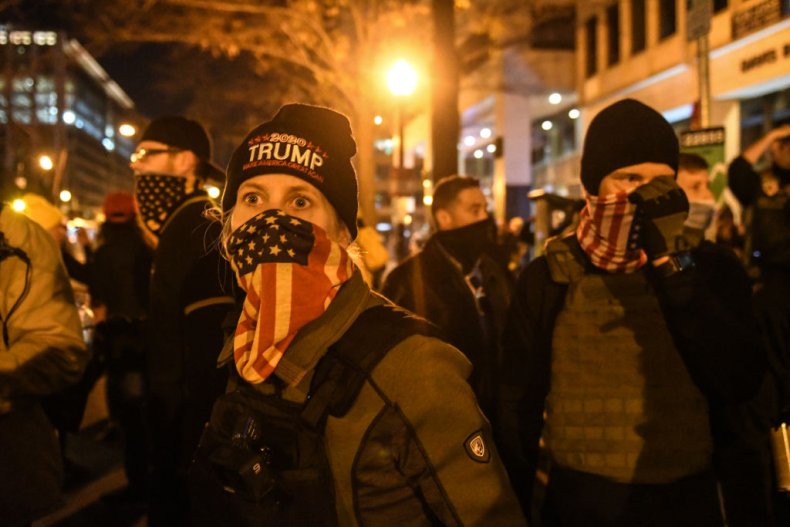 Although the Proud Boys maintain that they are not a white supremacist organization, noting that they have members representing different ethnicities, the Southern Poverty Law Center has said "their disavowals of bigotry are belied by their actions."
"The Proud Boys represent an unconventional strain of American right-wing extremism. While the group can be described as violent, nationalistic, Islamophobic, transphobic and misogynistic, its members represent a range of ethnic backgrounds, and its leaders vehemently protest any allegations of racism," the Anti-Defamation League said on its website.