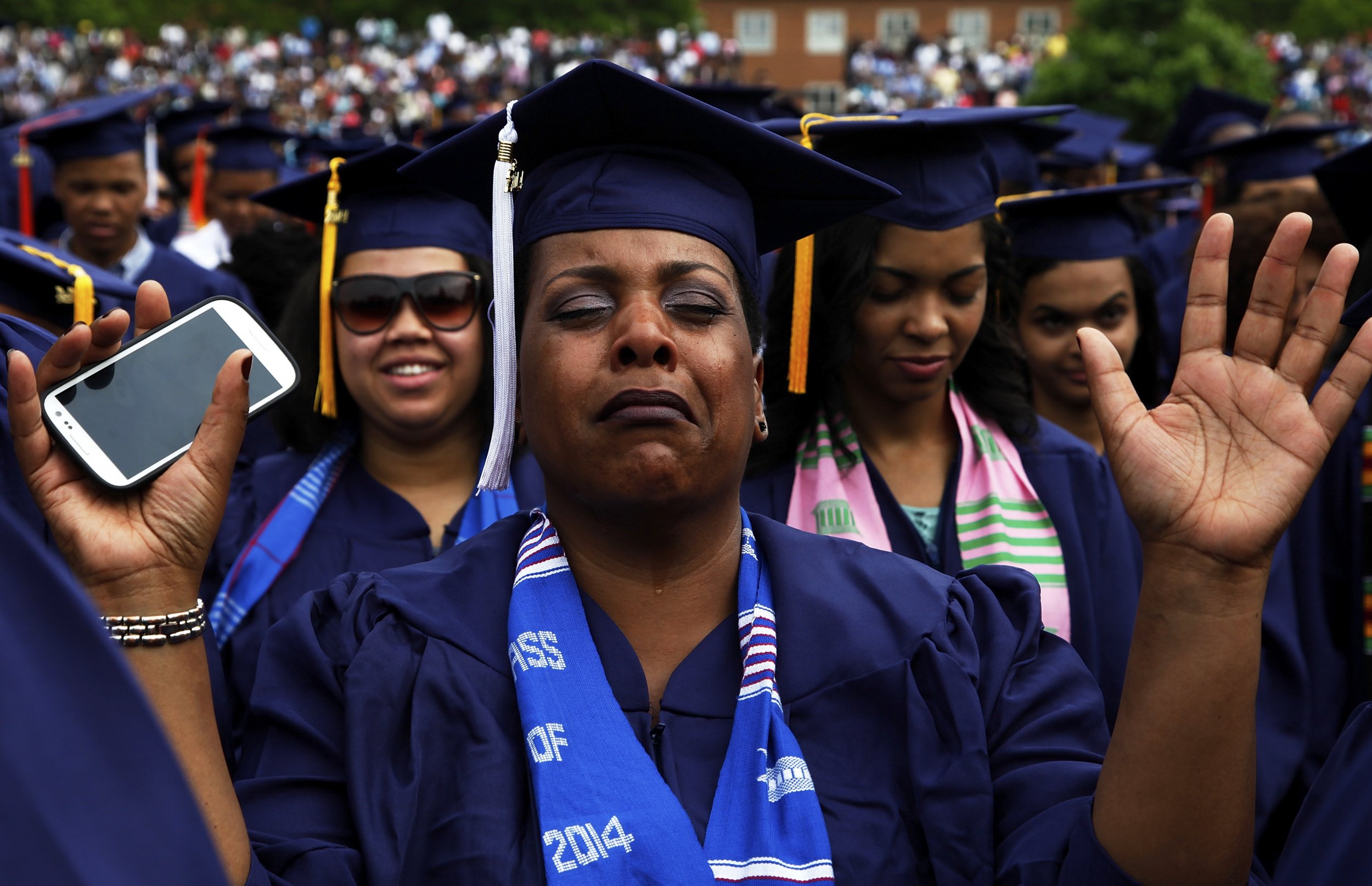 Medgar Evers College, an overwhelmingly black branch of the City University of New York, sits atop a hill in central Brooklyn. It is across the street from the mustard-colored high-rises of the Ebbets Field Apartments, named for the long-gone baseball field where the Brooklyn Dodgers played until 1957, and where Jackie Robinson had broken the color barrier in major league baseball in 1947. Medgar Evers is a cluster of newish glass-and-brick buildings that radiate competence and promise. The college's crest shows the scales of justice, a lamp and a pair of hands struggling against shackles.
Medgar Evers is not one of the historically black colleges and universities (HBCUs) discussed by journalist Ron Stodghill in his new book Where Everybody Looks Like Me: At the Crossroads of America's Black Colleges and Culture. Its plight, however, aligns almost perfectly with the ailments Stodghill diagnoses at those paragons of black scholarship in the South and the Midwest, where the vast majority of HBCUs are located. Medgar Evers may not be the equal of Howard University, but if Stodghill is right, both schools are heading down the same perilous path, taking black aspirations with them.
As is often the case at HBCUs, many students at Medgar Evers are the first in their families to attend college. Few Evers students, however, graduate: According to U.S. News & World Report, its four-year graduation rate is only 4 percent, about five times less than the average at non-flagship American public institutions (some of this may be because of the school's open admissions policy). Overall, no HBCU had a graduation rate higher than 70 percent as of last year, with Spelman (69 percent) and Howard (65 percent) coming closest. The Journal of Blacks in Higher Education, which compiled the statistics, found that the bottom half of HBCUs had a graduation rate of no higher than 34 percent. This may be in line with public flagship universities (36 percent), but below the Northeastern colleges whose equals the HBCUs have long aspired to be. Yes, the HBCUs graduated the likes of Martin Luther King Jr., Alice Walker, Ralph Ellison and Oprah Winfrey, but whom are they graduating today?
Not only are fewer students graduating HBCUs, many fewer are choosing to attend them. HBCUs made much more sense in 1925 than 2015, when a top-notch black student may find herself choosing between, say, Spelman, Oberlin and Cornell. What can Spelman offer her that the predominantly white institutions can't? As recently as four decades ago, Stodghill writes, some 80 percent of black students attended an HBCU; today, that figure is a mere 9 percent.
Colleges without students do as well as airlines without passengers, and as black students snub HBCUs, HBCUs face the first true existential crisis in their collective history. St. Paul's College, in Lawrenceville, Virginia, has closed; Fisk University, in Nashville, Tennessee, has sold off half its stake in an art collection left to it by Georgia O'Keeffe. Morris Brown College, in Atlanta, was stripped of its accreditation in 2002 and was limping along with only 35 students last year.
HBCU administrators often take the blame, though the ship rarely goes down from captain error alone. At Medgar Evers, President William L. Pollard was ousted two years ago, accused, as the The New York Times put it, of acting "without an appreciation for the institution's history." Among his early transgressions was "switching the campus automated teller machines from the black-run Carver Federal Savings Bank to Citibank," according to a Times report on his tumultuous first year. His appeals to long-term planning and cost-cutting were met with suspicion from those who loved the place with all its imperfections. "The administration is out of character with anything we need," one professor complained.
That same year, Howard President Sidney A. Ribeau was forced to resign for strikingly similar reasons. The Washington Post noted that his departure came in an autumn of developments that "many Howard boosters found dispiriting: a drop for the university in a major national ranking and a downgrade in its credit rating. It also came a year after enrollment at the university suddenly fell 5 percent." He was accused of enriching himself and top administrators while starving the university. Stodghill capably chronicles the school's troubles, from the missing Academy Award of Hattie McDaniel to the recent travails of the university's hospital, a fabled institution that once treated freed slaves but whose $37 million annual losses were responsible for a downgrading of Howard's credit rating in 2014.
Most Americans are only marginally concerned with the state of higher education, but Stodghill argues that the decline of the HBCU is a national crisis, not just a black one, and that we should all care. "It is hard to imagine a single greater threat to the future of African-Americans than the demise of its higher education system," he writes. Stodghill, who is African-American and teaches at an HBCU in North Carolina, isn't downplaying the issues of discriminatory policing and excessively punitive criminal justice that, others would argue, are far more threatening to the prospects of black America. He argues, instead, that HBCUs are the "main artery connecting to the heart of black America." Sever it, and the race cannot survive.
The nation's first college for African-Americans began in 1837 as the Institute for Colored Youth (today, Cheney University), about 20 miles west of Philadelphia. Most HBCUs, though, were founded during Reconstruction "to educate some half-million newly freed slaves," Stodghill writes. Howard University was founded in 1867 and has long been sustained by a congressional appropriation, now totaling $223 million per year. All-men's Morehouse College was founded that same year, in Atlanta, while all-women's Spelman College was founded in 1881 next door. Together, the three formed a sort of mini Ivy League for black students who wouldn't be allowed into those great patrician colleges of the Northeast. The Harvard Man had an equal in the Morehouse Man.
The most famous HBCU, though, may be a fictional one. In 1987, A Different World premiered on NBC, introducing the nation to Hillman College, attended by Cosby Show scion Denise Huxtable. Stodghill argues that the show "did more to attract black college kids to black campuses than those 'A Mind Is a Terrible Thing to Waste' public service announcements ever could." While acknowledging the recent grave accusations of sexual assault against Bill Cosby, he describes the embattled actor as one of the nation's most vociferous (if sometimes hectoring) proponents of black intellectualism. The $20 million gift Cosby and his wife made to Spelman in 1988 remains an act of unrivaled generosity in the HBCU world.
"If we can tithe for our churches, we can tithe for our schools," Spelman's president at the time said of the gift. But that hasn't happened. The Cosbys' largesse aside, HBCUs don't attract large philanthropic gifts. This may be because many of those who attend HBCU come from less wealthy households, but that doesn't explain it all: Some psychological hesitation is obviously at work. When the musician and entrepreneur Dr. Dre donated $35 million to the University of Southern California in 2013, many saw it as a betrayal of his people. "I can't help but wish that Dre's wealth, generated as it was by his largely black hip-hop fans, was coming back to support that community," lamented the president of Dillard University in a Los Angeles Times op-ed.
The head of the Thurgood Marshall College Fund quips to Stodghill that "our funding comes from Republican rich white guys and their wives," an apparent reference to the $25 million gift from the Koch brothers to the United Negro College Fund in the summer of 2014. This clearly dismays Stodghill, who calculates that "HBCUs boast 2 million living alumni; if 2 million graduates pledged even a hundred dollars a year, HBCUs could build endowments all over the country. But for some reason, blacks refuse to fund our own schools."
The federal government hasn't made life for HBCUs easier, adding stricter credit rating requirements to the crucial Parent PLUS loan program in 2011 while also reducing by six semesters the length of Pell Grants, on which close to 90 percent of HBCU students are estimated to rely. If neither the private nor the public sector will rescue the HBCUs, who will?
One administrator tells Stodghill that "the HBCU president has the toughest job in higher ed. We've got the same expectations, but not even near the resources of the people you're competing with." Brown, the poorest of the Ivies, has an endowment of $3.2 billion; Howard, the wealthiest of the HBCUs, has an endowment one-fifth of that, $586.1 million.
The intellectual value of an HBCU education is coming into question too. The old "teacher and preacher" model of instruction, which recalls an antiquated black culture, is out of sync with the demands of the 21st century. Stodghill talks to a Morehouse professor who laments that "most HBCUs curriculums today do not emphasize discussion and debate." The professor says he has his students approach classroom work "like an Ivy League school," the implication being that many of his peers do not.
Stodghill, who's never particularly optimistic in his book, points to an estimate that there will be only 35 HBCUs in 2035, down from 104 today (some put the number at 106). Of those, Stodghill writes, only 15 will be "actually thriving." The rest will continue to shrink, consolidate or close, disappearing eventually from the landscape of American higher education, taking a vital part of our shared national history with them.
Perhaps the HBCUs' decline is a sign that our society truly is becoming post-racial. Note that neither America's first African-American president nor the first lady have ties to an HBCU: President Obama went to Columbia, his wife, Michelle, went to Princeton. In fact, many of the nation's most prominent African-Americans also have ties to the Ivy League: Shonda Rhimes (Dartmouth), Loretta Lynch (Harvard), John Legend (Pennsylvania), Neil deGrasse Tyson (Harvard), Eric Holder (Columbia).
"One of the byproducts of racial segregation," Stodghill writes, "was that black colleges enjoyed a critical mass of really smart students and really bright teachers whose options were also limited." To romanticize segregation is an odd position, but Stodghill isn't the first to wax nostalgic for a fiercely ambitious black cultural unity in the face of a prevalent white hatred.
Today, that kind of unity isn't necessary and, in fact, may be seen a sign of weakness or parochialism. Like the Lower East Side Jews of earlier generations who spurned "the Harvard of the Proletariat" that was the City College of New York for the actual thing in Cambridge, Ivy-bound blacks like those aforementioned wanted to—and did—prove themselves in the highest echelons of the white establishment.
Yet an argument for HBCUs remains. According to the UNCF, black colleges produce 70 percent of all black dentists and doctors, 50 percent of black engineers and public school teachers, and 35 percent of black lawyers. And while HBCUs account for only 3 percent of the nation's colleges, they account for about 20 percent of the degrees awarded to African-Americans.
There is a less quantifiable argument too. When, several months ago, video emerged of fraternity members at the University of Oklahoma singing a racist chant, it offered a stinging reminder that just because black students are allowed into predominantly white institutions, they are not always welcome in them. Stodghill writes of one black corporate lawyer who was raised in relative privilege in the 1980s and went to the University of Michigan, only to transfer to Florida A&M University, an HBCU in Tallahassee. When asked later what it was like to attend FAMU, he answered, "Probably what it feels like to be a white dude at the University of Michigan."
This article is part of the Newsweek High School Rankings series. Read more:
America's Top High Schools 2015 | FAQ | Methodology