Trump White House Was Scared of Protesters So It Moved Black Colleges Event, Report Says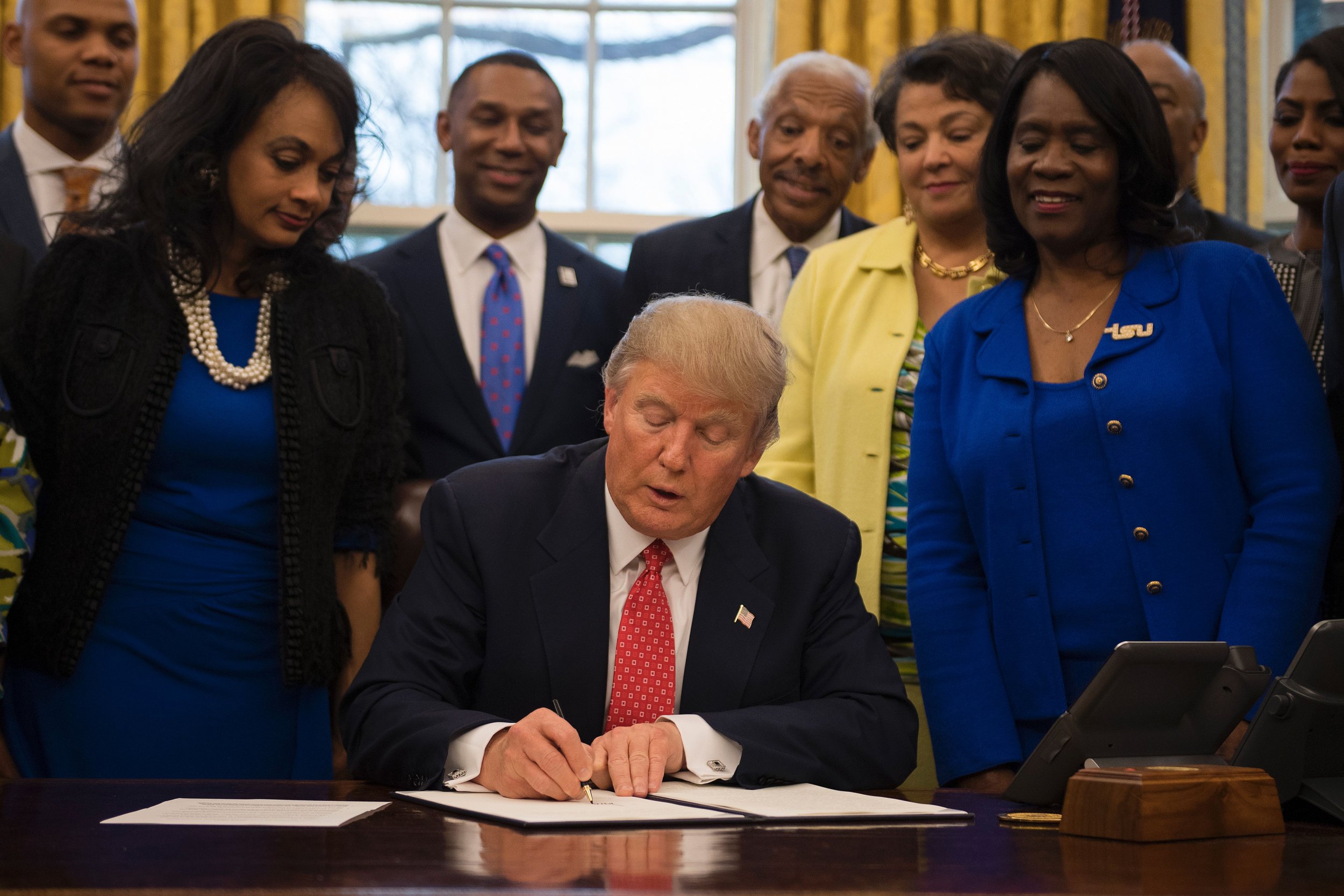 Fearing potential protests, the White House has opted to cut down an annual event honoring historically black colleges and universities (HBCUs) following President Donald Trump's controversial "both sides" and "fine people" comments after riots in Charlottesville, Virginia, as well as his pardon of Arizona Sheriff Joe Arpaio.
The event was originally scheduled to take place Monday at a hotel outside of Washington, D.C., but was moved to the White House. Organizers fretted over protests at the event, which now was only open to people who have been subjected to a background check, McClatchy DC reported, citing three unnamed sources. The White House did not respond to a Newsweek request for comment on whether the summit was moved over fears of protests.
Alama Adams, a North Carolina congresswoman and co-chair of the Bipartisan Congressional Historically Black College and University Caucus, claimed she heard rumblings of students planning protests, and that some students had "rebuked" HBCU presidents for attending a meeting with Trump in February in the Oval Office.
Other leaders in the black college community called for the White House to postpone the event over fears of protests.
A new executive director for the officially titled "White House Initiative on Historically Black Colleges and Universities Annual Summit" was named with the appointment of Jonathan M. Holifield, while attendees were expected to name a person to tackle HBCU issues within the Department of Education and members of an HBCU advisory board, according to the report.
Trump had not planned to attend the event. The president is currently in New York to appear at the United Nations General Assembly.
"This more intimate HBCU week will feature a series of strategic meetings for students and leaders to share their perspectives on the opportunities and challenges facing the HBCU community," the administration said in a statement to McClatchy.
Trump last week again brought up his "both sides" response to the violence and protests that occurred last month in Charlottesville that left 19 injured and one woman dead after she was hit by a car. Protesters comprised of white supremacist and nationalist groups, as well as neo-Nazis, were there to challenge the removal of a statue of Confederate leader and General Robert E. Lee, and were met by counterprotesters.
Trump was first panned for taking two days to condemn the white supremacist groups but finally did, only to double back and say there were "fine people" on both sides of the protest during a press conference at his titular tower in New York.
The president revived those comments a day after meeting with Republican Senator Tim Scott, the sole African-American GOP member in the Senate, to discuss race issues around the country.
"We had a great talk yesterday," Trump told reporters on Air Force One. "I think especially in light of the advent of antifa, if you look at what's going on there. You have some pretty bad dudes on the other side also, and essentially that's what I said."
He added: "When you look at really what's happened since Charlottesville, a lot of people are saying and people have actually written, 'Gee, Trump may have a point.' I said there's some very bad people on the other side also. But we had a great conversation."
Trump White House Was Scared of Protesters So It Moved Black Colleges Event, Report Says | U.S.