'BLACK' Comic Book Movie Franchise a Go at Studio 8
Comic book history tells us only white people have superpowers. That's why Black Panther was such a big deal. And it's why the upcoming big-screen adaptation of BLACK, a comic book where only Black people have superpowers, is such a big deal too.
Black Panther was written by Ryan Coogler and starred an almost entirely non-white cast, but the pathway to full inclusion in Hollywood has only just begun. Beautiful black faces dominated the box office for months, but how do we continue progress after the profitable buzz is gone? Smaller production houses and lesser-known creators are left to pick up the slack of big studios and pull up chairs at their own table. Adaptations allowing people of color to take control of their own narratives are where the real change will happen. Studio 8 has confirmed BLACK will be adapted into a movie franchise.The comic book's original creators — Kwanza Osajyefo, Tim Smith 3, Jamal Igle and Khary Randolph — are on board and the project represents the kind of meaningful stories still left to be told.
BLACK debuted in 2017 (Kickstarter campaign in 2016) with a six-issue graphic novel from indie publisher Black Mask Studios. "In a world that already fears and hates them, what if only Black people had superpowers?" the tagline reads. Kareem Jenkins discovers he has special abilities after being shot by police in Bed-Stuy, Brooklyn. A spinoff within the universe, Black [AF]: America's Sweetheart, centers on a 15-year old girl, Eli, who was adopted by a white family and aspires to become the world's first superhero. Both are being adapted at Studio 8 with the help of filmmaker Seith Mann, whose credits include The Walking Dead, The Wire and Friday Night Lights.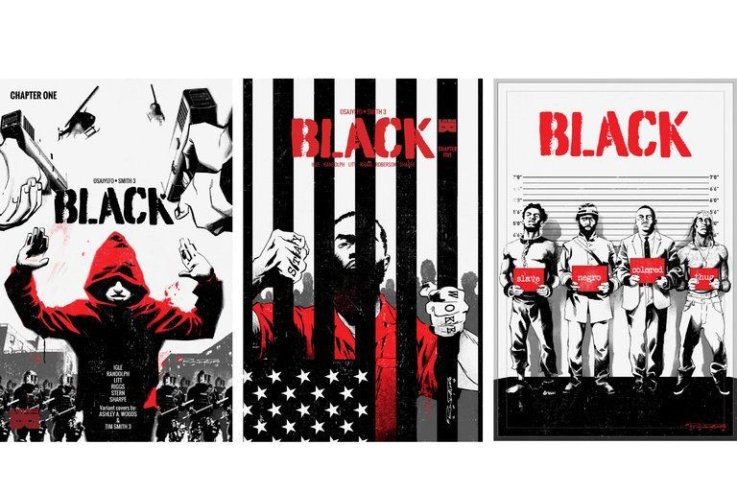 Studio 8 is backed by Sony and founded by former Warner Bros. president Jeff Robinov. From the beginning, he's expressed interest in building a new franchises to compete with Hollywood's seven major studios, hence the name '8'. BLACK is a big move in the right direction.
"Why can't a Black perspective appeal to everyone?" BLACK co-creator Osajyefo asked Ebony in 2016. "Full inclusion requires Black leadership, or leadership of color, to be fair. There is this systemic crutch for leaders of the comics industry to lean on: Many say there are no qualified candidates of color. That makes it easy to rest on your laurels and make no effort to understand why you may have fewer candidates or can't seem to hire applicants of color. It allows people to stay in their comfort zone, maintain status quo, and not have their position usurped."
Another installment of BLACK [AF] universe, Widows and Orphans, arrives April 25. Read the summary below.
"In a world where only black people have superpowers, what price do they fetch on the black market? From the pages of BLACK, this new story features Anansi and Hoodrat investigating a human trafficking ring that will take them across the globe and bring them face-to-face with dark pasts of abuse, child soldiers, and families torn apart."
'BLACK' Comic Book Movie Franchise a Go at Studio 8 | Gaming