Black Community Activist Won't Be Charged for Protesting at Ron DeSantis News Conference
Black community activist Ben Frazier, 71, head of the Northside Coalition of Jacksonville, Florida, had the trespassing charges against him dropped Friday, January 21.
Prior to Florida Gov. Ron DeSantis' January 4 press conference in the Department of Health building in Jacksonville, Frazier and a small group of protesters arrived and were asked to show press credentials or leave the building, according to ABC 27 WTXL Tallahassee.
Frazier hoped to have a discussion with the governor about his "shoddy job" in responding to the COVID-19 pandemic and, according to The Florida Times-Union, believes he's been "asleep at the wheel" regarding those infected and hospitalized in recent weeks due to the virus.
As a DeSantis staffer tried speaking with him during the altercation, Frazier reportedly said, "This governor is the enemy of the people. Is the governor afraid to meet people? We are his constituents." He was placed in handcuffs following the statement.
Video feed of the event shows police handcuffing and escorting Frazier out of the room where the news conference was taking place. Christina Pushaw, DeSantis spokeswoman, defended the removal of Frazier, according to a statement made January 4.
"Every citizen has the right to protest in public places, but not to trespass in a secured facility in order to disrupt a press briefing and prevent essential information from being conveyed to the public," Pushaw said, according to the Associated Press.
The charges were dropped Friday, January 21, and according to the AP, court documents did not state a reason. According to The Florida Times-Union, Frazier and attorney John Phillips are seeking to file legal action against the Jacksonville Sheriff's Office, the governor and anyone else involved in violating Frazier's civil and constitutional rights.
"We are pleased to announce that trespass charges against respected civil rights activist Ben Frazier were dropped on Friday, January 21," Phillips told WTXL. "There is no need for a hearing; and there was, in fact, no need for an arrest. They knew it."
According to the AP, Frazier has asked for a meeting with DeSantis, but Phillips says they have not heard back from the governor's office.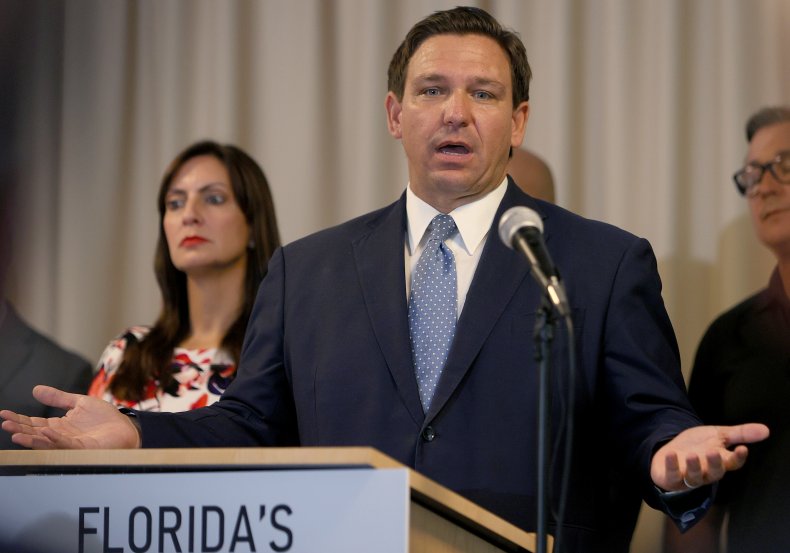 "We invite that and suspect a simple meeting could avoid legal action entirely," Phillips said, according to the AP. "It's all he wanted all along. These charges were dismissed as quickly as they could have been given the issues of who would actually prosecute this spurious case."
Frazier posted on Twitter January 25 photos of the protest and himself being arrested before the news conference with the status, "Bogus Trespass charges dropped! Freedom of speech is still worth fighting for! Thanks @JohnPhillips for legal counsel & worldwide support. The arc of the moral universe is long, but it bends toward justice."
Upon the charges being dropped, according to WTXL, Frazier said, "Freedom of speech is as important today as it was when the Bill of Rights was first written. I am thankful for all of the people who supported us on and off of social media. It should be duly noted by all that Governor DeSantis is not above the U.S. Constitution. We invite him to live up to his office's promise of a meeting for the purpose of discussing the cares and concerns of poor and Black Floridians."
According to Phillips' Twitter bio, he is "that lawyer from Tiger King," having represented Joe Exotic during his infamous 2018 murder-for-hire trial after attempting to hire hitmen to kill Carole Baskin. Exotic is currently serving 22 years in prison.