California's gubernatorial recall election didn't put Larry Elder in office, but Corrin Rankin, the founder of a nonprofit dedicated to expanding Black Americans' presence in the Republican Party, is hopeful that his campaign's success will inspire other Black conservatives to pursue political office as well.
Voters gave Governor Gavin Newsom a resounding victory during Tuesday's recall election, but had he been ousted from office, Elder was voters' number one choice as a replacement. The conservative political commentator received four times the support as any other Newsom challenger, a signal to other Black Republicans that they could mount successful campaigns.
"There is an appetite for Black Republicans," Rankin, the founder of the Legacy Republican Alliance, told Newsweek. "I think at the end of the day, [Elder's campaign] will inspire other Black people to step up and hopefully run for office within their communities."
Currently, there are only three Black Republicans in Congress, Representatives Burgess Owens and Byron Donalds and Senator Tim Scott, compared to the dozens of Black Democratic members of Congress. However, Rankin is hoping that will change and said the overall trend has been an increase in the number of Black Republicans running for office and stepping into leadership roles, a "fantastic" change.
Elder didn't reach his ultimate goal of becoming governor of California, and Rankin acknowledged there were aspects of his campaign that people liked and aspects that turned people off. However, she said his emergence as the top candidate to replace Newsom showed California Republicans are "overwhelmingly looking to support a Black Republican candidate."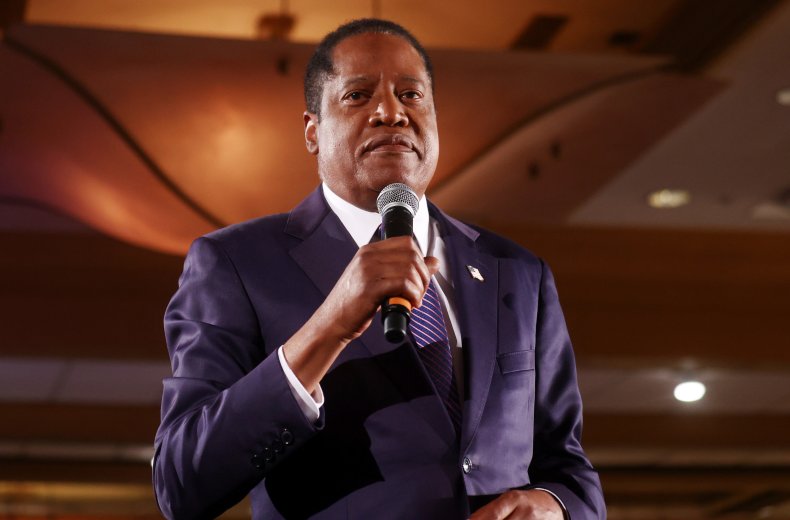 As Black candidates who run for Congress but don't win inspire other Black Republicans to successfully run for their local school board or city council, Rankin believed the same could happen with people in the wake of the California recall.
"In a way, that's the positive thing that comes out of elections like what happened with Larry Elder," Rankin said.
Rankin noted that the increased number of minorities on ballots indicates the vision Americans have for the future of America. With voters wanting their representatives to be more diverse, she said the Republican Party should follow the same trend and if they do, it would "absolutely" help attract Black voters.
Black voters overwhelmingly cast ballots for Democrats, a loyal voting bloc Republicans have struggled to convince to switch sides. It has made the difference in elections, most notably during the Georgia Senate runoff elections in January. Black voters turning out in large numbers helped propel Democratic candidates Raphael Warnock and Jon Ossoff to victory, giving Democrats a majority in the Senate.
Although still a small slice of the Republican electorate, Rankin said she's seen an increase over the years in the number of Black people who identify as conservative. Whereas she could one time count the number of Black conservatives on one hand, Rankin said she now feels like there are people within the network that she doesn't know, which is "fantastic."
Republicans have an opportunity to take back both chambers of Congress in the 2022 midterms, which would give them leverage to block President Joe Biden's agenda. While it's unlikely there will be a significant shift in how Black voters cast their ballots by the time the midterms occur, Rankin said it's possible Republicans could see an increase in support among Black voters.
"If Republicans make the conscious decision to be serious about expanding diversity I think we can make strides relatively quickly," Rankin said. "I hear a lot that 'I didn't leave the Democratic Party, the Democratic Party left me,' and I think it's up to us as Republicans to make sure our party is diverse and inclusive and ready to accept a broader expansion of ideas."
Correction: An earlier version of this story mistakenly misspelled Corrin Rankin's name as Corrie Rankin.