Black Democrats Say Trump 'Does Not Recognize' Them as 'Full Americans,' Demand Apology for Comparing Impeachment to Lynching
Black members of Congress were quick to fire back at President Donald Trump Tuesday for equating House Democrats' impeachment inquiry into him as "a lynching."
The Democratic lawmakers, all of whom are members of the Congressional Black Caucus, demanded that Trump immediately apologize for his remarks, which they deemed "disgusting" and historically insensitive about a racist act that killed thousands of people.
One member, Rep. Barbara Lee of California, the lone black woman in Democratic leadership as co-chair of the Policy and Steering Committee, went a step further. She suggested that, based on the president's past and most recent remarks on race, Trump "does not recognize" African Americans "as being full American."
"Of course, he has no understanding of this horrific history—I assume—and for him to say something like that was disgusting. It reflects his insensitivity toward the historic tragedies in this country," she said. "I'm just totally, I would say not surprised or shocked, but very, very disappointed that the commander in chief of the United States of America would compare what is taking place to the very terrible legend [of lynching]."
Lee was not holding her breath for an apology.
"I don't expect this president to do anything that's right when you look at how he treats people in this country who, really, he does not recognize as being full American," she added.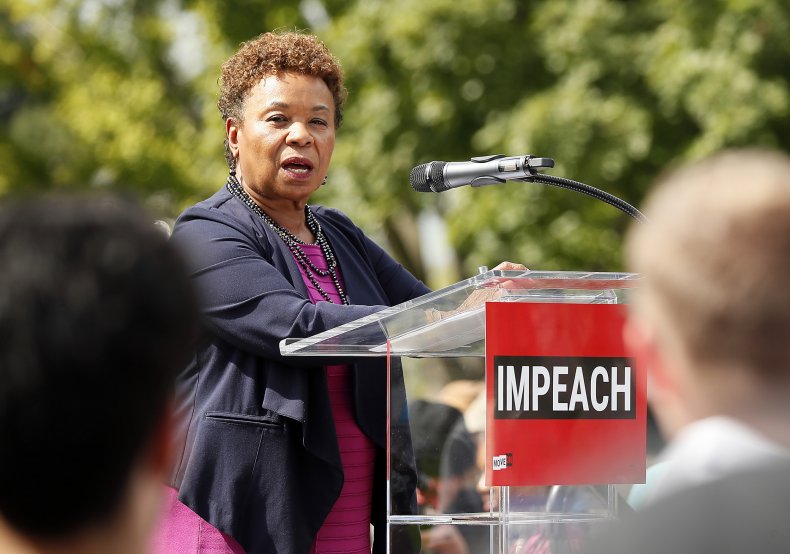 Recently, Trump has showed frustration toward Republicans, an increasing number of which have not been so vocal in their defense of the president against the impeachment inquiry and the allegations that have transpired from the Ukraine scandal. He told reporters Monday that GOP lawmakers need to "get tougher and fight" to better defend him against what appears to be a quid pro quo offered to Ukraine involving foreign military aid in exchange for assurances the foreign country would investigate former Vice President Joe Biden and his son.
Some Republicans have gone so far as to remain open-minded or even outright state they support the impeachment inquiry, apparently drawing the ire of the president.
"So some day, if a Democrat becomes President and the Republicans win the House, even by a tiny margin, they can impeach the President, without due process or fairness or any legal rights," Trump wrote in a Tuesday morning tweet, the source of the Democratic backlash. "All Republicans must remember what they are witnessing here - a lynching. But we will WIN!"
Sen. Lindsey Graham (R-SC), a close ally to the president, defended Trump's remarks while scolding the media. He told reporters the impeachment inquiry "is a lynching in every sense."
"This is un-American," Graham, chairman of the Senate Judiciary Committee, continued, while ridiculing the inquiry's proceedings that have so far occurred behind closed doors. "If this continues in the House, this is a complete sham and I will do everything I can to make sure it doesn't live very long in the Senate."
Rep. Karen Bass (D-Calif.), chair of the Congressional Black Caucus, accused Trump in a statement of dishing out "the red meat of racial rhetoric" whenever "his back is up against the wall."
"You are comparing a constitutional process to the PREVALENT and SYSTEMATIC brutal torture of people in THIS COUNTRY that looked like me?" Bass added in a tweet.
Rep. Emanuel Cleaver (D-MO) said Trump needs to realize the impact his words have—even when offered in a tweet—because of his position.
"He just says it without even thinking about those who may be hurt by his words, and words are significant—especially when they fall from the lips of the president of the United States," Cleaver said.
Trump has received backlash several times this year for making comments criticized as racist about Democratic lawmakers, including four freshmen women of color known as "The Squad"—made up of Reps. Alexandria Ocasio-Cortez (D-NY), Ilhan Omar (D-MN), Rashida Tlaib (D-MI) and Ayanna Pressley (D-MA)—and Rep. Elijah Cummings (D-MD), who died last week.
The president never issued apologies and doubled-down in the days and weeks following his controversial remarks about the Democrats.
In 2017, Trump claimed there were "very fine people on both sides" of the deadly white nationalist rally in Charlottesville, Virginia, before attempting to rewrite history and offer a new explanation earlier this year.
Despite the swift condemnation on Tuesday, Democratic leadership showed no indication they planned to formally rebuke Trump by way of a House resolution. Rep. Hakeem Jeffries (D-NY), chair of the Democratic Caucus, said the matter had not yet been discussed and was not mentioned during that morning's meeting with party members.
The House voted in July to formally condemn Trump for his "racist comments" about The Squad.
"Thousands of African Americans were slaughtered during the lynching epidemic in this country for no reason other than the color of their skin," Jeffries told reporters. "The president should not compare a constitutionally mandated inquiry to such a dangerous and dark chapter of American history. It's irresponsible for him to do so and I hope that he will apologize."
White House Principal Deputy Press Secretary Hogan Gidley defended Trump's comment while speaking with reporters outside the White House, claiming the president was "explaining clearly the way he's been treated by the media since he announced for president."
This story was updated to include remarks from Gidley.
Black Democrats Say Trump 'Does Not Recognize' Them as 'Full Americans,' Demand Apology for Comparing Impeachment to Lynching | Politics