Black Disabled Man in Texas Dies After Being Denied COVID Treatment and Starved for Six Days, Wife Alleges
Activists have rallied around the family of late Texas resident Michael Hickson this week, a Black disabled man who died in hospice care at an Austin medical center earlier this month.
Following his death on June 11, several videos shared online by Hickson's wife, Melissa Hickson, alleged that his death resulted from mistreatment and neglect by staff at St. David's South Austin Medical Center. Melissa recounted alleged events leading up to his death in a video posted to YouTube on Monday.
"I am making this video because I know there have been a lot of questions surrounding what happened to him. And the truth is, he was murdered," Melissa said of her late husband. She recalled his admission to St. David's South Austin Medical Center on June 2 for symptoms indicative of a severe infection with the novel coronavirus. Hickson was moved to a hospice floor at St. David's medical center the same day, June 5.
Melissa said hospice caregivers withheld "food, fluid and any type of medical treatment" to her husband and "allowed him to sit in a bed for six days feeding him morphine and Ativan" while he remained under their supervision. Ativan is a commercial brand name for Lorazepam, a medication used to treat seizure disorders and relieve anxiety. Morphine is commonly used to treat severe pain.
In an audio recording shared online last Friday, one of the hospital's intensive care unit (ICU) doctors explained staff's decision not to administer COVID-19 treatment to Hickson. When Melissa inquired about the doctor's reasoning, he said it was due to Hickson's quality of life. "As of right now, his quality of life, he doesn't have much of one," the doctor said. Hickson was paralyzed after suffering a heart attack in 2017.
St. David's HealthCare addressed Hickson's death and offered condolences to his family in a statement shared to its website on Saturday.
"The loss of life is tragic under any circumstances. In Mr. Hickson's situation, his court-appointed guardian (who was granted decision-making authority in place of his spouse) made the decision in collaboration with the medical team to discontinue invasive care," the hospital group's statement read. "This is always a difficult decision for all involved. We extend our deepest sympathies to Mr. Hickson's family and loved ones and to all who are grieving his loss."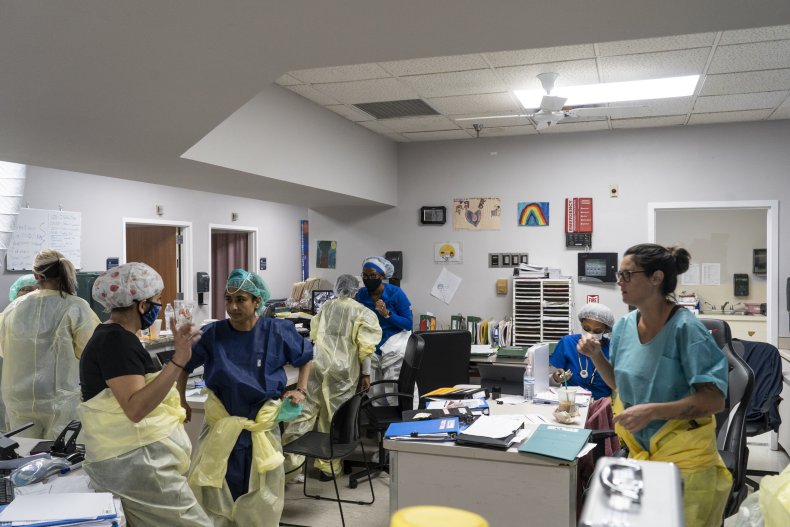 Family ElderCare, Hickson's court-appointed guardian, released a statement regarding his death on Tuesday. Public documents from Travis County probate court show Hickson's family was engaged in an ongoing legal battle to determine guardianship. Both Melissa and Hickson's sister, Renee Hickson, were involved.
"As advocates for older adults and adults with disabilities, our primary goal is to help people thrive with independence and dignity. End of life decisions when families are in disagreement can be especially difficult," Family ElderCare said in the statement.
"As court-appointed Guardian, we consulted with Mr. Hickson's spouse, family, and the medical community on the medical complexity of his case. As press reports have disclosed, Mr. Hickson's spouse, family, and the medical community were in agreement with the decision not to intubate Mr. Hickson," the statement continued. "As Guardian, and in consultation with Mr. Hickson's family and medical providers, we agreed to the recommendation for hospice care so that Mr. Hickson could receive end-of-life comfort, nutrition and medications, in a caring environment."
Hickson's passing came amid a spike in new cases of the novel coronavirus reported throughout Texas. Medical centers in several hard-hit areas have seen an increase in COVID-19 patient admissions as a result, with Houston ICUs reaching 102 percent capacity on Wednesday.
In a statement sent to Newsweek on Friday, Dr. DeVry Anderson, Chief Medical Officer at St. David's South Austin Medical Center, denied Melissa's allegations about the circumstances that led to Hickson's death. He emphasized Hickson's passing was unrelated to hospital capacity and refuted suggestions that his treatment plan was discriminatory.
"Some people want the public to believe that we took the position that Mr. Hickson's life wasn't worth being saved, and that is absolutely wrong. It wasn't medically possible to save him," Anderson's statement read. "Mr. Hickson was very, very ill when the arrived at our hospital. He was transferred to us from another facility with pneumonia in both lungs, a urinary tract infection and sepsis. He also had COVID-19."
Anderson said Hickson's medical conditions caused multi-system organ fault despite "aggressive treatment and one-to-one care" from hospice caregivers.
"He had a number of complications," the statement continued. "As one example, near the end of his life, he was aspirating—meaning that he was regurgitating nutrients going into his body through his feeding tube, and they were going into his airways, causing his respiratory condition to worsen. Aspiration has the potential to be fatal, especially for a patient in a weakened physical state, like Mr. Hickson, and this was the reason his tube feedings were discontinued."
This story was updated at 11:10 a.m. EDT on Friday, July 3, to include Dr. Anderson's statement.