Black Families Face Calls to Pull Their Kids From School That Said BLM Doesn't 'Align With Biblical Views'
The parent of a former Milwaukee Lutheran High School student is calling on all Black families to enroll their children elsewhere, after the school posted a statement on Facebook earlier this week that said it does not support the Black Lives Matter organization.
The school said there was a "very important distinction" between the organization and the Black Lives Matter movement, the latter of which the school said it supports. The school's issues with the organization, the post said, were the beliefs its founders say they support.
"We fully support Black Lives, Black Families, and all of our students as we are all children of God. We do not support the beliefs of the Organization called Black Lives Matter," the school said, "as the founding principles and their beliefs, as outlined in the 'About Us' section of their web site, do not align with biblical views."
The Black Lives Matter organization says on its website it believes in "an inclusive and spacious movement" and supports, among others, "Black queer and trans folks, disabled folks, undocumented folks, folks with records, women, and all Black lives along the gender spectrum."
The organization's website also says its founders are "guided by the fact that all Black lives matter, regardless of actual or perceived sexual identity, gender identity, gender expression, economic status, ability, disability, religious beliefs or disbeliefs, immigration status, or location."
The school said in its Facebook post that the organization and others have taken the "Black lives matter" phrase and turned it into a "rallying cry."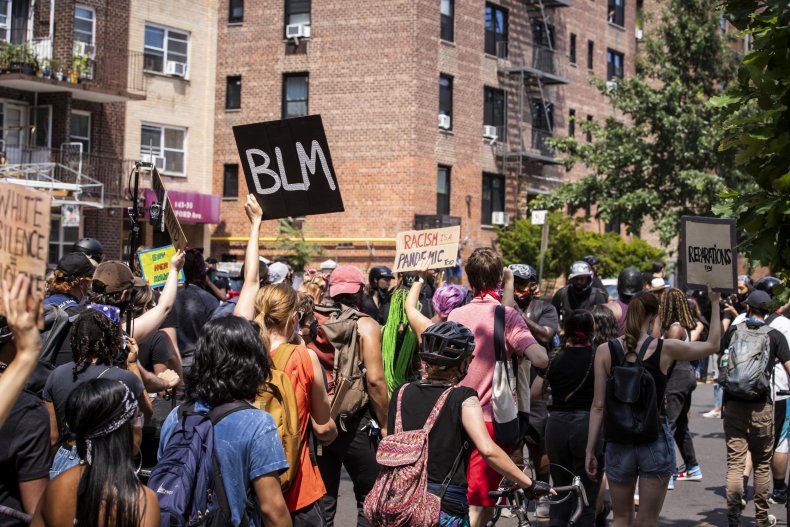 "There is a very important distinction between the Black Lives Matter Movement and some of the various organizations that have different 'platforms' that have joined the Black Lives Matter Movement," the school's post said.
Venice Williams, a minister and executive director of Alice's Garden Urban Farm in Milwaukee, wrote a Facebook post of her own encouraging families to reconsider their children's enrollment. According to the Milwaukee Journal Sentinel, Williams' youngest child recently graduated from the school, though her post said she would have enrolled him elsewhere if he was still a student there.
Williams' post said she was most concerned with the beliefs of "the Christ I follow," whom she said supported the Black Lives Matter movement. In a separate post, she wrote, "My ENTIRE Black Life Matters," and listed a handful of religions and sexual identities as examples.
"No one can choose what part of our Black Lives Matter," Williams wrote.
Williams told Newsweek that she had in the last few days heard from parents whose children had negative experiences at the school, though she said her family had not encountered such issues.
"As a community leader and parent, the inequity one child experiences impacts me," Williams said. She said it was important for herself and others to call out the school "so that [the students] may be educated and affirmed, and lifted up in settings and by people who honor their whole person."
Though Williams expressed disappointment in the school's Facebook post, she said it presented a chance for the administrators to make changes and move forward. "There's an opportunity for Milwaukee Lutheran High School to get it right," she said. "This could be a pathway to healing for a long history of folks who felt they were invisible."
Milwaukee Lutheran High School identifies itself as among the oldest Lutheran high schools in the country. On its website, the school says its religious beliefs "permeate everything we do" and that one of the school's main goals is "preparing students for a lifelong relationship with Jesus Christ."
In a statement shared with Newsweek, the Lutheran High School Association of Greater Milwaukee referenced a verse from Mark Chapter 12 in the New Testament and said it did not intend to stir up controversy with its Facebook post, but instead hoped it would reassure members of its community that it supports Black students.
"These are controversial times and we are saddened by the divisive nature of the comments surrounding this issue," the association said. "The intention of our post was to affirm that we love our black students and their families while acknowledging our Christian values of, Love God and Love Others."
Updated 5:44 p.m. ET: This article has been updated to include comments from Venice Williams.