GameStop Black Friday 2018 Deals: Start Saving Early on Xbox One and PS4 Bundles
GameStop has just released its Black Friday 2018 advertisement, and many of the deals are similar to ones found at other retailers like Target and Best Buy. The big advantage for GameStop is these deals kick in starting on Sunday, Nov. 18.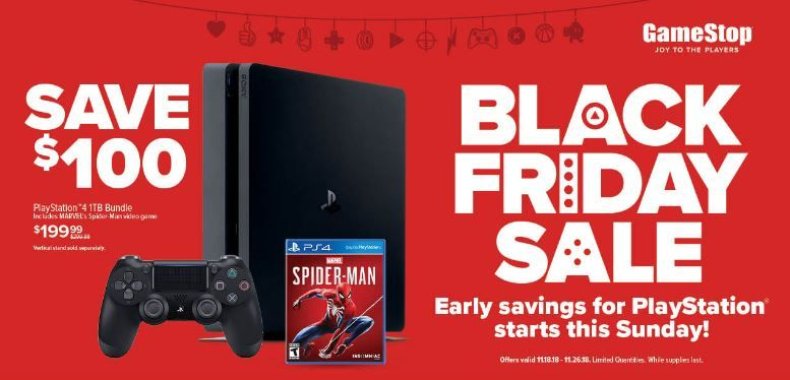 If you're looking for a new console, GameStop is offering a 1TB PS4 Slim bundled with a copy of Spider-Man for $200. If you're more interested in getting a new Xbox One, a 1TB Xbox One S bundle with Minecraft is available for $200 as well. All other Xbox One consoles have been reduced by $70, including the Xbox One X.
GameStop is also offering a PSVR bundle for $250. This includes the PSVR headset, two PS Move controllers, the PlayStation Camera and two games. This is a $100 savings from the original price of the bundle. If you also want a new PS4 controller, GameStop is offering them for $39, a savings of up to $16.
As for games, GameStop only has four Xbox One games on sale. Forza Horizon 4 is $40, Sea of Thieves is $30, while State of Decay 2 and PlayerUnknown's Battlegrounds are both $20 each. This seems a little slim on the Xbox One games side, so it's possible more deals will be announced as we get closer to Black Friday on Nov. 23.
PS4 is looking a little better with games on sale, with 11 discounted on Nov. 18. God of War is $30 while Detroit: Become Human, Overwatch: Legendary Edition, Creed: Rise to Glory, Astro Bot, and Firewall Zero Hour are $20 each. The Last of Us Remastered and Uncharted 4 are $15, and Uncharted: The Nathan Drake Collection is only $10.
GameStop will also offer a unique deal this year. Customers can buy a GameStop gift bag for $5, and everything that is squeezed in the bag gets an instant 30 percent off price. This includes toys, board games, shirts and other physical merchandise that isn't video games.
These deals begin on Nov. 18, and are valid both online and at GameStop locations. If you choose to do your shopping online, all orders over $35 receive free shipping as well.
So what do you think? Are you going to visit your local GameStop to save early on any new games? Where else are you planning on shopping this Black Friday season? Let us know your thoughts in the comments section below.