Black Friday PS4 Deals: 1TB PS4 Slim 'Spider-Man' Bundle Confirmed
If you haven't bought a PS4 yet, there are some amazing deals in store for this Black Friday. As confirmed in Target's weekly deals, a PS4 Slim bundle including a copy of Spider-Man will be on sale for a jaw-dropping price.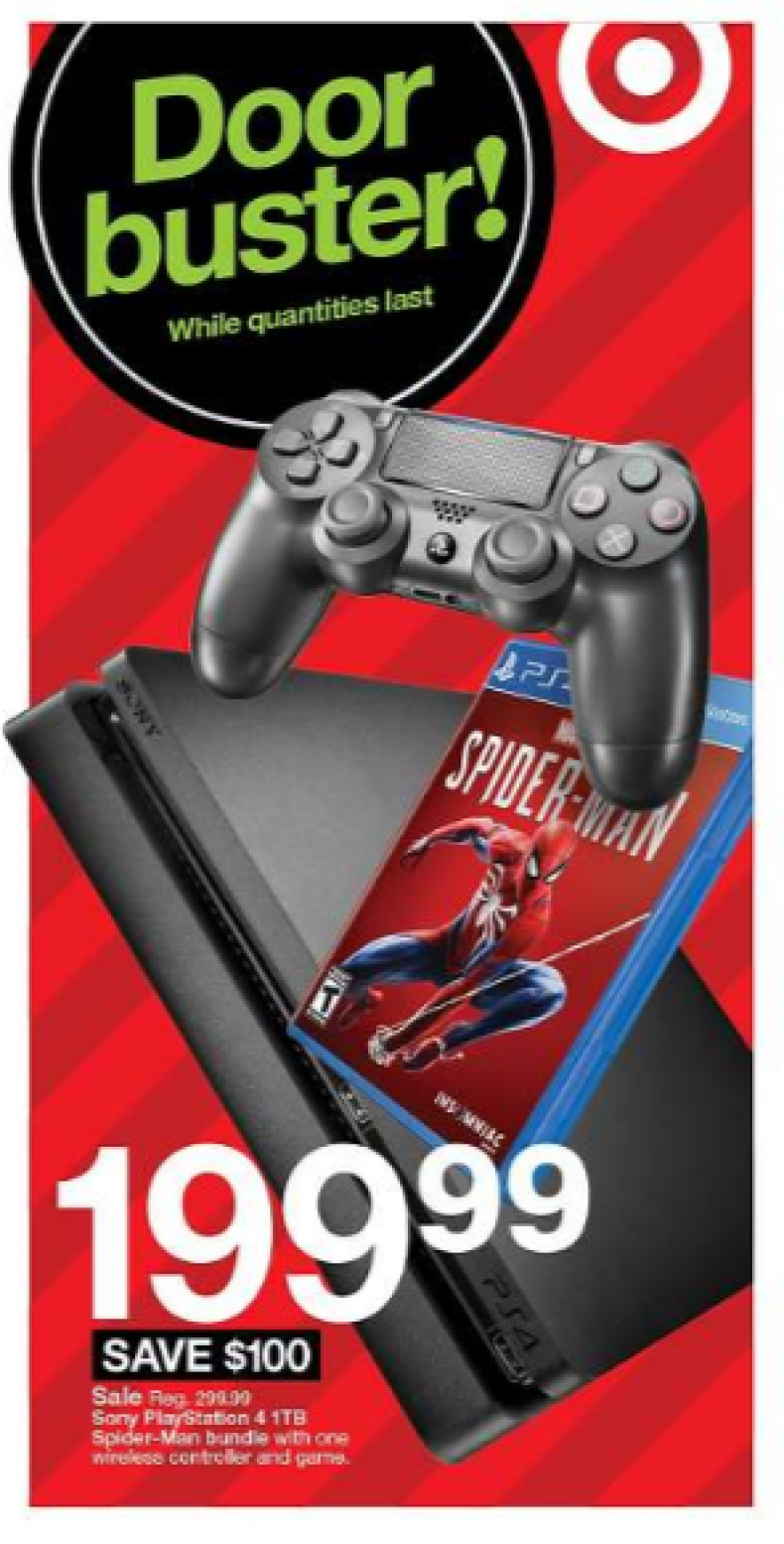 Target is selling a 1TB PS4 Slim with a copy of Spider-Man for $199. That's $100 off the standard price. The PS4 Slim also comes with one wireless controller, as is standard. The ad mentions this deal will be available until supplies run out, so you may need to act fast if you want to secure your PS4 bundle.
Target will open on Thursday, Nov. 22 from 5 p.m. EDT until Friday, Nov. 23 at 1 a.m. EDT. The store chain will then reopen on Nov. 23 at 7 a.m. EDT. The ad doesn't mention if the deal will be available online.
While we know for sure Target will offer the bundled PS4 Slim deal, it's likely other stores will feature something similar. We don't know for sure what promotions retailers such as Best Buy, Walmart and Gamestop will have on Black Friday just yet, so keep an eye on your inboxes and newspaper inserts.
Other noteworthy Black Friday deals from Target include a Super Mario Maker 2DS bundle for $80, Nintendo Switch consoles bundled with a free copy of Mario Kart 8 Deluxe for $300, Shadow of the Tomb Raider and WWE 2K19 for $30 and Call of Duty: Black Ops 4 for $45. Target is also taking $100 off a PSVR bundle that includes the PSVR headset, two Move controllers, the PlayStation camera and two games. For analog gamers, select games and puzzles are 50 percent off, while popular games such as Settlers of Catan and Pandemic are 30 percent off.
So what do you think? Are you interested in getting a PS4 Slim this Black Friday? What other deals would you like to see this year? Let us know your thoughts in the comments section below.