Black Friday 2018 TV Sales: Best Walmart, Best Buy, Target, Fry's Television Deals
Some of the biggest deals consumers can score on Black Friday are on televisions. Many of the fights that have broken out at stores with doorbuster deals on the annual discount shopping day have been over TVs. There are dozens of deals on TVs of all sizes offered by numerous retailers. Here is a roundup of some of the sales, via Consumer Reports.
Smaller sized TVs for $100 or less
32-inch Atyme 720p: $79 at Fry's Electronics
The usual price for the Atyme 320GM5HD is $99, and the $20 savings will be available in Fry's Electronics stores only, not online, this Friday. However, you may get what you pay for. Atyme is a newer brand and tests of the set last year were in the bottom half of ratings by Consumer Reports.
32-inch Polaroid LED: $80 at Target
Target is topping its Black Friday deal for a 32-inch Polaroid LED TV from last year by offering it for $5 less this year. Target's advertisement does not specify which model the doorbuster deal applies to but that information may become available closer to Friday.
32-inch Insignia 720p: $90 at Best Buy
The deal on the Insignia NS-32D220NA18 is part of Best Buy's early sale. The model generally got higher ratings than the 32-inch Atyme 320GM5HD that is among the cheapest TVs on Black Friday.
32-inch Sharp 720p LCD/LED: $100 at BJ's Wholesale Club
BJ's Wholesale Club is back with its $100 Black Friday deal for the Sharp LC-32Q3180U. It appears that BJ's is the only chain that offers this deal.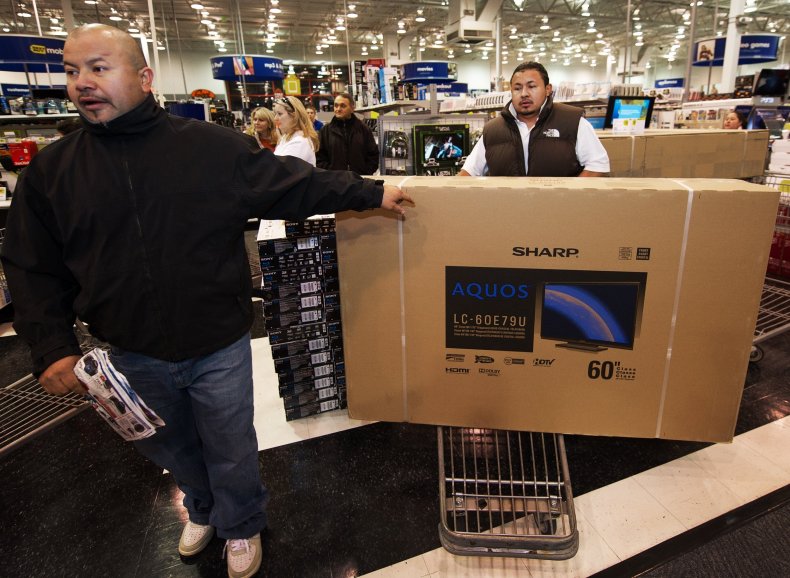 Mid-sized TVs for $200 or less
40-inch Hisense 1080: $99 at Walmart
The Hisense 40EU3000 TV will be on sale at Walmart for $99, a hefty savings from the $178 it was previously listed as.
43-inch Toshiba 4K UHD Fire TV Edition Smart TV: $130 at Best Buy
Best Buy's deal for the Toshiba 43LF621U19 is in-store only and one of the biggest Black Friday TV discounts, given it is normally priced at $320. The set hasn't received the greatest ratings but the HD quality was good enough.
40-inch Vizio Smart LED: $200 at Costco, Target and Walmart
The retailers have not specified which Vizio model the deal refers to. One prediction is it is the Vizio D40F-G9 model, which is typically priced between $230 and $250. It is being advertised as a Black Friday deal, but Target is offering it from November 27 to December 1.
Larger TVs for $300 or less
55-inch Hisense 4K Roku UHD Smart TV: $248 at Walmart
The Hisense 55R6000E0 model is usually priced at $378. Walmart appears to be the only retailer offering this Black Friday deal.
55-inch Sharp 4K UHD Smart TV: $250 at Best Buy
Another great Black Friday deal by Best Buy is the Sharp LC-55LBU591U, which is originally priced at about $430.
55-inch Sharp 4K UHD Smart LED: $299 at Walmart
Walmart advertised its Black Friday sale on the Sharp LC-55Q7030U as being $200 off the normal price.