Black Friday 2019: Shake Shack Launches Black Fryday Promotion to Win Free Food for a Year
Shake Shack has launched a promotion, Black Fryday, which will see someone win free fries, free burgers, free delivery or free Shack for a year.
The promotion, which runs from from November 27 to December 1, coincides with Black Friday and should help busy shoppers keep their energy levels up.
For every order made at local Shacks via the Shack pick up app or Grubhub delivery app, each person will receive a scratch-off ticket with their order. This will give them the chance to win. Prizes can be redeemed up until December 25.
Shake Shack is a modern day "roadside" burger stand serving a classic American menu of premium burgers, hot dogs, crinkle-cut fries, shakes, frozen custard, beer and wine.
According to its website, Shake Shack's mission is to Stand for Something Good, from its premium ingredients and caring hiring practices to its inspiring designs and deep community investment. Its Stand for Something Good blog says that the company prides itself on sourcing ingredents from like-minded ranchers, farmers, bakers and good purveyors.
Its burgers are made with "100 percent all-natural Angus beef," which is vegetarian fed, humanely raised and source verified. The Chick'n Shack is "100 percent all-natural cage-free chicken," with its flat-top dogs using only 100 percent all-natural Vienna beef.
The fries are crinkle cut Yukon potatoes, with zero artificial ingredients, and its vanilla and chocolate frozen custard recipes use only real sugar, no corn syrup, and milk from dairy farmers who pledge not to use artificial growth hormones.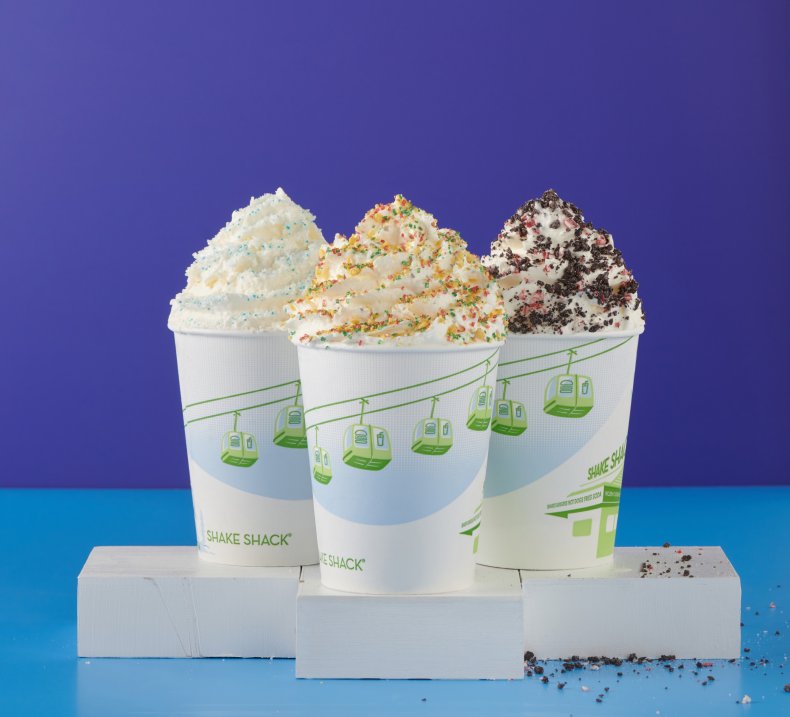 Since the original Shack opened in 2004 in New York City's Madison Square Park, the company has expanded to more than 260 locations in 30 U.S. States and the District of Columbia. It has also expanded to more than 85 international locations including London, Hong Kong, Shanghai, Singapore, Philippines, Mexico, Istanbul, Dubai, Tokyo, Moscow, Seoul and more.
All scratch cards will have a winner and will include prizes such as:
Free fries with any $15 or over order;
Free burger with any $20 or over order;
Free Shack for a year in the form of a $2,500 gift card; and
Free delivery with any $15 and over order through Grubhub.
Shake Shack has also just launched its Holiday Shakes in flavors Chocolate Peppermint, Christmas Cookie and Coconut Snowball. Also known as the Alpine-Tree-o, these are now available on menus at all U.S. Shacks.
To download the Shack Pick Up App, head to the Apple App Store or Google Play store.
This article was updated to include details on the duration of the promotion.