Black Friday: Amazon Workers Strike for Higher Wages, Better Conditions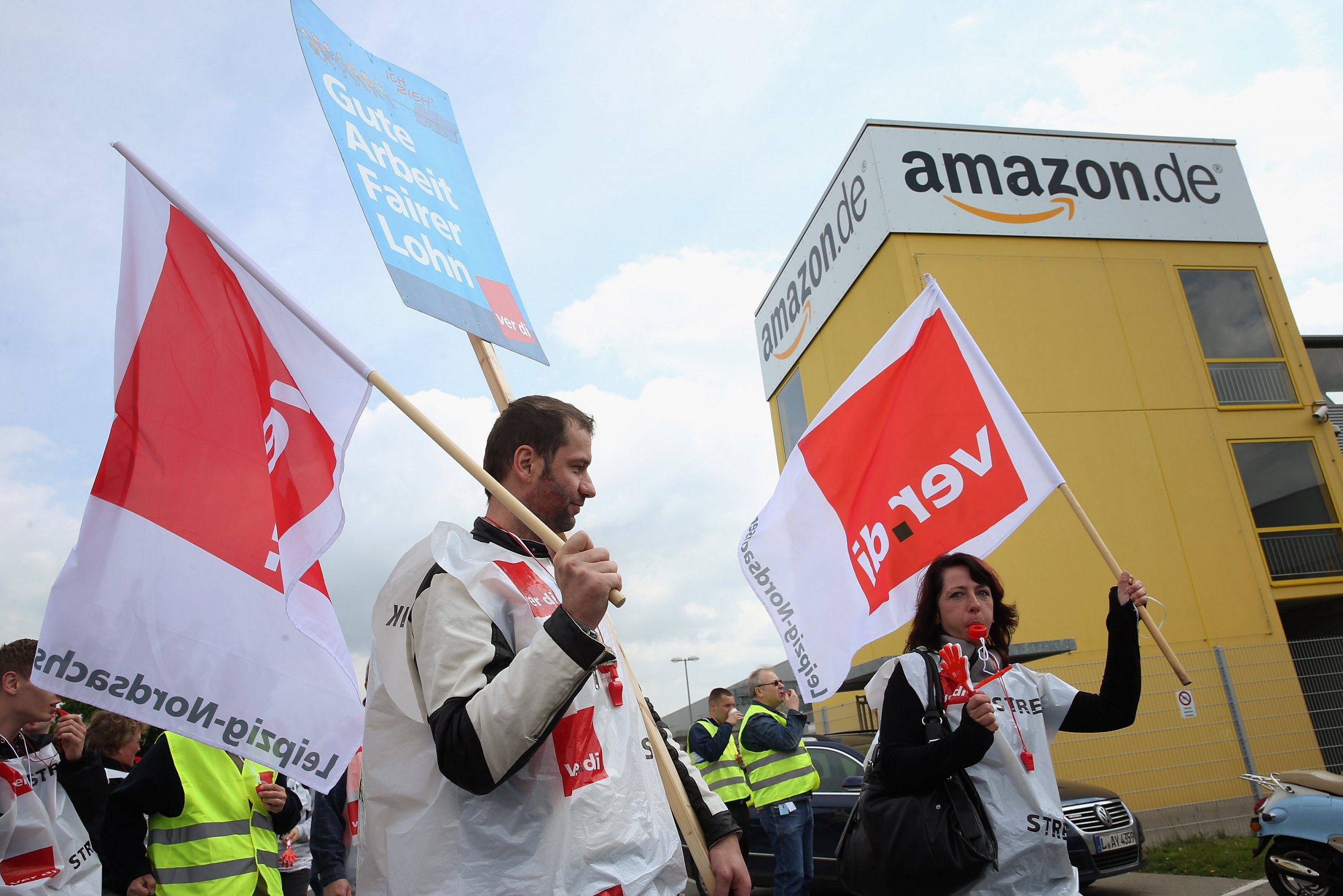 While consumers flock to Amazon's website to secure discount Black Friday deals, hundreds of the company's employees in Europe have gone on strike to demand higher wages and better conditions.
Workers at a handful of facilities in both Spain and Germany refused to work Friday, Reuters reported.
Amazon Germany said around 620 workers went on strike at centers in Bad Hersfeld and Rheinberg. They were responding to calls from the country's Verdi services union to go on strike until midnight Friday, demanding better pay and labor contracts that guarantee healthy working conditions.
Amazon said the majority of workers in Germany were continuing to work as normal and that the disruption would have no impact on customer orders.
Verdi representative Mechthild Middeke explained, "We are entering the end of year spurt, the most stressful time for employees. Especially on a day like Black Friday, employees should be the central focus."
Amazon Germany disputed suggestions its pay was unfair. The company claimed it offered competitive wages and a raft of benefits from the first day of employment. Amazon workers in Germany have a starting salary of €10.78 ($12.23) per hour, Reuters explained.
In Spain, workers at the company's largest warehouse in San Fernando de Henares, just outside Madrid, refused to work Friday and will also not come to work on Saturday. Spanish unions said between 85 and 90 percent of staff were taking part.
Amazon Spain, however, disputed the figures, which it said did not reflect the reality of the situation. It added that most employees were still processing orders as usual.
Black Friday—falling one day after Thanksgiving—is Amazon's most important and profitable day of the year. The day has long been one of the busiest shopping days in the American calendar, and in recent years has taken on special significance with the spread of internet shopping.
The origin of the name is disputed, but some claim it comes from the fact that as of Black Friday, many companies begin to turn a profit for the year as a whole—the rush of sales pushes their company balances from red ink debt into black ink profit.
Amazon—one of the largest online retailers in the world and worth around $1 trillion—has been instrumental in turning Black Friday into a hugely significant date in the annual shopping calendar. But for aggrieved employees, the day offers a chance to make their voices heard.
Owner Jeff Bezos—whose net worth is valued at around $125.8 billion—is believed to be the richest man in the world. But his employees claim they are paid unfairly low wages to work in punishing and dangerous conditions.
Last month, the company responded to critics by raising its minimum wage to $15 an hour in the U.S. and to around $13.47 for British workers in London and $12.18 for those outside London.
Since it was founded in 1994, Amazon has stubbornly suppressed any attempts for its employees to unionize. After its takeover of Whole Foods in 2017, leaked training videos showed how upper management sought to dissuade employees from organizing.
According to Gizmodo, viewers are told: "We do not believe unions are in the best interest of our customers, our shareholders, or most importantly, our associates. Our business model is built upon speed, innovation, and customer obsession—things that are generally not associated with union."
"When we lose sight of those critical focus areas we jeopardize everyone's job security: yours, mine, and the associates,'" the video added.
Amazon has also faced widespread criticism for the low rate of taxes it paid, both in the U.S. and abroad. This has made it a target of left-wing politicians and workers' rights groups, who argue such a profitable firm should be able to offer workers better remuneration and contribute more to central government. The company, however, claims it is simply adhering to existing tax laws.