New York City police arrested at least 27 activists involved in climate change protests during this week's Black Friday sales and shopping. Protesters worldwide interrupted Black Friday shopping in order to draw attention to climate change.
The New York Post reported that protesters were taken into custody after sitting in the street on 34th St. and 6th Ave. in Manhattan. The activists arrested in New York were expected to be charged with disorderly conduct. Protesters were attempting to bring "Empathy, humility, and frugality" to the holiday.
The protesters involved attempted to bring more attention to climate crisis and consumerism. "We really want to draw attention to what's happening in the world. Black Friday is a day of strong consumerism," one protester told the Post.
Climate change activist group Extinction Rebellion led the protests and shared a video on Twitter. "We demand the truth be told about the ecological and #climatecrisis at hand. We must transform our social, political and economic systems from ones driven by destructive consumption, to systems that honor relationship and reciprocity, and care for all life," the group wrote.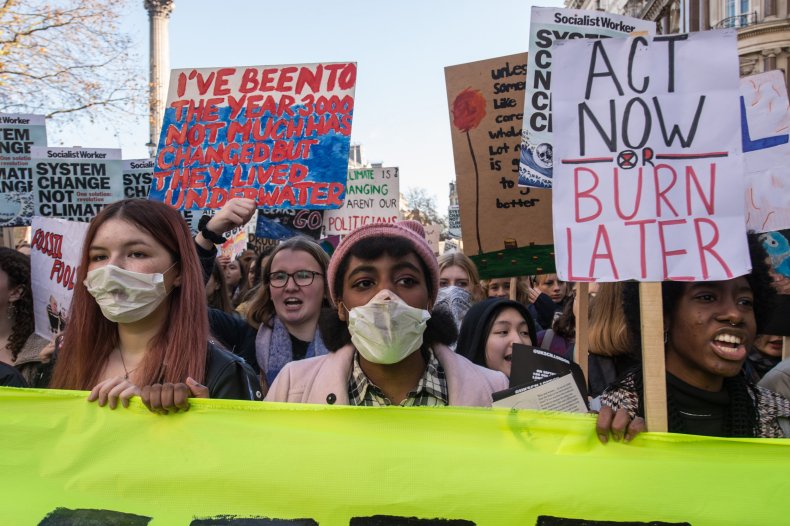 In Washington D.C., 38 protesters were arrested as part of "Fire Drill Fridays." Actress Jane Fond joined protesters to bring awareness to climate change. Fire Drill Fridays bring weekly protests to D.C. The group's demands include: "A Green New Deal, Respect of Indigenous Lands and Sovereignty, Environmental Justice, Protection and Restoration of Biodiversity, and Implementation of Sustainable agriculture."
"The climate crisis is not an isolated issue — it involves every part of our economy and society. Because of that, each Friday demonstration will have a different focus as it relates to climate," the group's website stated.
Another protest in Vancouver, Canada also shut down streets to protest climate change. Vancouver police tweeted that certain streets would be shut down due to the protests. "Granville Street from Georgia to Dunsmuir Street is closed down by police due to climate protest," they wrote.
Students attending the Harvard-Yale football game last Saturday organized a similar protest, according to Fox News, where protesters stormed the field to stand up to the schools' large endowments to the fossil fuel industry.
Conservative outlets quickly voiced their annoyance at the protest. Harvard student Christopher Colby went on Fox News to complain about protesters "wasting everybody's time." The student said he felt the protests lacked substance. "The protest was pretty poorly planned. Most of my friends were just irked, very annoyed that they got their time taken away from them. Our biggest takeaway, for the most part, was that this was just another empty political activist thing that liberals tend to do on big days," Colby said.