Black Friday JCPenney, Dillard's, Macy's Sales 2018: Best Discounts, Coupons at Retailers
Black Friday is one of the biggest shopping days of the year and few things are better than being able to grab every item on your list at a discount in one store. That's why department stores are some of the most popular destinations on Black Friday for shopping.
The stores like Macy's, Dillard's and JCPenney are some of the most popular chains for shoppers to visit during the shopping extravaganza. The stores have everything from KitchenAid Mixers to sheets and towels to clothing and jewelry.
Basically, anything a shopper could be looking to buy for themselves or as a gift for someone, the chances are they'll be able to find it at one of these retailers. In addition to the significant discounts the stores will be offering on specific items, the stores will also be offering storewide promotions.
Black Friday JCPenney Deals
The store will be offering guests discount coupons on a first-come first-serve basis. The coupons that will be handed out are $500 off of a $500 purchase, $100 off a $100 purchase or $10 off a $10 purchase or more. The chances of getting one of the higher discounted coupons are thin though. Every one in 100 coupons is the $100 offer, every 99 in 100 coupons is $10 off $10 or more and each store will have a minimum of one $500 off coupon to distribute. This offer is only available to shoppers over 18 years of age. Those who order an E-gift card of $100 will get a $25 off $25 purchase or more coupon.
Nike shoes will be 25 percent off.
Women's pajama sets are advertised at 50 percent off.
KitchenAid flip head standing mixers will be on sale for $199.99, down from $349.
Men's and women's Xersion puffer jackets will be on sale for $19.99.
Towels will be on sale for as little as $.99.
Macy's Black Friday Sales
Macy's is offering steep reductions in prices for customers but is also offering customers an extra 20, 15 or 10 percent off their purchases from some departments of the store and offering $10 off a purchase of $25 or more for some items. These two coupons don't apply to all items at the store and might not apply to some already-discounted items.
KitchenAid flip head standing mixers will be on sale for $10 less at Macy's than at JCPenney, there they'll be $189.99.
Macy's is offering a bonus buy of diamond earrings for $29.99 with a purchase of $50 or more.
Dinnerware will be 65 percent off at Macy's.
Certain bedding will be 65 percent off as well.
Dillard's Black Frida 2018 Deals
This store will be offering customers some discounted gifts with their purchases rather than coupons. Those gifts include a Clinique Beauty and Estee Lauder holiday bundles. Shoppers can also expect big discounts on shoes and jackets from the store.
Select women's work clothing is expected to be 75 percent off.
Women's sneakers are expected to be 65 percent off.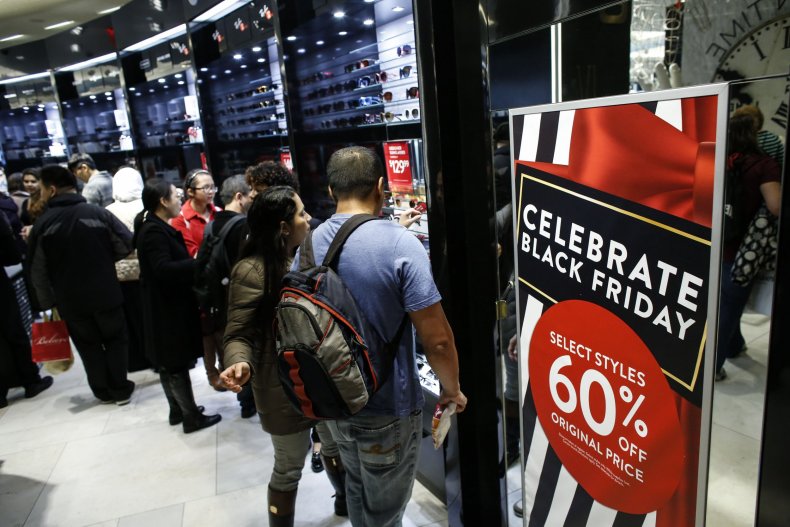 ​