Black Friday 2020 Pet Sales, Deals on Toys, Treats, Beds at Petco, PetSmart and More
Black Friday is here, and pet stores across the U.S. are hosting sales and offering discounts on treats and essential items for dogs, cats, fish, birds, reptiles, and small animals. Many major pet stores are also offering huge discounts on holiday items, allowing pet owners to get their pets ready for the holiday season ahead.
This Black Friday may not see shoppers camped outside stores in the early hours of the morning, due to the coronavirus pandemic, but that doesn't mean that one of the biggest shopping days of the year is canceled.
Plenty of pet stores, including PetSmart and Petco, are hosting online Black Friday deals this year, meaning pet owners can make the most of the discounts from the comfort of their own home.
Black Friday Pet Deals 2020
PetSmart
Petco
Pet Food Express
Pet Supplies Plus
Zesty Paws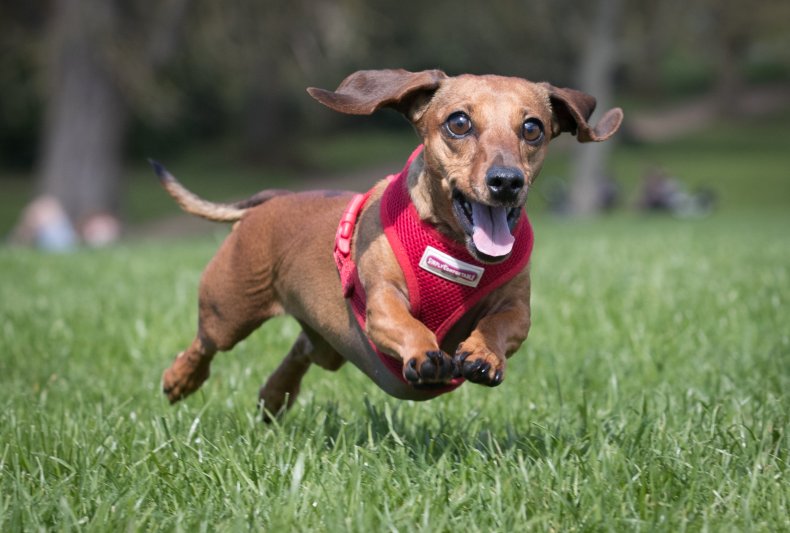 PetSmart Black Friday Deals
PetSmart has plenty of online deals this Black Friday, including 50 percent off holiday toys, apparel, accessories, and beds.
Dog owners can also get 50 percent off select dog toys, 50 percent off all coats and jackets, and 40 percent off crate mats. Additionally, get Old Mother Hubbard dog treats (6lb box) for $13.99, and buy three select dog treats to get two for free.
Cat owners can get a PetSafe ScoopFree open litter box for $79.99, 50 percent off holiday cat toys and cardboard scratch posts, 50 percent off the Fancy Feast cat advent calendar, plus 50 percent off the entire stock of Meowijuana cat toys, among other deals.
Fish owners can get 50 percent off select aquariums and filters, while reptile owners can save 50 percent on a ZooMed Bearded Dragon starter kit or an open front reptile terrarium.
Petco Black Friday Deals
At Petco this Black Friday, get 50 percent off the Holiday Tails collection, which includes advent calendars, toys, clothing, accessories, and begs.
Other deals for dog owners include up to 65 percent off beds, crates, and gear, and up to 35 percent off dog DNA kits. Additionally, get 50 percent off select fall and winter apparel for dogs.
For cat owners, get up to 40 percent off cat litter boxes and accessories, and 50 percent of cats beds and furniture.
Fish owners can make the most of Petco's dollar per gallon tank sale, or get 50 percent off Aqueon Aquariums—the tanks are available to purchase online and then pick-up in store.
Pet Food Express Black Friday Deals
Pet Food Express is offering 25 percent off all treats and toys this Black Friday. Additionally, get 20 percent off your first online order at Pet Food Express with the coupon code WELCOME20, and get free same-day delivery on orders of $30 or more.
Pet Supplies Plus Black Friday Deals
At Pet Supplies Plus, save up to $9.99 on holiday dog toys, up to $4.50 on dog treats, up to $34.99 on holiday dog beds and blankets, up to $9.99 on holiday cat toys and scratchers, and up to $12.49 on holiday dog and cat apparel, collars, and accessories.
Zesty Paws Black Friday Deals
On Black Friday, get 30 percent off Zesty Paws with the code FRIYAY30, and on Saturday and Sunday, get 20 percent off with the code FRIYAY20.
Then for Cyber Monday, get 40 percent off between 4 a.m. and 7 a.m., 35 percent off between 7 a.m. and 10 a.m., and then 25 percent off between 10 a.m. midnight. Zesty Paws is also offering 20 percent off from December 1-5.
Newsweek has affiliate partnerships. If you make a purchase using our links, we may earn a share of the sale.