Black Friday Protests Against 'Stop Abortion' Bill Planned in Poland
Thousands of people are expected to take part in protests across Poland opposing the so-called "Stop Abortion" bill currently under debate in a parliamentary commission.
Polish women fought and won against government plans to limit access to legal and safe abortion in October 2016, launching the "black protest" movement that mobilized about 30,000 people in the capital city of Warsaw and thousand more in cities across the country and the world. They're planning on doing so again with the "black Friday" protest scheduled for this afternoon.
The "Stop Abortion" bill was introduced following a so-called citizen initiative led by the anti-abortion-rights group Life and Family Foundation that gathered more than 800,000 signatures, allowing it to be proposed to the parliament in January, Agence France-Presse reported. A competing citizen initiative which proposed to liberalize abortion laws was instead rejected by the legislative assembly, where the right-wing Law and Justice party controls a majority of the seats.
Abortion activists have been protesting against the bill for months, but Friday's protest is particularly urgent because lawmakers have expressed support for the law. If passed, it would prohibit abortions in cases of severe or fatal fetal anomaly, which account for 96 percent of procedures in the country, according to Human Rights Watch.
Get your unlimited Newsweek trial >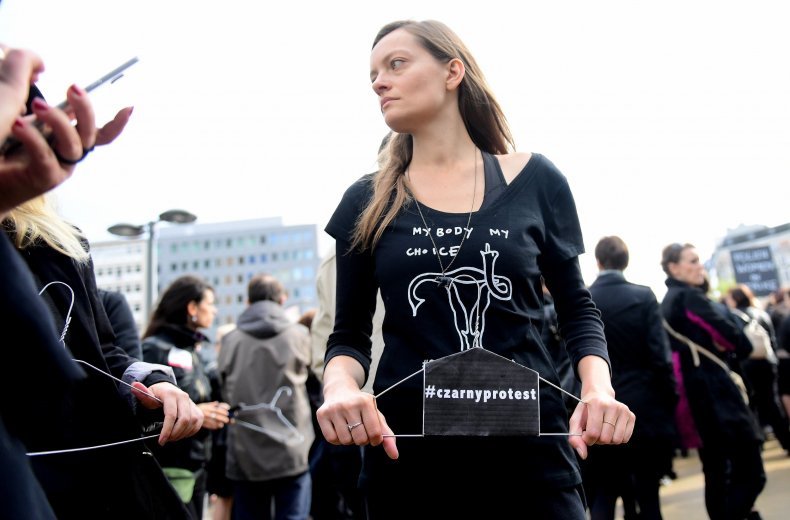 The bill proposes to further limit access to legal and safe abortions in a country that already has some of the most restrictive laws in the European Union. About 1,000 legal abortions are performed every year in Poland, while the number of procedures performed illegally or abroad is estimated to be between 80,000 and 150,000.
Under current Polish law, a pregnancy can be terminated only in case of rape, incest, a threat to life or severe fetus anomaly. In a statement last week, the country's influential Roman Catholic Church urged lawmakers to go further and impose a total ban on abortion, the Associated Press reported.
Critics of the "Stop Abortion" bill worry that forcing women to carry out these pregnancies presents a potentially fatal risk to their health. "This proposal, if enacted, would place women's health and lives at risk. Parliament must listen to women in Poland who are saying loud and clear that they will fight against this attack on their bodies and their health," Draginja Nadazdin, director of Amnesty International Poland, said in a statement emailed to Newsweek.
Get your unlimited Newsweek trial >
"Women in Poland are strong and determined and we will defeat this threat. But we should not have to fight our own members of parliament to get our basic rights," she added.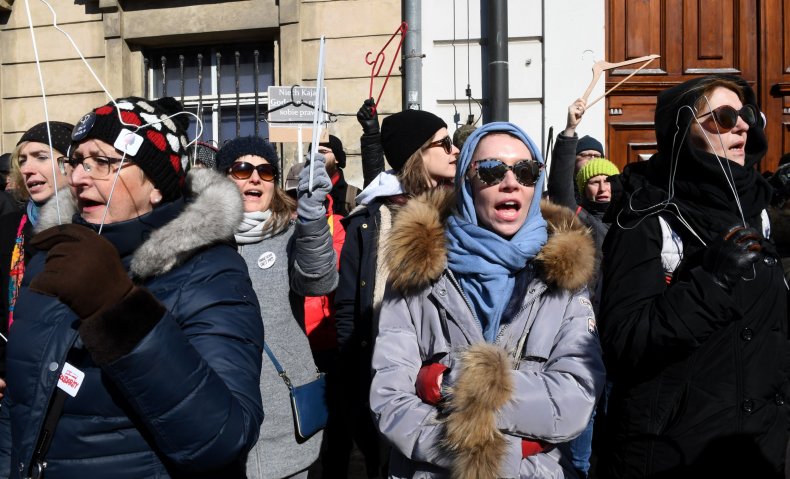 The Facebook event page set up to promote Friday's protest in Warsaw featured more than 33,000 people attending. Other protests were being organized across Poland, and solidarity events are taking place in European cities such as London, Paris, Dublin, Spain's Barcelona and Oslo, Norway.
"We need your support and we need it now! We need solidarity and sisterhood. It's been two years since the ruling party in Poland with backing of the Catholic Church has been trying to turn our lives into hell," Natalia Greniewska of the Strajk Kobiet (Women's Strike) movement said in a statement to human rights group Amnesty International.
Some protests are already underway. A group of women blocked traffic on a busy road in Warsaw on Friday morning while holding protest signs and banners.
Black Friday Protests Against 'Stop Abortion' Bill Planned in Poland | World