Black Georgia Democrat Praises Trump, Says Dems Push 'Mental Plantation'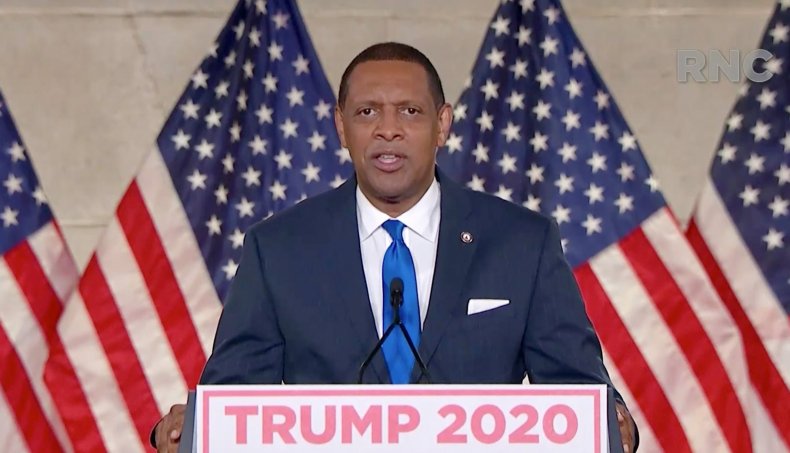 Georgia State Rep. Vernon Jones, a Black Democrat, praised President Donald Trump while accusing Democrats of trying to keep Black people on a "mental plantation" during a speech at the virtual Republican National Convention (RNC) on Monday.
Jones endorsed Trump on April 14 and resigned his office one week later, before quickly rescinding the resignation, while protesting that he would not allow the party to "bully" him into "submission." He continued to heap praise on Trump during his RNC appearance, while claiming that a "growing segment" of Black voters would soon join him.
"You may be wondering, 'Why is a lifelong Democrat speaking at the Republican National Convention?'" Jones said. "That's a fair question. And here's your answer: The Democratic Party does not want Black people to leave the mental plantation they've had us on for decades."
"But I have news for them: We are free people with free minds," Jones added. "I am part of a large and growing segment of the Black community who are independent thinkers. And we believe that Donald Trump is the President that America needs to lead us forward."
Trump won only 8 percent of the Black vote in 2016, and recent polling has shown Biden maintaining overwhelming support among Black voters in 2020. However, some polls suggest that Biden would have a somewhat smaller advantage than former Secretary of State Hillary Clinton. Trump praised low Black voter turnout in the 2016 election victory in recently leaked audio, according to Politico.
Jones insisted that Biden is "all talk and no action" and had failed to "produce results" for Black voters over the course 47 years. He urged them to join him by engaging in "independent thinking" and voting for Trump instead, while claiming that the Democratic party had "become infected with a pandemic of intolerance, bigotry, socialism [and] anti-law enforcement bias."
"When I made the public announcement of my support for President Trump, all hell broke loose," Jones said. "I was threatened, called an embarrassment and asked to resign by my Party. Unfortunately, that's consistent with the Democratic Party and how they view independent thinking Black men and women."
Jones has attracted considerable attention for endorsing Trump and blasting Democrats while refusing to leave the party. Last month, Jones reacted in anger when he was asked if he was being paid to speak in support of Trump during an appearance on MSNBC, calling the question "disgraceful" and insisting he was not. Democratic Party of Georgia Chairwoman Nikema Williams denounced Jones on Monday in response to his RNC appearance.
"Vernon Jones has a long history of betraying his constituents and our Democratic values — he does not represent Black Georgians, and he does not represent our party," Williams said in a statement obtained by Newsweek. "Trump's administration has done nothing but hurt Black Georgians, from siding with white nationalists to ripping away Georgians' health care to making our serious issues of systemic racism and police brutality worse."
"DeKalb voters have rejected Trump and his buddies, and they're rejecting Vernon Jones — which is why he had to withdraw from the ballot this November rather than face defeat like Donald Trump and the rest of his cronies," Williams added.