The War on Black Hair in South Africa's Schools: Girls Sent Home for Braids as Racism Row Ignites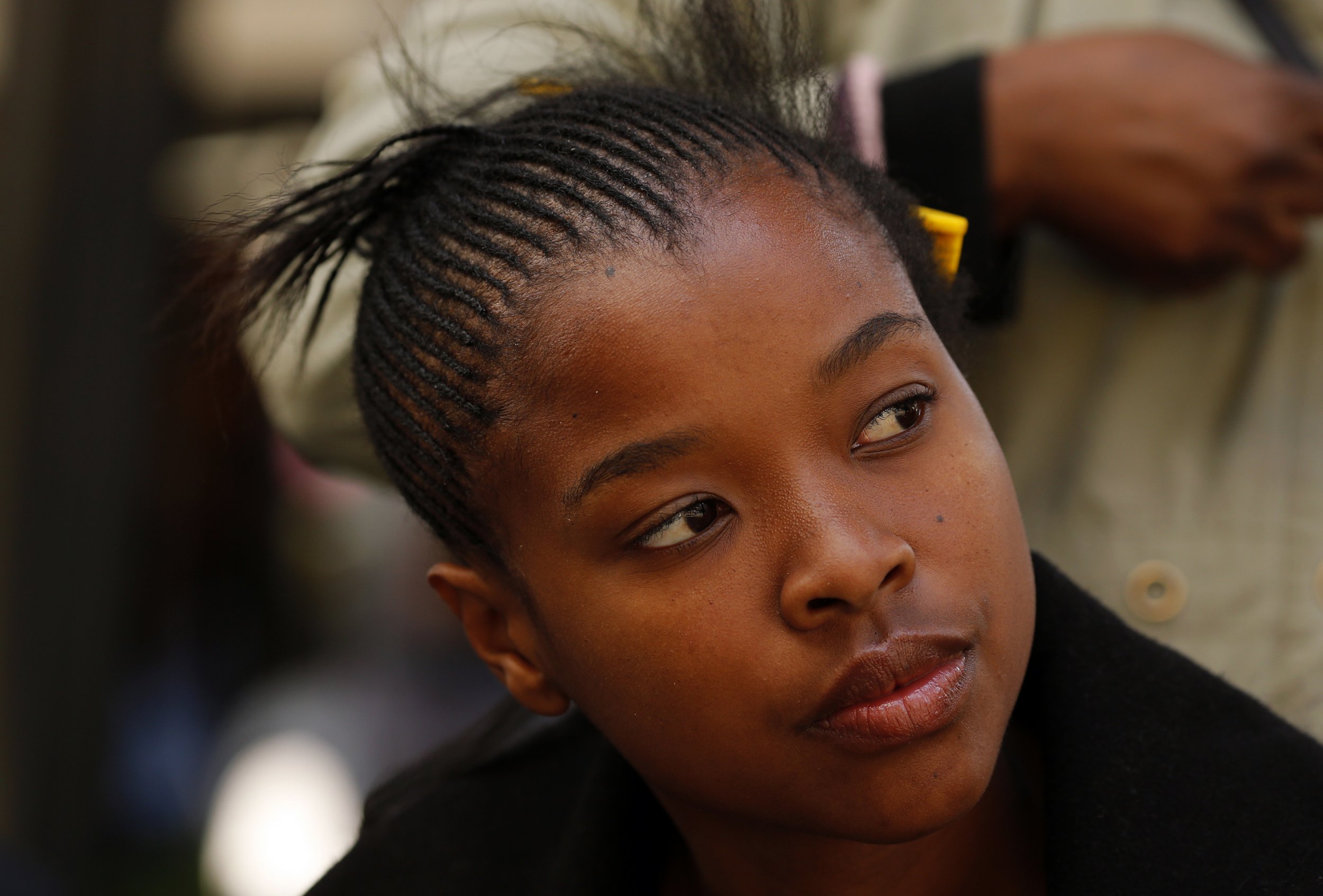 The case of two black female students who were banned from their prom at a Massachusetts school in May stoked uproar in the U.S. But the problem has been an issue for students in South Africa for some time.
Black schoolgirls have protested on several occasions in the past year after being banned from wearing their hair in certain styles, including dreadlocks and braids.
The issue has come to the fore again after a Facebook post on Monday, in which Siyabonga Ngwenya—the aunt of a student at Windsor House Academy, a high school in a town northeast of Johannesburg—complained that her niece and 10 other girls had been "kicked out" of school for wearing their hair in braids.
The post, which has been widely shared, claimed that the school's headmistress had scolded the girls for their "inappropriate hair" and had called them "idiots" and "de-motivated."
The girls claimed that despite the fact their braids were tied neatly, the principal ordered them to leave and said they would not be allowed back into school without removing the braids.
The provincial head of education, Panyaza Lesufi, visited the school on Tuesday and ordered them to revise the school's code of conduct to be more inclusive within three months. "This is a human rights issue, and we take allegations of racism very seriously," said Lesufi, according to local news site News24. Newsweek contacted the school for a comment but received no reply at the time of publication.
Read more: Wearing braids gets black girls banned from prom at Massachusetts school
Race remains a defining issue in South Africa, which only abandoned a system of racial segregation—known as apartheid—in 1994 with the election of the country's first black president, Nelson Mandela. Under apartheid, the country's population was divided into different, hierarchical categories: whites at the top, blacks at the bottom, and other racial groups—including "coloreds," the term used in South Africa for people of mixed race—in between. Black pupils were educated in separate facilities, known as Bantu schools, which were far removed from the well-funded schools attended by white students.
The legislation on segregated schools was not repealed until 1996, but two decades after racial integration in the education system, black South Africans say they are still suffering from the effects of decades of racial discrimination. Almost four in 10 white South Africans are educated beyond high school level, compared with just one in 10 blacks, and 91 percent of the population that has received no schooling is black, according to the country's statistics agency.
The hairstyles of black students has also acted as a touchstone for controversy and criticism of the education system in recent years.
In August 2016, girls from Pretoria High School for Girls in the country's capital protested after being told to straighten their hair and not wear an afro style. The provincial education department said that the girls claimed they were verbally abused by teachers, with some saying the students "look like monkeys, or have nests on their heads." The school, which was whites-only during apartheid but is now multiracial, pledged to change its uniform policy as a result of the outcry.
Another row erupted at St. Michael's School for Girls in Bloemfontein after the father of a 16-year-old pupil posted pictures of a "neatness" test. Girls were required to put on a swimming cap on top of their hair; if the cap did not fit, it was taken as evidence that the hair was unruly and should be cut.
The chair of the school's governing body, Brian Sweetlove, denied that the issue was about race. "This is not a white or black issue. This is about the amount of hair that can fit into a swimming cap," he told local radio station OFM News. But after complaints from parents, Sweetlove said that the school would reconsider its policy and the school pledged to stop using the "neatness" test.
The latest incident at Windsor House has generated outrage on social media and, for some, has served to highlight how far the country still has to go in achieving equality for all races.