Black Hollywood Weighs Whether to Support Obama a Second Time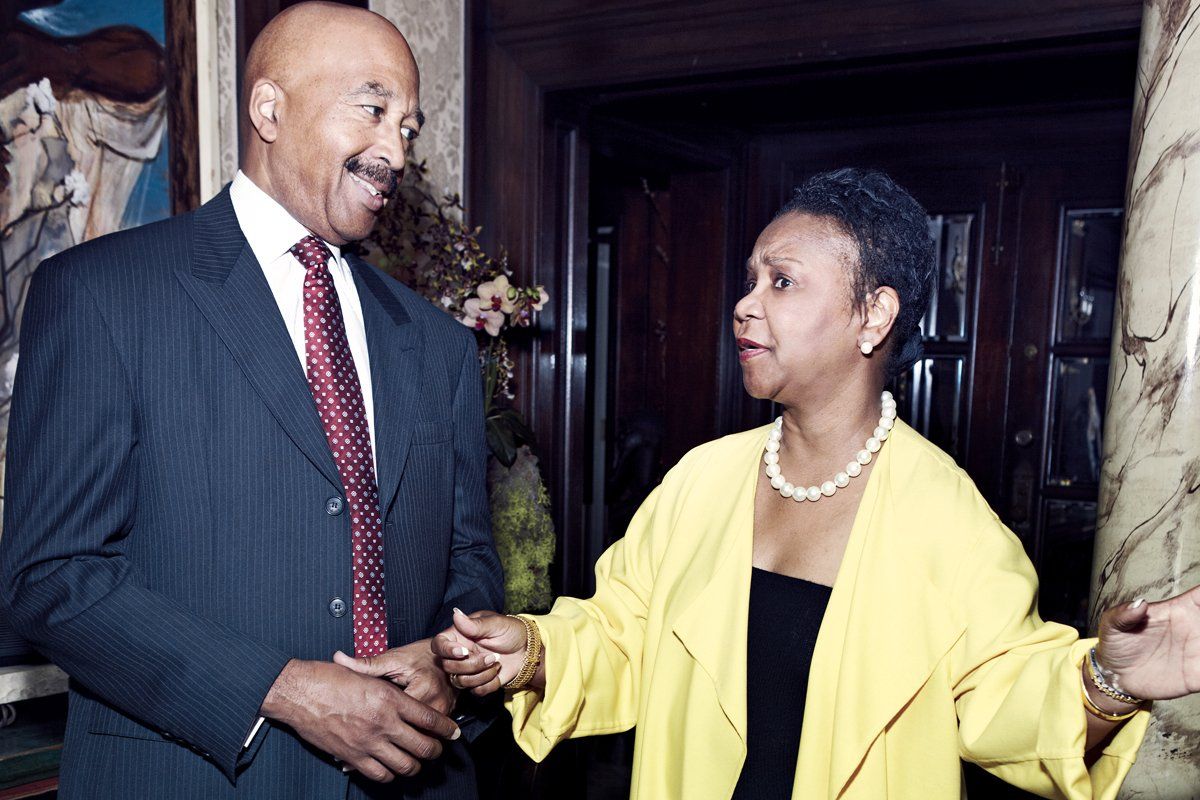 When Mattie Lawson's husband, Michael, suggested in 2003 that they consider hosting a political fundraiser at their lavish Los Angeles estate for a new up-and-comer in the field, she immediately said no.
The prominent African-American couple—he a recently retired partner in the law firm Skadden, Arps, Slate, Meagher & Flom, she a major philanthropist and member of many boards—have long been considered two of the most powerful political brokers in California, with a reputation for choosing winning candidates. Their regular guests include Magic Johnson and his wife, Cookie; Diahann Carroll; Angela Bassett; Courtney Vance; and many others. But they'd never opened up their newly remodeled $8 million–plus Hancock Park mansion, formerly owned by boxing legend Muhammad Ali and decorated with Tiffany chandeliers and silk wallpaper. And Mattie wasn't sure she wanted to go that route.
"I had no idea how to say Barack Obama and wasn't very interested in learning at that point," says Mattie with a laugh, sitting in the comfortable sunroom of the estate. That changed after she agreed to speak with then–State Senator Obama—over Skype. Since then the couple has raised nearly $2 million for Obama's various campaigns.
Now the preparations are underway to do it again, starting with a luncheon at the Lawsons' home the first week of February, followed by numerous other events before Election Day rolls around, including a spring appearance by the president.
It's an important set of fundraisers, given the crucial role of African-American financial support—and votes—in Obama's 2008 victory. But it is also an effort filled with challenges. As one member of the Congressional Black Caucus put it, "Last time around it was enough that he was a smart black man with a beautiful family running for president." This time, he'll have to contend with some disappointment in his record among African-Americans, including grumbling from leaders such as Cornel West and Tavis Smiley about what they see as Obama's lack of attention to the needs of minorities and the poor.
Actor Samuel L. Jackson, an early supporter of the president, freely admits his ambivalence. "Some days I agree with Dr. West and what he says about the president not dealing enough with the plight of the poor," says Jackson. "Then I think about how they won't give him credit for anything… The president got about a week of moderate applause for capturing the most-wanted man in the world. You ask me, he should have put that motherfucker on ice and defrosted his ass Nov. 1."
Still, former ambassador Andrew Young believes attitudes will change when the Republican candidate is clear. "Black voters will see at some point soon that this is far worse than 2008 and John McCain," says Young. "Obama's rivals this time are talking about taking us all the way back to a period that really wasn't good for black people in any way. The money will come when they understand we can't go back."
Other big names in black Hollywood are actively throwing their support Obama's way. "I will be there again just like I was in 2008," says actress, dancer, and Grey's Anatomy director Debbie Allen. "Are things exactly the way I'd like them to be or need them to be? No, but he can get us there if he's given the time he needs to do it." Will Smith, along with his wife, Jada, and manager, James Lassiter, as well as Kerry Washington, Tracy Morgan, and Jay-Z say they'll be back on the Obama election train as well.
Response to the Lawsons' upcoming luncheon, which will feature the first lady, is coming in quickly from Hollywood and beyond, suggesting a sold-out crowd of 250 shelling out $10,000 for a photo op with Michelle Obama or $35,800 for a luncheon with celebrity co-hosts Pauletta Washington (Denzel's wife) and LaTanya Richardson Jackson (Samuel's wife). Guests will include Hollywood faces but many others as well. "Contrary to popular belief," explains Mattie Lawson, "the majority of African-Americans with money aren't athletes, singers, or rappers."
Lawson adds that the RSVPs come in briskly when the first lady makes an appearance. "The men call back particularly fast when the first lady is the main attraction," Lawson says, laughing. "They love her—as they should."