'Black-ish' Returns With Explosive Season 4 Premiere Tackling End of Slavery and Juneteenth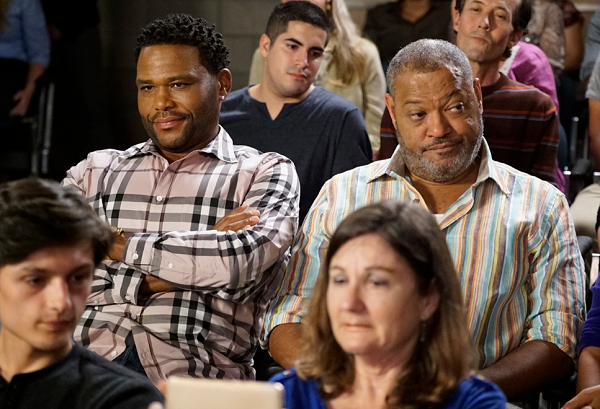 Black-ish hasn't shied away from complex social issues, especially ones surrounding race and the disproportionate economic differences between white and black Americans. When the show returns with season four on Tuesday, fans should expect to see the Johnson family—headed by dad Dre (Anthony Anderson)—tackling even more historical plights the black community has suffered.
Titled "Juneteenth," the ABC series's premiere will focus heavily on the date that marked the end of slavery, June 19, 1865. The episode aims to answer the question: "Why aren't we taking this important day in American history more seriously?"
Irritated with Jack (Miles Brown) and Diane's (Marasi Martin) school musical on Christopher Columbus—which fails to detail the historically violent truths about how the famed explorer found this great land—Dre decides to create his own production celebrating the day slavery finally ended, on the basis that there are just not enough black holidays. With the help of musician Aloe Blacc, who plays himself in the episode, Dre whips up a Hamilton-esque musical.
Although performed hilariously, the play and subject matter are still rather uncomfortable.
"It's a love it or hate it episode," Kenya Barris, the show's creator, told Entertainment Weekly recently. "I feel like anytime you take a swing, and at the conceit of that swing, you're saying, 'talking about this makes people uncomfortable,' then when you talk about it, you theoretically might make people uncomfortable. So, I did not have any question that it was going to be something that made people uncomfortable."
Barris said the episode's inspiration came following his own revelations regarding Columbus's actual history.
"I saw the dark side of who Christopher Columbus was and I was like, 'Why are we celebrating this guy?' Then I really started thinking, we as a culture, black culture—and as an American culture—really don't want to step up when things make us uncomfortable, and it would be uncomfortable to say who Christopher Columbus was. At the same time as it would be uncomfortable to say what Juneteenth was about," Barris said.
Also considered African American Emancipation Day, Juneteenth is a holiday predominantly celebrated in southern regions of the U.S., stereotypically by well-to-do black folks, which in some ways has led to it becoming more of a mock-holiday than an actual day of celebration.
Donald Glover's Atlanta episode about the holiday was portrayed in this sarcastic manner, with the Juneteenth celebrators all being cliché bourgeoisie black people who were incapable of recognizing the white party host's negrophilia—with an added insult, he was married to a white woman.
The Black-ish premiere aims to escape that image of Juneteenth and the people who actually celebrate it by turning the holiday into a discussion of why it should be celebrated.
"In the bigger scheme of things, isn't there a real argument to be made that, isn't the real Independence Day the day that all of us were free? How are we having our independence when the country itself wasn't truly independent, when the inhabitants of the country weren't truly independent?" Barris said, adding that he appreciated Glover's Juneteenth episode on Atlanta, but it did "not inform the writing" of the Black-ish premiere.
The season premiere airs at 9 p.m. ET on ABC.