How to Watch 'black-ish' Midseason Premiere: Live Stream Season 6, Episode 11 'Hair Day' Spoilers
Braids, curls, coils and twists, dreadlocks, perms and dyes, cuts, lace fronts, extensions and clips—the diverse pool of hairstyles black women and men wear is long and deep, and during the midseason premiere of black-ish, Diane will get a crash course in the durable variety and beauty each strand atop her own head is capable of.
The ABC sitcom is set to return with new episodes of Season 6 on Tuesday night, kicking off with episode 11, titled "Hair Day." The hair-positive episode comes during a time when natural hair is at the forefront of social commentary as more states are implementing laws to prevent discrimination against the wide range of natural hairstyles coveted by black Americans.
In the episode, the Johnson family matriarch Bow, played by Tracee Ellis Ross, schedules a day at the salon for her daughter as a way to spend some mommy-daughter quality time. However, Bow's plans take a turn when she learns Diane, played by Marsai Martin, is considering ditching her natural coils for straight hair.
The thought of Diane putting a permanent in her hair leaves Bow with no choice but to call in the reinforcements, also known as Diane's grandmother Ruby (Jennifer Lewis) and her stylist Yaya (guest star Jill Scott), who will help Diane discover, understand and appreciate the versatility of her own hair.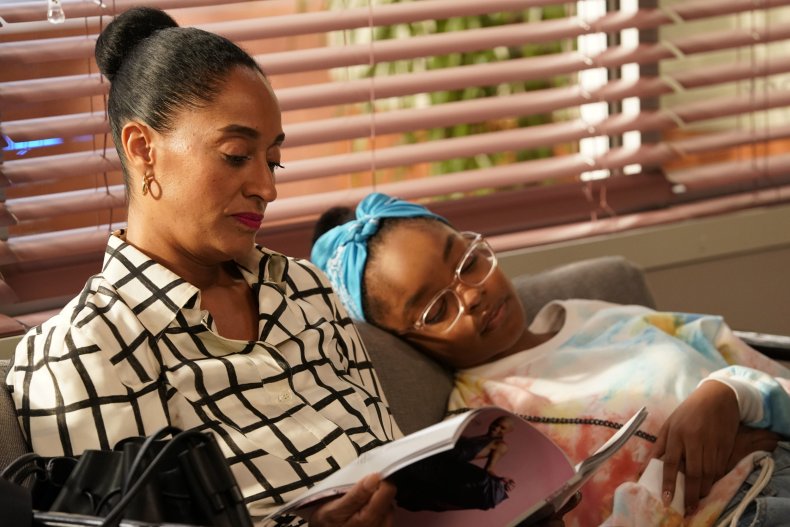 Appearing on People Now on Monday, 15-year-old Martin said the hair care episode was an exciting one to tackle, especially as more people are trading in their straight locks for naturally curly and kinky styles.
"This is a very serious topic for sure. Black-ish is so known for being very bold about how our topics are covered. So just for this one to be about Diane's hair journey, and how I've been playing this character for so long...it just meant so much to me," Martin said, adding she was indebted to the script from the moment she got her hands on it. "We did a few tweaks—me and Tracee—and the outcome was great."
Although the episode primarily focuses on the beauty of black hair, Martin said there was an important message that anyone from any race or background with any texture of care could take away from the show.
"All black hair is beautiful in any way—Any race at all," she said. "It's not just about black hair but the community in general and how people perceive our hair and how it's looked at on an everyday basis. I hope people take away to just be comfortable with who you are. It doesn't matter [f you have] dreads, relax your hair, whatever you want to do just be yourself while doing it and stay confident."
Black-ish returns to ABC on Tuesday at 9:30 p.m. ET. Viewers can live stream the episode on ABC's website or app, although a cable provider login is needed to access the stream. Those with Hulu Live TV and YouTube Live TV services can also catch the episode in real-time on those platforms.