Hilarious Video of Big Black Labrador 'Scared of a Fly' Charms Internet
A TikTok post has made the rounds on the popular social media platform after a user uploaded a clip showing their dog's hilarious reaction to a fly.
Shared under the username katiealann, the clip was titled "Silly lad" and accompanied by an onscreen caption that read "Imagine getting a dog that is scared of a fly."
Since the post was submitted on May 19, 2022, it has been viewed 2.3 million times, accumulating over 173,000 likes and 1374 comments.
The brief clip shows a black Labrador dog lying on top of a couch appearing fearful while side-glancing at a fly that is crawling on top of a nearby cushion.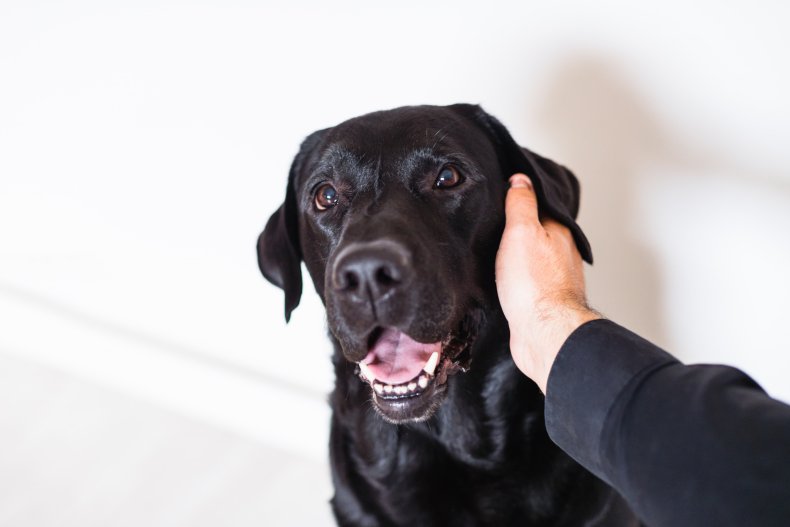 Fellow TikTok users rushed to the comment section to express their joy: "He wouldn't hurt a fly."
"This is so funny from a big dog," shared a commenter.
Some users used the opportunity to share insights about their own dogs and their irrational fears: "My labrador is scared of feathers," commented one TikTok user.
"Mine is horrified of his own shadow," added another.
Other commenters shared that their own canine companions have no problem facing insects: "My teacup jug attacks flies like a ninja and barks at them if they fly around her food, she's fierce," interjected a TikTok commenter.
"He's lucky he didn't step on a bee," wrote another.
One user also shared that their own dog had a bad experience with an insect that's had a lasting impact: "My dog got stung by a wasp as a pup and she has PTSD of anything that buzzes, a blue bottle comes in and she hides under the table."
According to The Kennel Club, wasp and bee stings are most common in spring, summer and early autumn.
Typically, dogs stung on their paws or around the face "only develop minor pain, irritation or swelling."
And while most bug stings can be treated at home, some cases can be more serious, causing allergic reactions and even requiring urgent veterinary treatment if stung inside the mouth or throat.
This wouldn't be the first time a dog has gone viral on the internet over its scared reaction. Previously, Newsweek covered a story about a Staffordshire Bull Terrier that delighted TikTok users by overcoming its anxiety and befriending four dogs at a local park.
Last year, Newsweek also revealed a video that showed a dog being scared by an echo of its own bark.
Newsweek has reached out to katiealann for comment.