'Black Lightning' Season 3 Ending Explained: What Happened at the End and What It Means For Season 4?
Black Lightning may have seen Jefferson Pierce (played by Cress Williams) defeat Gravedigger (Wayne Brady) in its Season 3 finale on The CW, but that does not mean that the villain will not be back for Season 4. This was revealed by the cliffhanger ending of Episode 16, titled "The Book of War: Chapter Three: Liberation."
In that ending, Pierce is seen speaking to the Senate committee about the ASA's experimentation of the residents of Freeland. As he leaves the committee, one of the people in the room was discovered to be a shapeshifted version of Gravedigger, who clearly somehow survived the explosion at The Pit caused by Agent Odell (Bill Duke).
This sets up a start of Season 4 where Gravedigger is still out there but Black Lightning has no idea. This was something teased by Williams in an interview with TVLine where he said, "the ultimate thing is that we don't know that Gravedigger is still around. The fact that he is hidden and still around, those are going to be the real linchpins of next season."
This Senate hearing also contained a nice Easter egg for fans⁠—among the committee members at the hearing were co-creators of Black Lightning Tony Isabella and Trevor Von Eden.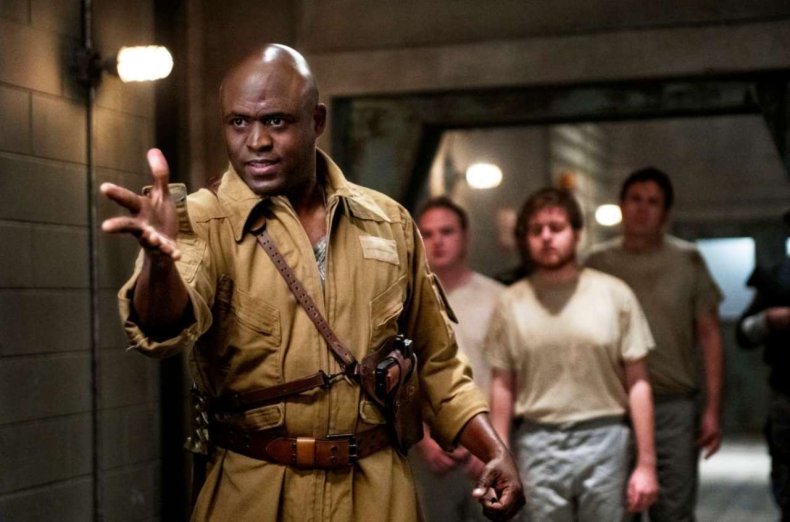 Williams said of the return of Gravedigger to Entertainment Weekly: "We don't know [he] is still alive at that point and has this kind of maniacal grudge against the United States and against the Pierce family. And he's super-powered. And even without the extra superpowers, that power to be able to just tell people what to do and they have to do it, that's crazy, that's bananas."
Though Gravedigger will remain as a big threat for Season 4, Lynn Pierce (Christine Adams) will also have some personal problems of her own after viewers of the finale saw her taking Glimmer again, showing her addiction battle is far from over.
"I'm kind of happy it wasn't just wrapped up and she's suddenly cured, because addiction doesn't work that way," Williams told TVLine. "It should be a harder road."
"It's a messy thing, as anybody who has dealt with addiction knows, so there will be some push and pull. Two steps forward, three steps back in Season 4."
Another early Season 4 plot will see the cast mourning Henderson (Damon Gupton), who died in the Black Lightning Season 3 finale. To protect Pierce, Henderson took out some Markovian bad guys, but got himself shot in the chest for his efforts.
Though this will certainly have an impact of the characters, it was a death that fans were expecting after Gupton posted to Twitter in January, "And that's a wrap. My final night on the set of@blacklightning. In December before X-mas I was told Chief Henderson is not in the plans for season 4 and that I would be let go. My [heart emoji] to a helluva hard working crew. Big [praying hands emoji] to cast, writers, producers, staff, CW, WB #BlackLightning."
Black Lightning Season 4 is coming in fall 2020 to The CW.