Black Lives Matter Four Years Later: Under Donald Trump, Movement Is Under Attack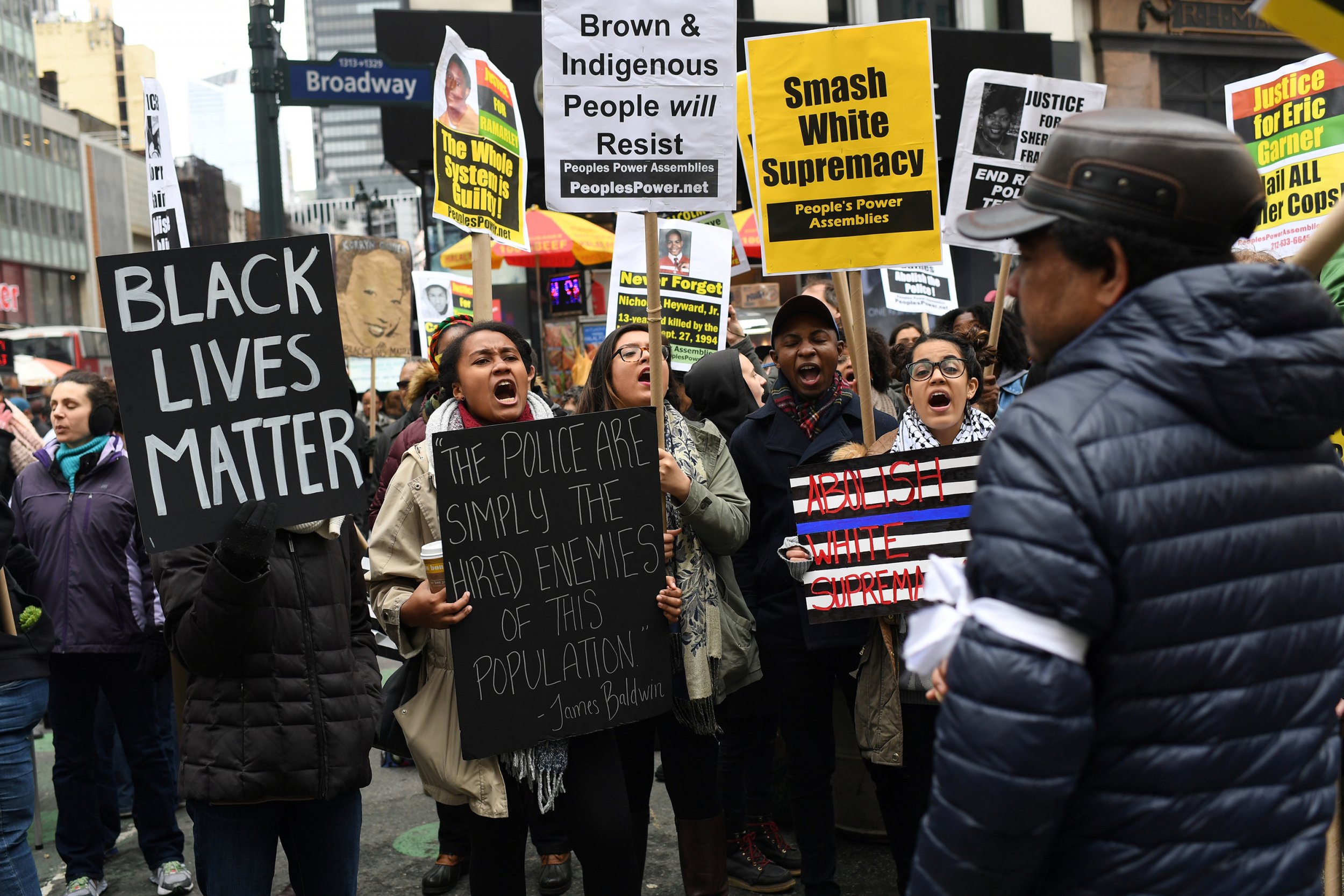 Four years ago Thursday, the Black Lives Matter movement came into existence, shifting both how many Americans perceive social justice and the lexicon used to describe racial injustices.
"Four years ago, what is now known as the Black Lives Matter Global Network began to organize," the organization wrote on its website. "It started out as a Black-centered political will and movement building project turned chapter-based, member-led organization whose mission is to build local power and to intervene when violence is inflicted on Black communities by the state and vigilantes. In the years since, we've committed to struggling together and to imagining and creating a world free of anti-Blackness, where every Black person has the social, economic, and political power to thrive."
The movement began after George Zimmerman, the man who killed 17-year-old Trayvon Martin, was acquitted in Florida. Since then, there have been countless killings of black Americans that the movement has addressed and put a spotlight on. In the wake of the deaths of Eric Garner in New York City, Michael Brown in Ferguson, Missouri, 12-year-old Tamir Rice in Cleveland, Walter Scott in South Carolina, Freddie Gray in Baltimore and many others, "Black Lives Matter" became a rallying cry and hashtag in the wake of police-involved deaths of African-Americans.
The protests have put the movement in the crosshairs of some Americans, President Donald Trump included. After Trump won the election, the movement said in a statement to Mic, in part: "What is true today—and has been true since the seizure of this land—is that when black people and women build power, white people become resentful. Last week, that resentment manifested itself in the election of a white supremacist to the highest office in American government.... Donald Trump has promised more death, disenfranchisement and deportations. We believe him."
The president has targeted the organization, especially protesters who have taken to the streets. The White House website went live after inauguration and promised to end the "anti-police atmosphere" while noting "our job is not to make life more comfortable for the rioter, the looter, or the violent disrupter." Slate wrote about this shift with the headline "In One of His First Acts as President, Donald Trump Put Black Lives Matter on Notice."
In May, Trump delivered a speech that the conservative outlet The Washington Times noted took "aim at Black Lives Matter" and slammed "'hostility and violence' against police."
The Washington Post wrote in May that Black Lives Matter had a renewed sense of purpose under Trump, but had adopted a shift toward effecting policy as opposed to organizing protests. As Newsweek previouslyreported, hate crimes are rising across all marginalized groups in 2017, according to the Southern Poverty Law Center and Human Rights Campaign.
"What people are seeing is that there are less demonstrations," Alicia Garza, one of the three women who created the #BlackLivesMatter hashtag, told The Washington Post. "A lot of that is that people are channeling their energy into organizing locally, recognizing that in Trump's America, our communities are under direct attack."